Written by
Susan W. Smith
posted on September 13, 2013 07:25
TI Life first met Patty Mondore back in August 2008 when she wrote a beautiful memorial tribute to Paul Malo, the founder of Thousand Islands Life Magazine. In 2007, Paul met Patty at a book signing in Alexandria Bay. He was representing the first book in his trilogy and she was signing her first  Singer Castle video, "Dark Island's Castle of Mysteries".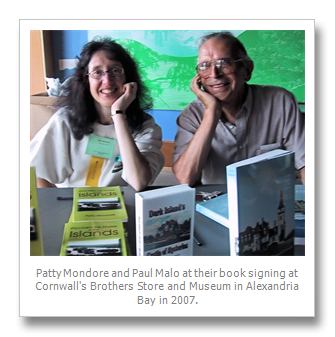 It was in Patty's tribute that we learn that both Paul and Patty had a similar passion  -  "While I would never call soft-spoken Paul Malo a Type A," she wrote, "I would have to say I met my match as far as someone with irons in fires, and with more dreams of exciting new projects than 10 people could fulfill in one lifetime." 
Since then, we are happy to say Patty has not stopped creating as we see her name on River-Lations (2012), A Good Paddling, Proclaim His Praise in the Islands, To Love, Honor and OH BOY, and Perennial Faith.  She also writes the River-Lations column for the Thousand Islands Sun's Vacationer insert. With her husband, Robert, she has produced music videos and two histories of Singer Castle for Arcadia Publishers' Images of America series.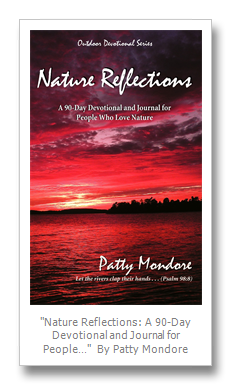 This year, North Wind Publishing (Belfast, Maine) released Patty newest book, Nature Reflections, a 90-Day Devotional and Journal for People Who Love Nature. It's the second book in the Outdoor Devotional Series and follows last summer's release of River Reflections.
Janet Robbins, NorthWindPublishing, wrote, "Nature Reflections is the second book in a series of devotionals for people who love the outdoors. As a person who loves the outdoors, I could relate to each story in some way, having had similar experiences while I was enjoying nature. Experiencing a beautiful vista overlooking water, gazing up at mountains, or looking closely at the details of a flower or insect brings one closer to God as we admire His handiwork. Nature Reflections is a 90-day Devotional and Journal to help you with your bible study and meditations. Each day starts with a beautiful black and white river photo and bible verse. The Trek steers you toward portions of the bible you should read that day while Nature Reflections are the author's personal experiences enjoying nature and where she relates that experience to biblical teachings. Nature's Journal is an area for the reader to write down personal thoughts for the day, so this book becomes a keepsake journal. May God bless you and yours.?
Fortunately, Patty was asked to put together a trailer for the book and she shares it with TI Life. We hope you will enjoy Nature Reflections… It is truly inspiring.

Nature Reflections: A 90-Day Devotional and Journal for People…  By Patty Mondore
Nature Reflections ($14.95) – Official publication date is in October, 2013, but North Wind Publishing has released some advanced copies in the Thousand Islands and Syracuse area. Copies may also be purchased directly from the Gold-Mountain website (www.gold-mountain.com), Amazon or barnesandnoble.com. See the Mondores' website for more information on Nature Reflections and River Reflections.
By Susan W. Smith, susansmith@thousandislandslife.com