Written by
Susan W. Smith
posted on March 13, 2016 12:31
Congratulations to Elaine Vedette Tack!
Elaine is well known in the Thousand Islands for her many volunteer activities. She is also a recognized film maker. Her 14-year broadcast journalism career was spent reporting and anchoring for CBS, ABC and NBC affiliates in Chicago, Cleveland and Las Vegas. Presently she is creating her own Independent video "storytelling" company.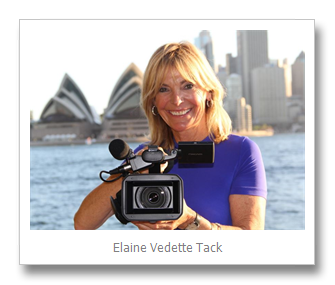 Over the years, she has rented what she calls "her own special piece of River Heaven" and spends the winters "down under" often sending material from far off places as Tasmania. (In February 2015, she sent our readers Hobart Tasmania, Australian Wooden Boat Festival)
This winter we learned that one of her films "Hanka's Tattoo" will be screened in the Sixth Annual Queens World Film Festival in New York. The five-day event had over 500 submissions from film-makers in 23 countries. The film was also screened in February at the Sedona Film Festival and was well received.
The 15 minute film tells the story of a New York City doctor and his 23-year-old daughter getting the same tattoo their mother and grandmother had as a prisoner at Auschwitz, 75 years ago. Elaine is the writer and director, beginning the production in 2014, in Brooklyn, Woodstock and New York City.
In addition to entering the film in festivals, the Melbourne Australia Holocaust Center is creating an exhibit around the film and will use it in an educational program in the Melbourne Jewish School System. It is also in a collection at The Visual Center, Vad Vashem, Israel.
And what about a North Country audience? The Potsdam Public Museum in Potsdam, NY will be showing the film in the exhibition: Flesh & Ink: Tattoo Histories, which opens April 3, 2016 and runs through the summer, at 2 Park Street, Civic Center, Potsdam, NY. Call (315) 265-6910 for more information or www.potsdampublicmuseum.org
Elaine creates short "out of the box" films for philanthropic and business organizations. Hanka's Tattoo is her first, longer format Documentary.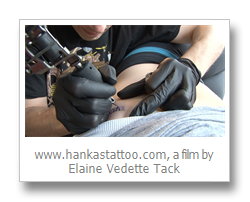 Someone asked me: "Why is a nice Jewish girl like you, making a movie like this?"
I replied: "I am not Jewish".
He continued: "Then why did you make this movie?".
I told him: "You don't have to be Jewish to tell a Jewish story, or black to tell a black story, or green to tell a Martian's story, you only need to be a really good story teller."
By Susan W. Smith, Editor. susansmith@thouandislandslife.com