I was born in Watertown, New York, so my birth certificate says, but my heart says I was born on the St. Lawrence River. From the moment I was born, I spent most of my time, during the summer and fall, at our house in Clayton, New York on the River. I don't have one important childhood memory that does not take place along the banks of the beautiful St. Lawrence. That is where I learned to be silent and to watch nature.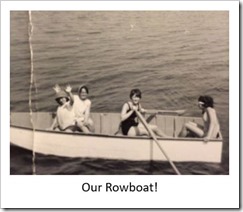 The St. Lawrence was my meditation instructor, way before I knew I was meditating as a child. When I walked in the fields and touched the wildflowers in the summer and listened to the redwing blackbirds and sat with my eyes closed, listening to the grasses blow in the winds, I was learning about being mindful.
Spending time with nature is so very important for children. In my case, the Green River Seaweed, the green fields and sometimes our green wooden rowboat that had blades on the bottom from being used on the ice in the winter.
My father, a native of Alexandria Bay, was my guide to being "chilled out", in our River paradise. He often showed me how to just sit quietly and watch the sky, listen to the waves, the rain on the water, and how to read the clouds. These were all preparing me for my experiences as an adult, in Yoga and Meditation. Watching my father hypnotize a northern Pike, with his hands under its belly, made me think as a kid that fish can relax by your touch. Wow, how wonderful it was to be able to calm a fish just with your hand.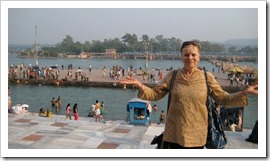 When I was 19, I took my first Yoga class at the local YWCA. In those days, we wore ballet tights to Yoga; there were no Yoga clothes. We took scissors and cut the feet off tights! My teacher was German and had studied in India. I began practicing Hatha Yoga weekly. I noticed that I began to feel good. Even at 19-years-old I had more flexibility, I could concentrate longer, and I had much more energy. So, I kept practicing Yoga, even though it was not popular, and people made fun of me at that time. "Did you hang by your hair today" they would say. I never quite got that joke; who hangs by their hair in Yoga?
Many years later in St. Petersburg, Florida, I met a Yogi from Gangotri India, Dr. Girish Jagirdar. Dr. Girish lived in a cave in the Himalayan Mountains. He had been an engineering professor and left that life to study ancient yoga practices. Dr. Girish came to the United States and Europe, in the winter months, because it was too cold in his Himalayan cave. The Yoga he brought us, for eight wonderful years, was Yoga he learned from master teachers in the Himalayan mountains of India.
I began to learn that Yoga was not just holding postures, it was a way to prepare yourself to meditate. I was encouraged to teach Yoga, by my master teacher Dr. Girish, and in 2008 I received my Yoga Certification, in Clearwater Florida. Shortly after that, I received my Certificate in the U.S.A., Dr. Girish died in India. All his students worldwide were devastated. I decided to go to Homestead Florida and visit the Kriya Yoga Ashram. Dr. Girish had told many of us that this was the most authentic Yoga. After about a year I was initiated into the ancient scientific practice of Kriya Yoga, by Swami Atmavidyananda Giri. The initiation is a ceremony to welcome you to learn the 6,000-year-old meditation that originated in The Himalayas. You see Yoga is a science, not a religion. The book "Autobiography of a Yogi" written by Parmahansa Yogananda is Kriya Yoga. (I recommend this wonderful book.)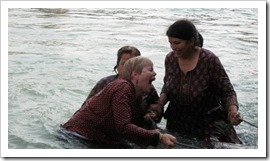 During some of this time, I was teaching art in public schools, and my students were often badly behaved and stressed. I began teaching my students how to sit quietly and how to focus. This helped them get calm like my father's northern pike. I guess my father was a fish Yogi!
I was lucky enough to go to India in 2012, with my daughter Jackie, and visited many wonderful locations, including the Himalayas, Rajasthan, and the Cities of Haridwar and Shirdi. What did India have in common with the 1000 Islands? The Ganges River of course! In Haridwar in November, the Ganges is cold, like the St. Lawrence in June. I dunked into the cold Ganges and thought well, this feels familiar, yes - as cold as the mighty St. Lawrence. The current in the Ganges however moves so quickly that you must hang on to chains, attached to a seawall, so that you are not carried down river. The Ganges flows south and originates in the cold Himalayan mountains, the opposite of the St. Lawrence, which flows northeast.
I have been so well prepared by my wonderful St. Lawrence River to be a student of Yoga and Meditation.
Over the years I have been able to bring this to more people, so they can benefit. I have taught public school teachers in groups, to give them skills for both themselves and students. I often work with moms and children, and I work with people that have a difficult time relaxing and sleeping. Sometimes people need mediation to get over an illness or a bad experience or just to calm down after work.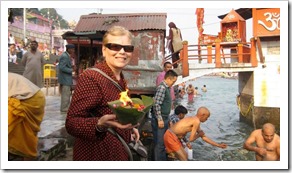 All the feelings we get around the St. Lawrence River inhabit our physical bodies, through our senses. The sounds, colors, and smells of summer, overpower us; we begin to relax on the water, in the water and sitting by the water. This is something we should be able to do away from the water, in an office, at school, or sitting in busy traffic. Over the years I have found my path as a visual artist and a Yoga Instructor. Meditating in India, learning ancient techniques that help others to be calm, is something I never planned for myself. The River teaches us our true nature inside, which is calm and peaceful. We can use the River experience to create a meditative state anytime, even on an airplane during turbulence. I am grateful for the St. Lawrence, my first teacher.
By Paula A. Allen
Paula Allen is in the process of moving to Clayton, New York. She received her Yoga certification in 2008, at Yoga Village in Clearwater, Florida. Allen received a Humanitarian of the Year Award in 2011 from the Tampa Florida Human Rights Council for her work in communities. Allen was also Nominated for Woman of the Year, in Community Service, in 2008, by the St. Petersburg FL, Chamber of Commerce. Her professional career has a strong focus on improving lives, through the power and impact of art, Yoga and Meditation. In 2016, Allen received her MFA in Film,from The Vermont College of Fine Art. Her wide range of knowledge, in multiple platforms,makes her a skilled teacher in the arts and in Yoga.

Editor's Note: We profiled Paula's artwork in February 2016, Paula Allen and Susan Smith prove it is a small world after all. She plans to teach Yoga again, when she returns to the River. You can reach her at pollyzoomproductions@gmail.com