Written by
Jeffrey Leggo
posted on May 13, 2018 12:28
As with other people who are from the community of Gananoque, I was shocked to hear of the sudden and untimely passing of my friend Gord Brown. During the time that I was the superintendent of Thousand Islands National Park of Canada, I had the pleasure of working with Gord on issues concerning the Park. He was always very helpful but left the day to day operations to the management team and always left the conversations with "if you ever need any help be sure to give me a call".
I especially remember the renaming of St. Lawrence Islands National Park to the current name of Thousand Islands National Park. We began talking about the possibility of the change in 2009, which had been discussed in the late 1960s, but the idea had not gained much momentum.
Gord became the driver for the change and decided on tabling a private members bill in parliament, to make it happen. The bill was C-370 and stated "1. The title of subpart (1) of part 5 of schedule 1 to the Canada National Parks Act is replaced by the following: (1) Thousand Islands National Park of Canada". It had everything it needed and was so eloquent and so clear. On March 27, 2013 the bill received royal accent and the most suitable name for this amazing place became law. Whenever I think of Thousand Islands National Park, and I often do, I'll think of Gord and his many achievements as our member of parliament.
By Jeff Leggo, Former Superintendent, Thousand Islands National Park
Jeff Leggo grew up in Gananoque and started his career with Parks Canada as a Park Warden at St Lawrence Islands National Park. After several years working at various parks across Canada, Jeff returned to the Thousand Islands. After 35 years with Parks Canada he retired as the superintendent of Thousand Islands National Park in 2017. He lives in the area and enjoys spending time with his daughter and two grandchildren.
________
Editor's Note:
Gord Brown, Member of Parliament for Leeds-Grenville-Thousand Islands and Rideau Lakes, died suddenly of a heart attack on May 2 at the age of 57. Typical of Gord, he played his favorite game, hockey, that morning before going to his office on Parliament Hill in Ottawa. It is not often that a politicians' life touches so many in a community – but Gord's certainly did.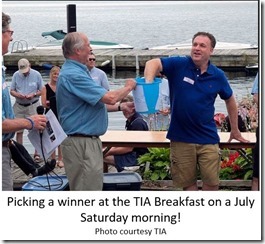 Throughout the week following his death, family, friends and his fellow members of parliament, on both sides of the aisle met to share their stories. I joined in as I was the guest speaker when the Park name was officially changed. I remember that day and how proud he and Jeff Leggo were. Few know the time, effort and "hoops" a parliamentarian goes through to get a Canadian private members bill passed and into law. I also remember other days – dozens of ribbon cuttings including the opening of Brockville's Aquatarium and certainly he never missed our Thousand Islands Association (TIA) Breakfasts!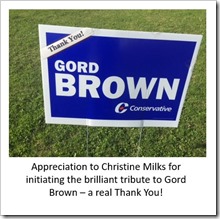 Not only did he work tirelessly to make the name change for Parks Canada, but he helped solve the problem of getting boating rules eased for Americans who come into Canadian waters and do not stop, but travel among the islands. He and Senator Bob Runciman were instrumental in solving that problem finally, in summer 2017. In addition, he fought for the forgotten survivors of thalidomide, so they would receive compensation. The day after his death Prime Ministre Trudeau announced that "good news" was coming soon with funding allocated in Canada's 2018 budget.
At his funeral, attended by 1,500 guests and held in his home town's Lou Jeffries Recreation Centre, parliamentarians from all parties joined in paying tributes. In addition, his family including his sons Chance and Tristan and our other well known community politicians, Steve Clark, MPP and Senator Bob Runciman spoke.
The newspapers titled the news of the funeral: "GANANOQUE – Politicians, old friends, family members and the community he loved gave Gord Brown a home-ice sendoff on Thursday."
Perfect!
At this time I ask that you join me in offering out deepest sympathy to his wife, Claudine and two sons Chance and Tristan. One project that Gord left unfinished, was his vision to build a second ice pad, to be located near the current recreation centre. So in lieu of flowers the family requests donations be made to a GoFundMe Account for the Second Pad Ice Rink. Donations can be made at https://www.gofundme.com/help-gord-browns-gan-ice-pad-vision
____________________