Written by
Lynn E. McElfresh
posted on August 13, 2012 07:47
Sam Grenell first laid out lots for summer cottages on Grenell Island in 1879. By the turn of the century there were over 70 cottages on the island. After the death of Sam Grenell in 1910, islanders decided to form an organization for the improvement of the island.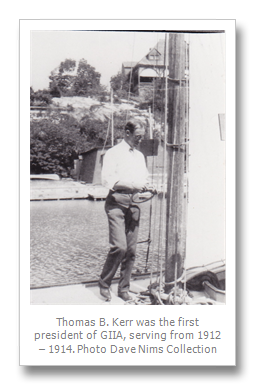 Through the last century, the GIIA has dug wells, installed sidewalks and brought both electricity and telephone service to the island. Currently, GIIA maintains the Grenell Island Community House and organizes social events to promote island unity.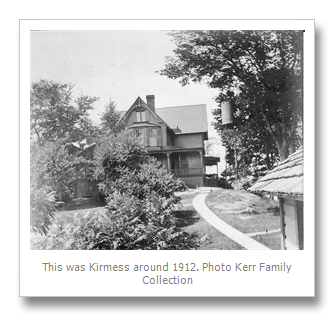 The last weekend of July, The Grenell Island Improvement Association (GIIA) celebrated its 100th Anniversary. The three-day celebration started on Friday night with a cocktail party honoring our past-presidents at Kirmess. At the brainstorming meeting way back in 2010, Kim Kempton, the current owner of Kirmess had offered her cottage and it's lovely grounds as the setting of the party. Most events utilize the Community House, but Kim offered her place so the kids of the island could have a separate function at the Community House, while their parents attended the cocktail party.
As I began doing research about GIIA, I was amazed how serendipitous our decision to have the party at Kirmess had been. I discovered the first president of the GIIA had been Thomas B. Kerr, the owner of Kirmess in 1912. Secondly, the first organizational meeting for GIIA had been at Kirmess…right on that lovely porch. It was the perfect place to both celebrate our 100th anniversary and honor our past-presidents.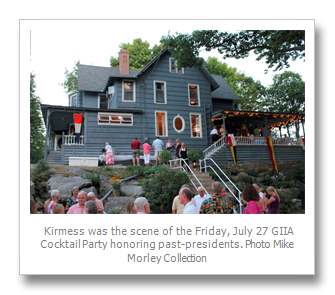 To read more about the Community Island Improvement Association see Grenell Island Community House.
By Lynn E. McElfresh
Lynn McElfresh is a regular contributor to TI Life, writing stories dealing with her favorite Grenell Island and island life. We have learned a great deal over the years from Lynn McElfresh's musings, from moving pianos to island weddings or from plumbing problems to meeting old friends, taking nature walks and the importance of trees. Lynn's major project this year was compiling the history of Grenell for its 100th Birthday.  This is the story that captures this celebration.   Click here to see all of Lynn's contributions!