Written by
Ken Deedy
posted on August 13, 2012 07:31
Editor's Note: We thank Ken Deedy from Grindstone Island, for thinking of TI Life when he was told about this lucky "find". It is an example of how to ask a history question and perhaps solve a mystery.
It was a beautiful river-day at the Grindstone Island waterfront farm owned by Camilla and Bob Baum.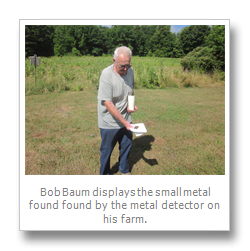 Their neighbor and friend, Jimmy Hodge, had come by for a visit with his new "toy" - a metal detector.
Jimmy and Bob worked their way around the farm house and on the South side, about fifty feet from the house, the alarm went off.
Bob took a shovel and dug up several metal artifacts including some hoops from an old barrel, an axe, and the parts to a plow. These were all in one spot and the location might have been an old dump.
Bob kicked the clod of earth that had covered the artifacts and out fell a brass tag that was about two and a half inches long and an inch wide. He cleaned it up and discovered that it contained printing:
Those readers who are area historians might be able to identify the tag. Was it a luggage tag? Was it good for passage, with return, from Clayton to Edgewood Park. What was the approximate year of use? This an interesting mystery. Please send us your answers.
By Ken Deedy
Ken Deedy is a Past president and a founder of TILT and resident of Long Island and Grindstone Island, NY. He is well known in the Thousand Islands as a volunteer with several community organizations and is Trustee Emeritus of Save The River, Clayton, NY.