Written by
Susan W. Smith
posted on October 17, 2008 18:02
October is a hectic month for Islanders and those who summer in the Thousand Islands, for it is often synonymous with closing cottages, hauling boats and winterizing motors. However it is also a time of reflection as we all have wonderful memories of summer 2008 and they will surely tide us over until the ice leaves the River in the spring!
October also is the month when many of us begin our winter activities with a spirit of excitement. For Thousand Islands Life, the magazine, this winter provides a unique challenge. Over the past three years Paul Malo created more than 150 articles to share with our readers - and for this we are truly grateful. Over the winter we will index the material to permit easier and better access. We will also review the material to ensure there are "live links", as well as updated information. We also issue an invitation to submit articles/content. We look forward to receiving your queries.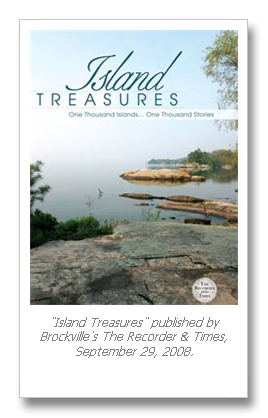 This October edition includes several pieces written by Kim Lunman. Kim's bio is on the site under: About Us. Kim received well deserved accolades this fall when the Brockville The Recorder & Times published "Island Treasures" magazine and distributed it in several Canadian newspapers. Publisher Bob Pearce has graciously allowed TI Life to publish these stories for our U.S. readers to enjoy. Happily, Kim is hard at work creating a spring edition to feature many more island stories.
On October 11th a memorial service in memory of Paul Malo was held in Hendricks Chapel on the campus of Syracuse University. Kim Lunman wrote Paul Malo Remembered, which captured the special tributes given that day by Paul's family, friends and confreres.
I have begun to share some of my island history in this edition – Historic Island Names – my number one research passion. If you have questions about an individual island and would like more information, please contact me. We will add more naming information in the future as well as updating Ross Pollack's naming project in December.
Once again, TI Life is fortunate to feature Ian Coristine's photography –They will allow you to remember our River and the Thousand Islands and their glory throughout the long winter ahead.
Susan W. Smith SusanSmith@ThousandIslandsLife.com