Written by
Lynn E. McElfresh
posted on September 13, 2012 07:48
When you live on an island, boats are important. In the early days, most people got to and from the island via a steamer that landed at the front dock. Personal boats were limited to canoes, St. Lawrence River skiffs and sailboats. Sometimes, small steamers would pull skiffs to different areas of the river so fisherman didn't have to row for miles.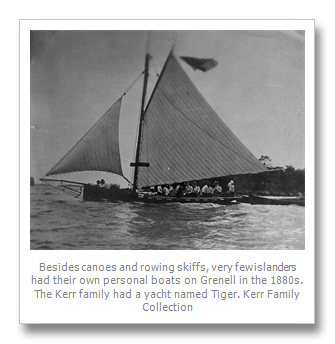 Personal motorboats first appeared on Grenell about 100 years ago. According to Olivia Pratt in The Story of Grenell, the first small motorboat on Grenell belonged to Phillip M. Sharples who had a "little naptha launch," though Olivia was quick to add that Prof. Pabst's "gasoline electric" appeared about the same time. It was from Prof. Pabst's gasoline electric that Mabelle Roberts Ogden witnessed the great fire at Thousand Island Park the summer of 1912.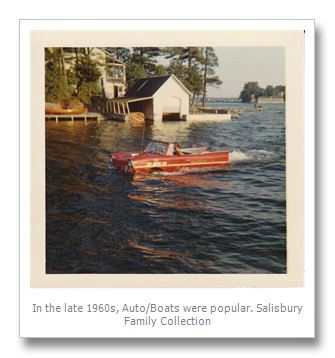 Fiberglass boats start appearing on the river in the 1960s. About the same time, the auto/boat also became popular. At one time there were three auto/boats owned by Grenellians. I could see how they would be appealing. An auto/boat allowed you to cut out that time consuming step of unloading the boat or car and then reloading the car or boat. The auto/boat craze didn't last, while the fiberglass phase did. But the old woodies still have their appeal with their gleaming wood and throaty engines. A celebration of our island history would not be complete with out paying homage to our antique boats.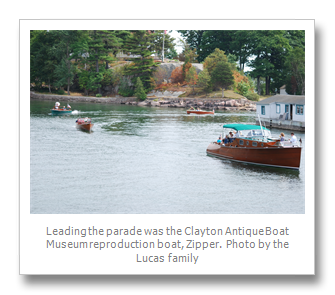 The Grenell Island Antique & Classic Boat Parade was at noon on Saturday, July 28th, 2012. Islanders sat back on their porches and docks and watched history pass them by! The boat committee had a flyer and ballot passed around to each cottage so they could read a little snippet about the boats and their owners in the parade. Besides Zipper and That's Her, there were thirteen antique and classic boats. All had some connection to Grenell.
Leading the parade was the Clayton Antique Boat Museum reproduction boat, Zipper, a 42 ft. commuter with twin V-8 Mercruiser engines. The Straudacher Boat Building firm in Kawkawlin, MI built Zipper for the Stroh family (of beer brewing fame) in 1978, from designs Ned Purdy drew in 1929. The Stroh family donated this classic commuter to the Museum in 1985. Anthony Mollica wrote a wonderful article about Zipper in Thousand Islands Life, earlier this year. Aboard Zipper are the winners of last year's raffle. The group is enjoying a gourmet lunch graciously provided by Kim and Scott Kempton.
The boats were arranged in order according to age with the oldest first and the youngest last:
1915 The Ark

The Ark is a 26 ft. Fry launch with a 60 hp Chris Craft Model B engine. Originally purchased by Jim Holden's great-grandfather in 1925. The boat was sold with the cottage in 1926. When Jim's father, Chester Holden, re-purchased the cottage in 1960, the boat was still with the cottage. Named The Ark, because Chester was a veterinarian, it was the Holden's main transportation to and from Grenell for many years. Lovingly preserved and captained by Jim Holden.

1922 Lindsey Lynn

Lindsey Lynn is a 25 ft. Lindsey launch with a 60 hp Chris Craft Model A engine. This one-of-a-kind launch was built by John Lindsey of Lindsey Boatworks on Hub Island, a short swim from the McElfresh's cottage on the NE tip of Grenell. Lindsey Lynn spent the last 22 years on Canandaigua Lake. The McElfresh family was excited to bring this beauty back home to her river roots last summer. Captained by Gary McElfresh and his first mate, Lynn. Winner of the Grenell Island People's Choice Award. (I was accused of pandering for votes by showing a little knee in my 1912 swimsuit. Obviously, the ploy worked.)

1932 Gotcha

Gotcha is a 15 ½ ft. Chris Craft Model 300 with a 45 hp Gray Phantom engine. Restored by, Stu Clough with help from first mate, Helve, from 2001 – 2005. Gotcha is not just a Grenell icon, but a show boat. Gotcha has made multiple appearances at boat shows in Alexandria Bay, Clayton and last winter traveled to a boat show in Tavares, Florida.
Captained by Ben Smith.

1946 Cap 'N Bob

Cap 'N Bob is a 22 ft. Hutchinson utility with a 125 hp Chrysler engine. The boat has been in the family since 1947. Edgar Reeves' nickname for his wife was "Cap," so Cap 'N Bob is a double entendre name for Bob and his mother. Captained by Laura and Anthony Ferrari.

1947 Pickled Heron

Pickled Heron is a 22 ft. Hutchinson utility with a 190 hp Mercruiser engine. After four years of bidding on boats, the Kemptons acquired this boat last fall. Scott came up with the name Pickled Heron along with the heron holding a martini glass (ala the drunken stork from the Looney Toons cartoon) and a play on words with pickled herring, a favorite food of many in the Kempton household. Captained by Scott Kempton.

1948 Karen Louise

Karen Louise is a 22 ft. Hacker triple-cockpit runabout with a 141 hp Chrysler Royal straight-8 engine. Bought from a dealer in Connecticut, Karen Louise has been in the Carley family for the last 23 years. It is named for the Carleys' daughter, Karen, who died at age 28 of cancer in 1993. Captained by Bill Carley.

1948 Pywacket

Pywacket is 22 ft., 2 in. Lyman Runabout with a Cruisader 265 engine. Made of solid Honduras mahogany verses plywood used on most Lymans, Lyman built only 46 boats of this model—making Pywacket a particularly rare and unique boat. Rescued from an estate sale and now owned by the Lucas family for the last 19 years, who have shown Pywacket at both the Alexandria Bay and Clayton boat shows. Captained by Robin Lucas.

1950 Sassy

Sassy is a 17 ft. Chris Craft Special Runabout, with a 95 hp Chris Craft Model K engine. Acquired by the Clough family 16 years ago. The Cloughs recently replaced her bottom. Sassy has garnered numerous awards from the Alexandria Bay Boat Show. Captained by Stu and Helve Clough.

1955 Say When

Say When is an 18 ft. Jafco Seamaster with a 135 hp Gray Marine engine. This boat originally belonged to the grandson of the founder of Jafco Marine in Buffalo and was purchased at the Antique Boat Museum Auction by the McElfresh Family in 2002. Captained by "The Next Generation" on Rum Rock---Rob McElfresh and Michelle McElfresh Argento.

1956 Happy Hour

Happy Hour is a 15 ft. White outboard with a 40 hp Evinrude Lark engine. This boat came with the cottage when Bill Carley purchased Gazebo from his aunt in 1978, so Happy Hour has had a long tenure on Grenell. Captained by Bill Carley's brother-in-law, Gordon Hite.

1958 GEM II

Representing GEM, GEM II is a 20 ft. Chris Craft SeaSkiff with a Chris Craft engine. The boat is named after the owner of the cottage—Gerald Edwin (Pete) McGill. GEM I was bought with the cottage in 1980, but sank near Rock Island after it was rammed by a jet ski in 2002. Passengers escaped with minor injuries. GEM II was purchased in 2007 to replace GEM I. Captained by Pete McGill with his first mate, Barb.

1968 Courier

Courier is a 26 ft. Lyman Cruisette with a 235 hp Chrysler engine. John Kerr's Grenell roots run deep. John grew up summering in Glimpses and was related to Archie and Lawrie Kerr of Southpoint and Thomas B. Kerr of Kirmess. He purchased this boat in 1994 from Judge Carter of Clayton. John's younger brother wanted the name Courier…John suggested they spell it "Kerrier," apparently he was overruled. Captained by John Kerr and his great first mate, Barbara, current residents of Maple Island.

1952 Hey Day

Hey Day is a 17 ft. original with a 40hp Evinrude outboard. Hey Day was built in 1952 by Stu's father, O. Wendell Clough. Hey Day, has been in the water on Grenell every season since without exception. Winner of the Renaissance Cup at the Alex Bay Boat Show in 2006. Captained by Katie and Lou DuBon.

That's Her

Built by former Grenell resident, Brainard Robbins in 1933, That's Her is a Grenell Island icon. She is 39' 8" with a 125 hp, 6-cylinder Chrysler engine. Starting in 1933, That's Her ferried islanders between the islands and Fishers Landing first by the Robbins family and then the Chalk family. Captained by Duane Chalk and son, Barry Chalk. You can read more about That's Her in my article. Unfortunately, That's Her suffered an engine problem before she rounded the tip of Long Rock so the north side of the island did not get to see her in the parade. Most however did get to see her in the water sometime during the weekend.
By Lynn E. McElfresh, Grenell Island
Lynn McElfresh is a regular contributor to TI Life, writing stories more than 40 articles dealing with her favorite Grenell Island and island life. We have learned a great deal over the years from Lynn McElfresh's musings, from moving pianos to island weddings or from plumbing problems to meeting old friends, taking nature walks and the importance of trees. Lynn's major project this year was compiling the history of Grenell for its 100th Birthday.  This is the story that captures an Antique boat parade.  Click here to see all of Lynn's contributions!