Written by
Susan W. Smith
posted on September 13, 2012 07:32
This is a continuation of Mitchell & Wilson Ltd's Minute Book, Part I, published in the TI Life edition of July, 2012.
"No story of a small privately-owned firm such as Mitchell & Wilson Ltd. can be complete without some mention of the men and women who, over the years have been responsible for its very existence…" Thus begins seven pages of "tributes" to many of those who were not only employed by the firm, but who played a prominent role in Gananoque's history.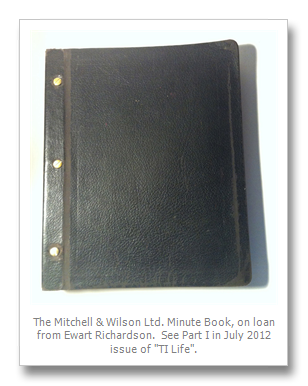 The notes were originally transcribed by Fred Laughton, David Mitchell's son-in-law from stories told by Ross Richardson who joined the firm in 1910 as the boss's nephew.  Certainly some of the stories are not suitable for family reading and some would get this author into trouble if published, but suffice to say, I am pleased to share the following:
Robert "Bob" Webster, the foreman for over 50 years, is described as a "cabinet maker par excellence." After his death in the late 1940s, Albert "Bus" Harper took over. First trained as a baker at Gibson's Bakery, he came to M&W in the late 1920s as a temporary apprentice carpenter. His "temporary" job lasted 40 years!
In the early 1900s Don McKellar ran the office staff and with Stewart Hastie, his successor, were responsible for creating the firm's accounting system. Hastie is described as having "strong socialistic opinions" making him "a great CCF supporter…. He had many little idiosyncrasies, some amusing, some annoying and some downright aggravating but in the final analysis he was a darned fine person …"
Many of the descriptions are entertaining and are copied as written: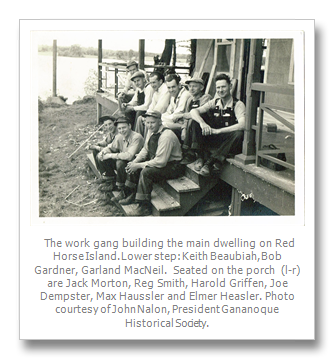 Stewart Hastie was a first class, old fashion, bookkeeper and hated change of any sort. He prided himself, rightly, on his mathematical ability, particularly addition, when we finally got a calculator, he flatly refused to accept any results from the machine without checking said results himself. He finally came to accept, the calculator as a necessary evil; but to the day he died he could never reconcile himself to the Bank's not giving us a, passbook. When the Bank did away with the "current account passbook" he almost went out of his mind … They finally agreed to keep a passbook for him with no warranty that the figure entered would be accurate. On one occasion the bank teller entered a 7 in place of the correct 9, a mistake of 2 cents. Hastie spent about a day and half finding the error and then had a fit because he couldn't balance with the Bank. We all argued with him, explained that the book was not necessarily the Banks true record, to no avail. Ross finally had to put in the alteration in pencil to make it agree. But Hastie refused to accept the correction and erased it. Ross finally had to use a ballpoint pen, at which point Hastie accepted the correction but that was the final entry in the "current account passbook"!

Stewart was also was a "HOCKEY NUT". On one occasion be begged a ticket (quite legitimately) from a lumber wholesaler for a Saturday NHL game in Toronto. He left here on the bus with a tooth brush and razor in his coat pocket, went to Toronto Saturday a.m., saw Jr. B game Sat. afternoon at Varsity Arena, an NHL game Sat. night, slept in the Union Station, caught a double-header Jr. A game Sunday afternoon, met a Gananoque friend and got a ride home. (NET: 4 hockey games, an overnight stay, 5 meals of a sort – he was a great hamberg man - $13.50 with a refund to come on the return portion of his bus ticket).
Stewart was, all in all, a wonderful little guy and unfortunately just as felt he had things going for him and his retirement he contracted bladder cancer and was dead about five months later.

Another character … was "Stan" Murray who married Claire Mitchell. (David Mitchell's daughter. Completely bilingual, an inveterate smoker and a most amusing raconteur. Stan's background was in the Quebec and Maritime hotel business and he must have been a most genial host. Unfortunately his real entry into the business for himself coincided with the market crash of 1929 and the depression of the dirty 30s, and he finally gave up the hotel business, came to Gan in the late thirties to work with Hastie in the office, replacing Mary (Mitchell) who had married and given up her job.
Stan was a very public-spirited person, a multiple-term School Board Trustee, President of the Lions Club, etc. Tremendously popular, very funny, a terrific story-teller with a fantastic sense of humour and an amazing ability to use dialect. Many of his stories have become classics to Gananoque, but no one can tell them in Stan's imitable way. As I mentioned earlier, he was an Inveterate smoker unfortunately having had In his earlier years a bout of TB in consequence of which dreaded going to a doctor…. [the notes go on relating that Stan died of lung cancer shortly after. ]
Joe Beaubien also started as a young man and eventually went west for quite a few years, where he had his own construction business. He returned to Gan [sic] in the 30's and worked for M&W until his retirement at age 75, having developed diabetes. Even at 75, he could out work many of his co-employees. Joe was a big man, tall and somewhat rotund – but he was the only man I ever saw lay a hardwood floor from a standing position. To the day he quit work, he could bend at the waist, straight-legged and put the palms of his hands on the floor.

Charlie Brown was the master Mechanic of all the outside crew for years. An absolute wizard at solving problems and a real teacher to the younger men. During the remodeling of the OSP (Ontario Steel Products) plant in the mind-40's Charlie was foreman of the crew. On one occasion – a pay day – I went to the jobsite to get the men's time and found Charlie actually in tears, and complained, 'I spent 40 years learning to be a carpenter and what does Ross do to me? Makes me a damned tinker!" Bill Rees, who was shop super at O.S.P at the time had asked Charlie to erect some metal overhead track. Ross told Bill about Charlie's sorrow and both of them being used to handling such problems came up with the only solution. Bill to Charlie, "I went to Ross and told him I had this travelling crane setup to install, and I also said, "there's only one man in Gananoque with the know-how to do this job, so give me Charlie Brown or I"ll have to get a crew from out of town to do it!". That did it – Charlie's tears ceased and he was like a pouter pigeon for the rest of the day…".
Frequently, we find a son following a relative into the firm: Jack and Bill Beaubien, sons of Joe; Keith Howard, Danny and two of the other McNeils – brother and sons of Don and Garland.
One pair of brothers, Mort and Guy (Mutt ) Jacques, were both labourers with the firm. Mort was mostly employed as mason's helper and made all the cement brick used by the company for years. Mutt, blind in one eye was a truck driver. He and Mort lived back of the Canadian racetrack park for years and lived very frugally. Mutt, to my knowledge, never had a bank account and usually carried a roll of bills "to choke a oxen". As a proverb goes. During the post-war period of exchange restrictions, he had occasion to go to the Alexandria Bay for a load of windows and the customs people impounded, supposedly, his huge roll of bills. After clearing customs Mutt turned to his helper and said, "The didn't ask for what I had in the other pocket." And produced an equally large roll.

"Mike" Earl Lappan, who also followed his father into our crew, was for many years our stone mason. At one point in his career, he had a slight disagreement with Ross over money and decided to "JOIN THE UNION" and go to Kingston where there was plenty of work for masons. He lasted less than a day. In reporting back to M&W for work ,he told Ross that "No damn union flunky" could tell him how many bricks he could lay in a day. Apparently he had laid his quota in the forenoon and was told by the Union steward to "take it easy and make it last'. [Written in capital letters] HOW TIMES HAVE CHANGED.
We do have 2 or 3 TEMPORARY employees… Kevin Murchie started with M&W some 20-odd years ago as a summer employee, in the yard. Ross offered him temporary employment when he was working (elsewhere) and not being paid. 20 years later he has progressed through - yard laborer, yard foreman, Joe boy in the Appliance Dept. appliance technician, appliance foreman and salesman, to general sales… Doug Slack, also, offered a short-term job in the shop shortly after the war ended in charge of the shop.
There is one  omission in the seven-page review.  There are no stories of  "women".  To help rectify this I asked Peter Murray, whose mother Claire was a member of the corporate board of directors for many years.  He found some family photographs and explained how Claire chose a career in nursing.  He also explained that her half sister Mary served as president after her father died.   It is safe to say all Mitchell & Wilson women played an important role in the company as well as serving as volunteering for countless community organizations.
The final part is the most telling: "M&W has always been a very paternalistic organization. The employees over the years have seemed to like it so. Rarely does a man leave or get fired. The Firm's philosophy is "TREAT THE MEN FAIRLY AND EXPECT THE RECIPROCATE" This mutual trust seems to have paid off over the years and while we no longer have a large construction crew as in the past , we do have a loyal, diligent, skilled staff.
Over the years , Mitchell & Wilson, through apprenticeship programs or trade associations, trained most of their competition in the construction field. Well-known-Gananoque builders, Jack Morton, Wm Burt, Harry Schur and many of the men working with them are all former Mitchell & Wilson employees. Most of them remained firm friends with the company until it closed its doors in the 1993.
By Susan W. Smith, susansmith@thousandislandslife.com