Bounce! Bounce! PLOP! And the phone was gone. It was a blustery day and the river was so rough my husband changed to cargo pants so he could button the pockets. He didn't realize there was a slit in the bottom of the pocket just right for a slender cell phone to slide through and slip into the river. And, it did!
"Sorry the River has swallowed another cell phone.  She has a taste for them, huh," an islander emailed me later that day.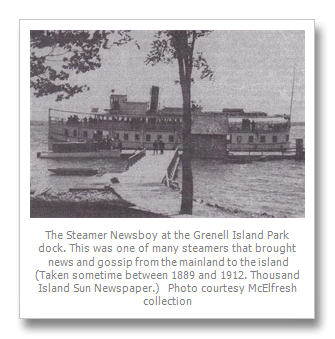 Our telephone provider somehow bungled the replacement order and we were without a phone for two weeks. Ironically, at the same time our email provider went down. We were cut off from our normal communication networks for a couple of weeks.
Having just researched the history of Grenell, it made me realize that not so long ago our plight was an everyday experience. Or was it?
News back in the late 1800s and early 1900s was in the form of newspapers. Many newspapers had both a morning and an evening edition. Steamers started arriving at Grenell early in the morning and at regular intervals through the rest of the day. The mail came twice a day. People didn't call or email back then…they wrote letters. Hence the need for mail delivery twice a day.
The newspapers carried personals, sort of the Facebook postings of the day. They talked about who was visiting whom, who had a cold, or who caught a huge fish. I gleaned lots of information for the 100th Anniversary Cottage-By-Cottage Grenell Island History from newspaper personals. Because of the personals, I was able to put a date on when cottages were built, remodeled or sold. They also gave a very lively snapshot of what life was like a hundred years ago. One of my favorites involved our cottage and was under the title of "University Girls on the River" and read as follows:
The Pratt cottage at Grenell Island, Thousand Islands, has attracted the attention of a great many tourists on the passing steamers, decorated as it is with orange bunting and orange flags. Numerous questions have been asked as to the occupants. Inquiry revealed the fact that a jolly party of Syracuse university girls belonging to the Kappa Alpha Theta fraternity were occupying it for a two weeks' stay. The party consists of Miss Carrie Douglass, Miss Stella Took, Miss Susan Sands, Miss Lucille Baldwin, Miss Helena Evans, Miss Olivia Pratt and Miss Coe Dean. The girls are all guests of Miss Olivia Pratt. The Evening Herald, Syracuse, Tuesday, June 19, 1900.
Phone service on the island is a fairly recent addition. The first phone on the island was at the store in 1919, but that only lasted a year. Later, there was a phone booth on the back porch of the Grenell Island Store.
While there were individuals who had phones, phone service wasn't available to many cottages until 1960. Grenell Island Improvement Association board members, Morris Carley and William Salisbury, took on the project of bringing phones to Grenell. They spent the entire 1959 season going cottage to cottage getting enough people to sign up for phone service and collecting a refundable $5 deposit so that the underwater cable could be installed.
Even this past decade things have changed a lot. I spent my first full season up here in 1999, cellphones weren't common yet. My father-in-law had a cordless phone in the cottage next door, but the range was not that great. Internet, if I recall correctly, was dial-up and cost $3 a minute. Slow and very, very expensive.
Of course today many cottages are equipped with satellite dishes and they have all the comforts of home.
However, we stick to that notion we are "roughing it" with no satellite TV. But our week without phone and email let us know that we are far, far from roughing it. As frustrating as it was at times, it gave me a chance to contemplate what life was like a hundred years ago on the river---communication-wise that is.
Maybe next year, we should try going a day without electricity and all that brings to us like lights, running water, microwaves, refrigerators…
…wait …..on second thought……maybe not.
By Lynn McElfresh, Grenell Island
Lynn McElfresh is a regular contributor to TI Life, writing stories dealing with her favorite Grenell Island and island life. We have learned a great deal over the past three years from Lynn McElfresh's musings, from moving pianos to island weddings or from plumbing problems to meeting old friends, taking nature walks and the importance of trees.  Recently she presented several articles about Grenell for its 100th Birthday.   This month she describes the dreaded "phone in the River" scenario…  Click here to see all 43 of Lynn's contributions!