A few weeks ago, just before closing the island for the season, I awoke to a scene I had never seen before. Just beyond Hayley's Island (a large rock named after my daughter, which in my mind qualifies as an island because of its resident pitch pine) lies a submerged shoal that had recently broached the surface for the first time in my experience. On it was standing a very large bird.
Knowing that pictures never wait, I leapt out of bed, stumbled down the narrow staircase and grabbed a pair of binoculars. There in the dim light (made brighter by the camera) stood a bald eagle! Camera next, quickly swapping lenses to shoot through the kitchen window. Going out risked flushing it. A few quick shots to be sure I had something, then I quietly slid open the door to try for something more, only to watch it flying away. 
I have prettier shots of this view, but arguably none more interesting, at least to me. It documents two firsts in all my time on Raleigh, which because of this fall's extremely low levels, may well be the first time ever that such a regal visitor has graced this shoal. The shot also shows a seagull which had been harassing the eagle. It's hard to imagine such a powerful raptor can be a victim, but that's definitely my take, because I've seen it before.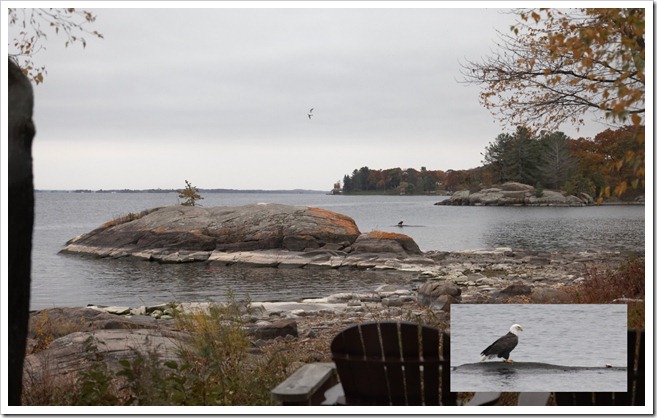 The eagle was standing on the submerged shoal that had recently broached the surface.
Several years ago, when the second nesting pair (in 70 years) returned to the River, I was extremely fortunate to learn of their return and the location of their nesting site. I set up quietly with my nephew Kevin's help, within sight of their nest, but not so near as to disturb the single chick.
It was alone, but I was certain that if we were patient, the parents would return. Eventually, we both felt an eerie presence just before spotting them, gliding in silently overhead. They weren't alone.
High overhead was an osprey hovering. Suddenly it dove. A flurry of activity at the bottom, way too fast for us to understand quite what was happening, but it was clear that the much smaller osprey was attacking the far larger eagle! Climbing up for another try, I aimed exclusively at the eagle, asking Kevin to warn me if another dive began. It did, and he counted down, NOW! 
We couldn't actually see what was happening. It was over way too fast. Unfortunately, the resulting images are very poor quality. I don't generally shoot action, so hadn't set the camera fast enough for such high speed stuff. Nevertheless, these images revealed what we couldn't quite see. The eagle had flipped inverted in flight, extending its talons upwards to defend itself!
Minutes later, when the osprey finally took a break, it was a purple martin that took over the attack, actually riding the eagle's neck like a bronco buster, pecking at it mercilessly.
This harassing was ongoing, other birds waiting their turn. The eagles were given absolutely no peace. It's hard to believe that such regal and powerful raptors spend their lives constantly defending themselves, but that's clearly what we saw. These attacks might seem somewhat more understandable if the eagles were invading other birds' territories, but this was happening right above their nest, with the baby witnessing all the action.
It's worth mentioning that if you ever discover an eagle's nest, please don't share its location with others. If their return to the region is to be encouraged, we at least, need not be additional antagonists. 
By Ian Coristine  www.1000IslandsPhotoArt.com
Ian Coristine has been active in aerial photography for over 25 years. He has also written countless articles for flying magazines and is a guiding force and contributor to Thousand Islands Life. 

The author of six best-selling books on the Thousand Islands, Ian' sixth book is an interactive eBook for iPad, titled One in a Thousand. The memoir is co-written with Donna Walsh Inglehart (Grindstone, Breaking the Ring). One in a Thousand describes the challenges of acquiring Raleigh Island, the restoration of an abandoned cottage, and his adventures in the air and on the water as he immersed himself in a new, unexpected career. Produced by McLellan Interactive Publishing, it includes an 85,000-word text set in a beautiful layout, videos of his flying adventures, nature sounds from the River, an interactive map and hundreds of his best images embedded in the text, in galleries and in automated slideshows set to unpublished instrumental tracks from Great Lake Swimmers.

Editor's note:  If you subscribe to ThousandIslandsLife.com you will receive two emails each month.  On the first of the month from November – April Ian Coristine will send you his "wallpaper" image.  The wallpapers are available in wide screen and standard formats. Standard also services the iPad, the only platform for the eBook.  The second is sent on the 15th of every month from TI Life and announces that the new issue is online.