Photo Tribute to the Cape Vincent Seaway Pilots
Written by
Martin Zonnenberg
posted on December 13, 2012 07:31
Just imagine yourself being one of the Seaway River Pilots stationed in Cape Vincent and you are scheduled for duty to go out at midnight to board and pilot a down bound bulk carrier and navigate it through the 1000 Island Seaway... the weather is pretty bad... stormy and heavy rains, pitch black...first thing you have to do is trying to get on board, climbing that high rope ladder...
The pilot boat is plunging through 6-8 feet high waves, spray is flying all over, you are on top of the pilot house structure, the pilot boat is rolling like heck and you are hanging on for dear life.
Your only thought for the moment is to make very sure to have that timing right when you make that half jump to get a grip onto the ship's rope ladder, and just don't think yet about that long steep climb up...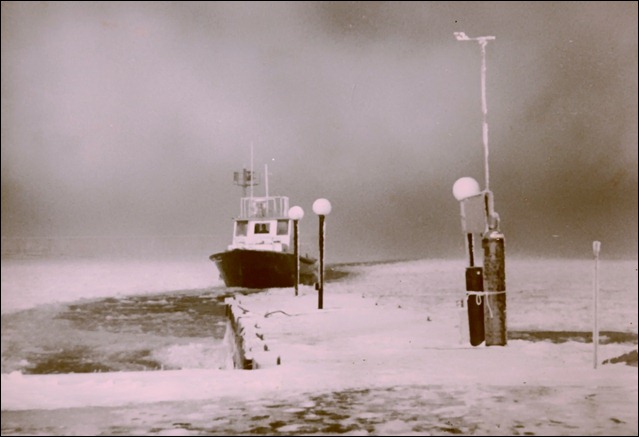 The Cape Vincent Station 'stand by' Pilot Boat is coming back through snow and ice. Picture courtesy from Pilot's archive.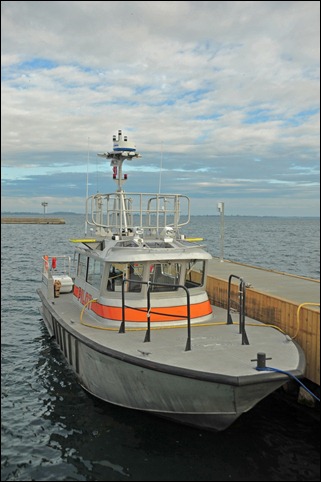 Here is the newest 'all weather' Pilot Boat, stationed in Cape Vincent.
Seaway Pilot Don Metzger standing on the Pilot's transfer platform. From this platform the pilots make 'that hopefully 'well timed leap' onto the ships' rope ladder, while trying to hang on and climb up, away from the waves....
Here are some of the requirements for being a Seaway Pilot: A Pilot must hold, at a minimum, a First Class Pilot License for the appropriate waters and meet all sea time requirements. He must certainly be capable to adapt to the constantly changing working conditions and scenarios. On top of that the Pilot has always to be ready for work and travel at all hours of day and night.
The Seaway Pilots have to be able to maintain focus and composure during times of emergencies and high stress. They have to pass their annual physicals. And they have to be excellent team players in their work with colleagues as well as with all foreign ship's officers.
The Seaway Pilots are providing their services through the Seaway Pilot Organization which reports to the U.S. Coast Guard's "Office of Great Lakes Pilotage", located in their Washington D.C. Headquarters, which is responsible for oversight and regulation of U.S. Great Lakes Pilotages.
This U.S. Coast Guard Office sets the rates which Pilots Associations may charge for their services, sets selections and training standards, set manning levels, approves working rules, reviews the annual physicals and above all insures that the pilots provide a safe, efficient and reliable service. The Cape Vincent Seaway Pilot station has five Pilots on Lake Ontario and six Pilots on the St Lawrence Seaway and has two Pilot boats on station.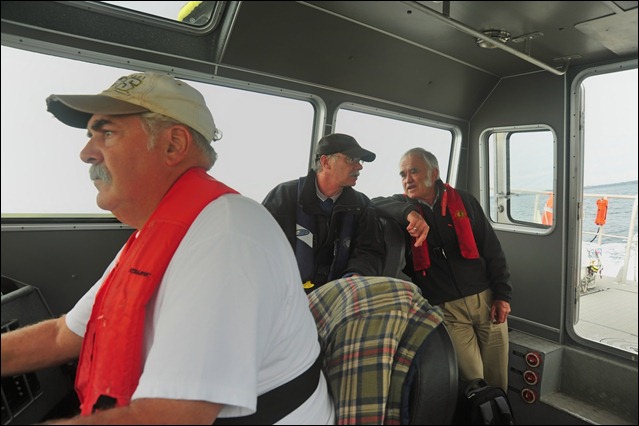 Pilot Boat Captain Edward 'Huck' Balcom with Seaway Pilot Peter Cole and Seaway Pilot Don Metzger on board: A Pilot Boat Team consists of the Pilot Boat Captain and his deckhand. Each Pilot Boat's Captain is a First Class Skipper and works very well tuned with his very experienced deckhand. They bring and maneuver the Pilot Boat very capably, in all kinds of weather, day or night, to exactly the right spot underneath the ships' long rope ladder, to make boarding one of those huge ships as smooth as possible for the Seaway Pilots.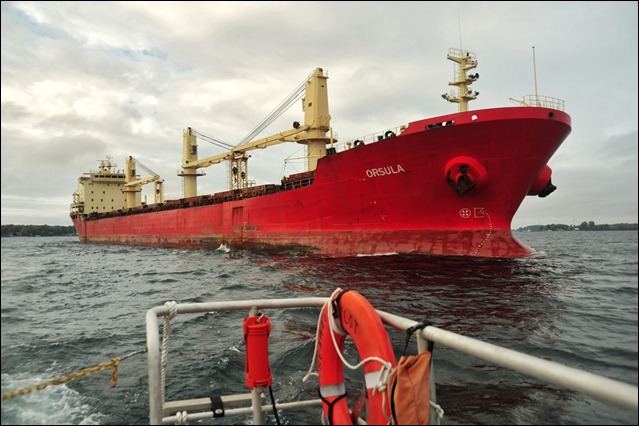 This incoming ship is the 'ORSULA', a bulk carrier. It brought 20,500 tons of raw bulk sugar from Brazil to Toronto and loaded 21,000 tons of Pot Coke (processed coal) in Hamilton, Ontario and its current destination is Mobile, Alabama. 

The owners and the crew are Croatian.  Pilotage is required by Canadian and US Law for all foreign ships.
A Canadian Pilot, Peter Cole, (who is visible on the bridge in the next picture), brought the ship to Cape Vincent and the US Seaway Pilot, Roger Paulus, now goes on board and takes over all navigational responsibilities for the next section to Massena. This part of the trip normally takes 11 hours, but can last a lot longer, all dependent on issues like:
Visibility (fog, sea smoke, heavy snow/rain, strong winds, water levels high and low, mechanical problems with vessel, locks, bridges, boardings, inspections for ballast water, customs, immigration, fumigation, heavy vessel traffic, ice in channel/locks, towing of dead ships, security) and who knows what can could cause delays. The pilot today is planning to travel back from Massena by car.

At this point the ship is just going at steering speed to make both Pilots transfer possible. The long rope ladder has just been lowered.
Just visible on the bridge of the 'Orsula' are: The Croatian Captain and the Canadian Seaway Pilot Peter Cole, who will be relieved by US Seaway Pilot Roger Paulus.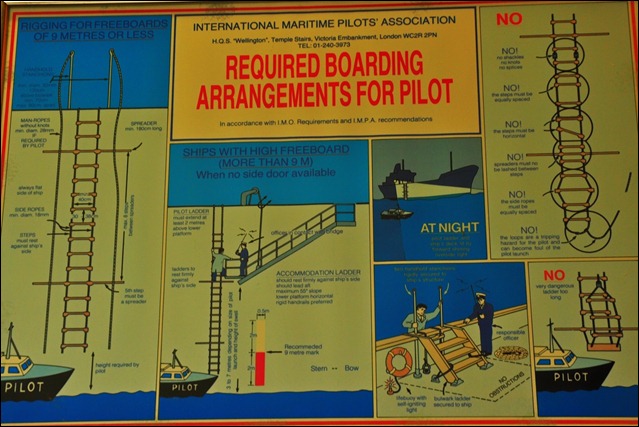 This poster shows how the Pilots are getting aboard a sea ship.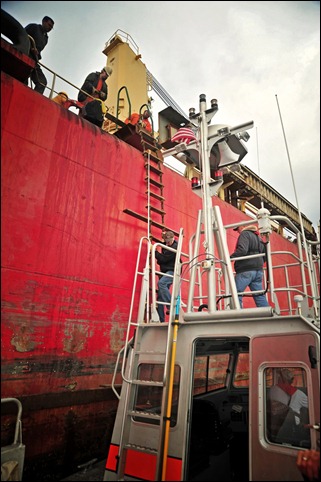 Canadian Pilot, Peter Cole, just made it safely back to the welcoming platform of the Pilot Boat.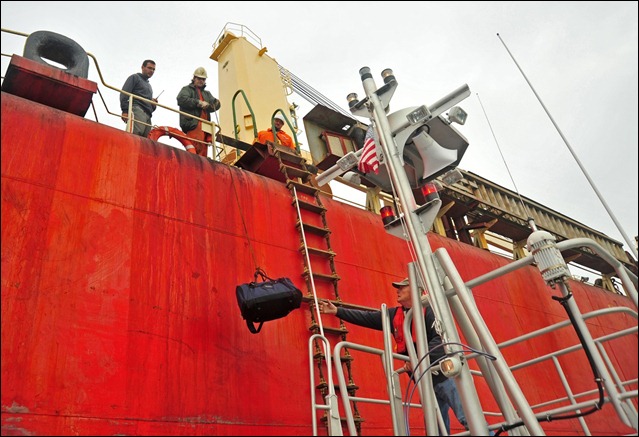 The Pilot Boats' crew, John Bushman, is doing his utmost to keep the Pilot's luggage undamaged and dry, which is containing the pilot's most important tool: his laptop!
Pilot Boat Skipper Balcom in the process of 'lining up' his Pilot boat to make the transfer as smooth as possible for the Seaway Pilots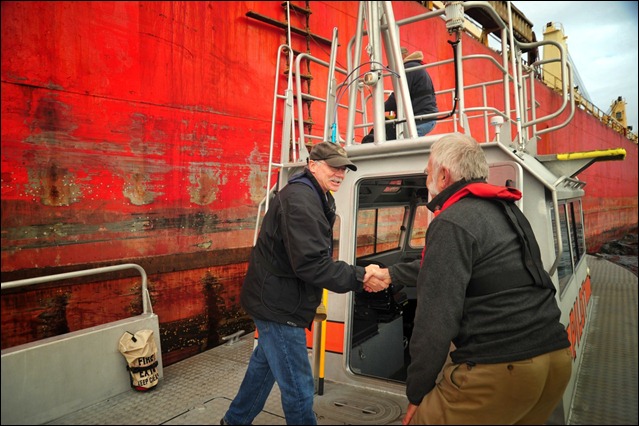 Canadian Great Lakes Pilot, Peter Cole, being welcomed on the Cape Vincent Pilot Boat by his colleague, Seaway Pilot Don Metzger.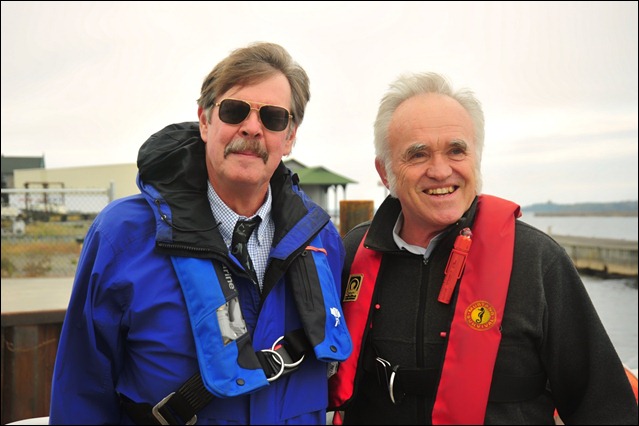 Seaway Pilot Association President Roger Paulus (left) and Seaway Pilot Don Metzger.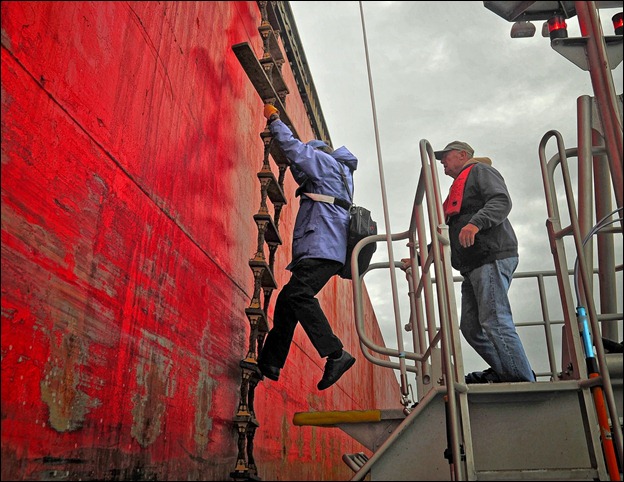 And here is that critical moment when the Pilot boat's Captain and Seaway Pilot need to be so 'fine-tuned' together in the lineup to the rope ladder: the Seaway Pilot feels exactly when to make that 'split second' moment to take that leap onto the ladder and the Pilot  knows/feels that moment when to exactly touch and when to bear off at the right spot, to give the pilot 'room' to climb up to safety!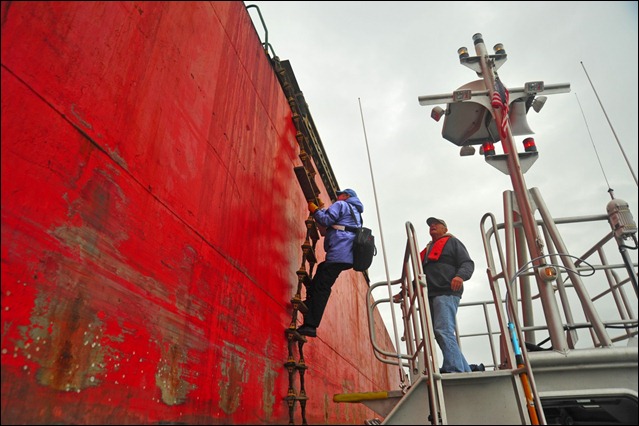 But in a pitch black stormy night, getting off a pitching and rolling pilot boat and getting a hold off and climbing on that shaky rope ladder is a whole different matter.... to say the least...that is more of a challenge.....
Next time, late at night, when you think about this and are comfortable at home, and the wind is howling outside, think about the Seaway Pilots, who are out there, getting on board, and guiding those huge ships safely through our beautiful but challenging 1000 Island Seaway.....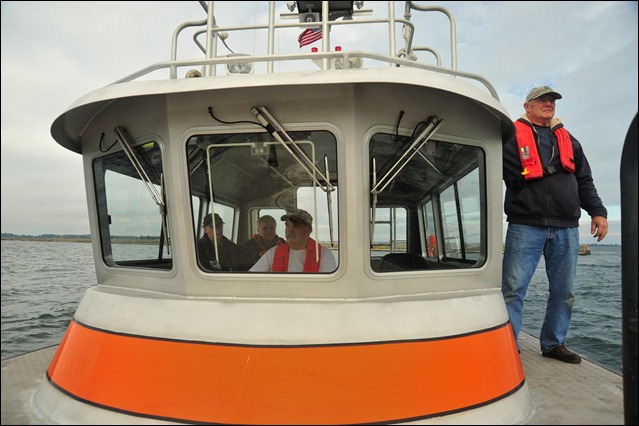 The teams of Pilot Boat Captain, Deckhand specialist and Pilots are very well tuned in their working relationship: They have to be on a 24 hour, 7 day standby and a 2 hour notice call.
This profession is a life style and it is for sure not the right one for someone who likes a nine to five, Monday through Friday job, with weekends and holidays off. And a lot of the work can be very demanding, like night and bad weather piloting, trips in December..., medical emergencies, man overboard, search and rescue, close encounters with pleasure boats who don't seem to understand sometimes that a sea ship can't stop...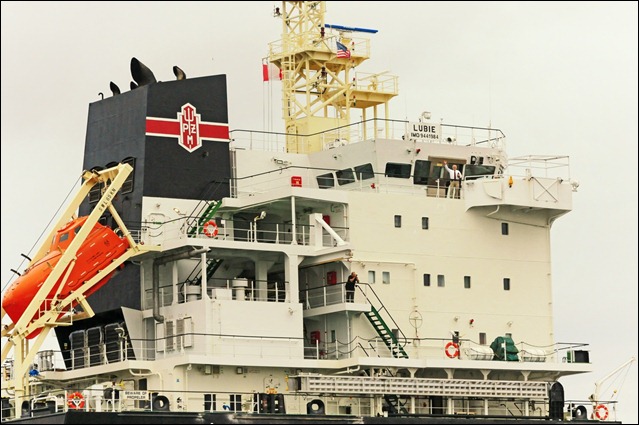 All Seaway Pilots. we salute you for the excellent service you are providing!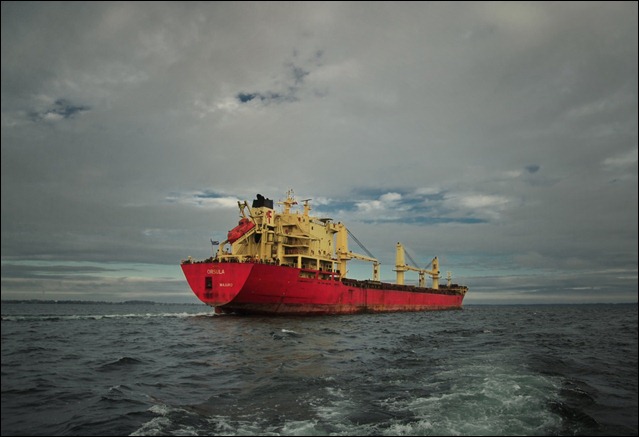 And there they go: The Pilots and the Ocean Ships: Aren't we lucky to have those well trained Seaway Pilots, being there day and night, guiding those huge Ocean going ships safely through our beautiful but navigation-wise challenging Seaway!
Comments
Comment by: Richard L. Withington
Left at: 10:09 PM Thursday, December 6, 2012
---
Martin,
Thanks for your recognition of the Seaway Pilots. No one could have done it better!!! In my opinion, you join the pilots as Saviors of the River.
Comment by: Rita Mecomonaco Phillipson` ( )
Left at: 10:08 PM Friday, December 14, 2012
---
What an eye opening article. We take so many things for granted. Really enjoyed the pictures. Thanks.
Comment by: LyndaCrothers ( )
Left at: 6:17 AM Saturday, December 15, 2012
---
Thank You love the story and pictures , see the ships and pilots from across the water every day . Safe jumps and travels , will miss it all during the winter months.
Comment by: Skip Tolette ( )
Left at: 9:20 AM Saturday, December 15, 2012
---
Martin---thank you--very informative and interesting.
Skip
Comment by: Richard. Lodico ( )
Left at: 12:43 PM Saturday, December 15, 2012
---
Hi Martin, Thanks for that wonderful article about the Seaway Pilots. That was an informative close up look. Just another example of your unmistakable and deep love of The River and all aspects of it. Thank you.
Comment by: Pat Regan ( )
Left at: 2:46 PM Monday, December 17, 2012
---
This was a wonderful article Martin. Living so close by the Station and yet I was so far away in the knowledge of all that these Pilots do. It is truly an exciting and courageous occupation.
Comment by: Stan Ren ( )
Left at: 7:20 PM Tuesday, December 18, 2012
---
I found this article especially interesting having been introduced to a river pilot over a year ago by my oldest son who was sponsored by him for membership into the TI Admiralty Club. The gentleman had formerly been a captain of ocean going ships until retiring to his present position. Spent a most enjoyable time chatting with him at The Smugglers in Ivy Lea listening to his numerous experiences, some hilarious, some "WOW" and some down right scary which included encountering a 100' wave in a bad storm. There is no doubt in my mind that he is a very unique individual and could write a book describing all his ocean going experiences
Comment by: lori moose ( )
Left at: 10:29 PM Friday, December 21, 2012
---
Great article ! I would love to tag along with them some time:)
I had a pilot friend down in Miami who used to bring the Cruise ships in and out of the harbor..pretty cool job.
Comment by: Jane Heaslip
Left at: 9:22 AM Saturday, December 22, 2012
---
How enlightening! I had no idea how complex the process is. Thank you for the article and the photos!
Comment by: Mark Reynolds ( )
Left at: 6:03 PM Saturday, December 22, 2012
---
I drove for a cab company in Watertown and we used to pick up the pilots at Cape Vincent and at the Welland Canal end , and drive them to the station at the cape or to their homes . Many interesting and scary stories from these very brave and capable seamen . It was my honor and priveledge to get to know a few of them.
Comment by: John R Gonzales ( )
Left at: 5:22 PM Monday, December 24, 2012
---
Notice the weather in the photos is "ideal". Seaway Pilots also navigate in fog, rain, snowstorms, and all the bad weather the storms of November can bring. Piloting on the St. Lawrence Seaway is one of the most hazardous places in the world to navigate ships.
John Gonzales,
Shipmaster & Miami Harbor Pilot
Comment by: Brian Johnson ( )
Left at: 5:01 PM Monday, December 31, 2012
---
Martin, this is a great example of photojournalism at its finest! You've captured the life and times of a seaway pilot going to work on a typical day. Like John mentioned, conditions like this are not always ideal, especially here, at the Cape.
I know Capt. Peter Cole very well and have met Capt. Don Metzger on several occasions when they have traveled across with me on the Wolfe Islander III.
Great pics of everyone!
Terrific article!!
Brian J
Comment by: Liz Aldridge ( )
Left at: 4:26 PM Saturday, January 12, 2013
---
We appreciate all that you do for us. It is January and we are now visiting Clayton for the weekend and are only disappointment is we can't play the ship counting game.We started playing because of Lynn McElfresh's article "Ship!!!".
Comment by: Lillian Paytosh ( )
Left at: 10:33 PM Wednesday, May 22, 2013
---
Late Capt.Richard Paytosh would really have enjoyed viewing this...what memories this brings to me! Richard was truly the "ole man of the Seaway"...having helped organize the seaway in 1958! Their equipment sure wasn't like it is today...present pilots would attest to that! Thanks for the great tribute to all pilots-past and present!
Comment by: Carrie Raleigh
Left at: 3:35 AM Thursday, July 10, 2014
---
Great Article! My dad is one of these pilots and, having retired from his old position as merchant mariner, he enjoys this job much more because he spends more time with us. Granted, the hours are dependent on many factors but he is home more often and he does have half of winter off. Still, I like seeing him around more and I know he likes it too! :) To the amazing pilots like my dad, Semper Fi!
Comment by: Lillian Paytosh ( )
Left at: 10:34 AM Thursday, July 10, 2014
---
I would be curious to know the current roster of pilots that are stationed in the District 1 (Snell Lock to Cape Vincent run. We worked with Capt. Paulus.....Thanks for info.
Comment by: Susie Smith
Left at: 4:40 PM Sunday, July 13, 2014
---
Sorry, I don't have that information, but suggest you contact the St. Lawrence Seaway Pilots Association, Cape Vincent, N. Y. 13618.
Editor, TI Life
Comment by: John Gonzales ( )
Left at: 10:25 AM Monday, July 14, 2014
---
In answer to Lillian Paytosh's comment about the roster of pilots, all of the original american pilot, (12 Apostles), are gone. The second generation, like me, are aging fast.