Written by
Susan W. Smith
posted on December 13, 2012 07:21
For those of you who wish you were back on the River – be envious.  On Thursday, December 13, I had the chance to go back. But rather than stop at my favorite haunts in Gananoque or Clayton I crossed the River and went straight to Watertown.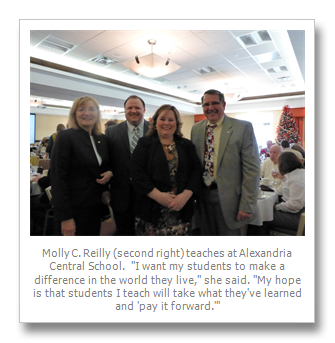 The parking lot at the Hilton Garden Inn was the first indication that this would be a special day and the long line to register 200 + guests for lunch sealed the point.
I attended the Annual 20 Under 40 luncheon honoring Northern New York's emerging leaders.   A packed dining room with dozens of supporters to cheer on their work confreres and  friends indicated that the North Country is proud of its best and brightest young leaders.
Master of Ceremonies, Ken Eysaman, Editor of NNY Business Magazine, explained the daunting task the magazine and the Watertown Daily Times judges had in selecting the winners.  NNY Business, part of the Johnson Newspaper Corp in Watertown, was instrumental in designing this program.  Sponsors this year included Watertown Savings Bank, Northern New york Community Foundation, Greater Watertown Jaycees, Timeless Frames, Décor and Expressions, and Hilton Gardens Inn.
The statistics are impressive with winning representatives from Jefferson, St Lawrence and Lewis counties.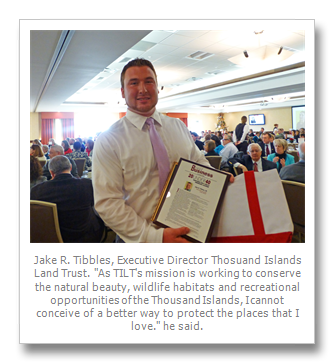 Although there may be more, three of the twenty are well known in the Thousand Islands. Jake R. Tibbles, 28, Executive Director, Thousand Islands Land Trust; Andrea C. Bates, 30, Executive director of development, River Hospital Foundation, Alexandria Bay; and Molly C. Reilly, 36, Secondary social studies teacher, Alexandra Central and adjunct instructor of social science, Jefferson Community College.
Guest speaker, Mike Hawthorne  president of New York Air Brake, congratulated the group pointing out that many not only hold leadership positions but each give generously of their personal time to their communities – thus improving life in the North Country.   It was also noted that 13 of the 20 were North Country natives who have, as he stated, "Stayed by choice".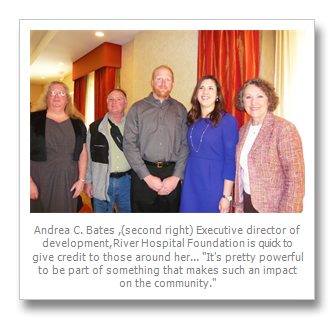 At the end of lunch the room quickly emptied; each heading back to their responsibilities but the spirit of the season will live on in the biographies of the class of 2012.
Biographies of 2012 Class of 20 Under 40
Note: To see the full biographies of the winners, see NNY Business in print.  http://www.nnybizmag.com/Subscription information
By Susan W. Smith, Editor. susansmith@thousandislandslife.com