Written by
Mark R. Russell
posted on January 13, 2013 07:23
How often is life a singular path?  A narrative that guides you from one meaningful moment to the next.  All of us could agree this occurs rarely, unless you're cast in a traditional Hollywood summer coming-of-age film.  Isn't the human experience more often deeply felt moments whose details one remembers for a lifetime, and whose meaning isn't often clear until years have passed?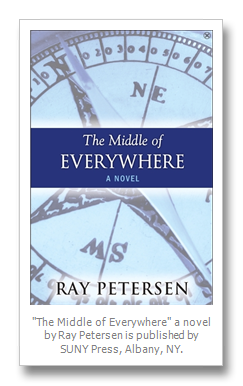 Why do you remember the doilies on Grandma's table that Sunday morning when she filled the doll's service teacups with lemonade that the both of you then shared, giggling the while.  Or the young man who sat in the front of your philosophy class, slowly moving his right hand through his hair while the professor trotted out his lecture on Plato.  The hand that you wished was your own, but never was.  The textures and smells of our days, the raw moments that color our most meaningful memories, make us human as much as anything else that we are.
Ray Petersen brings these tensions to life in a brave way in his second novel, The Middle of Everywhere.  They come at us in a cascading, sometimes hurried fashion.  The book is a series of at times exquisitely written encounters that in their own way could have come right out of a David Lynch screenplay.  There is a Blue Velvetness to the scenes, which are populated by the forgotten rural poor, demented Vietnam vets, or our protagonist, a slow-witted everyman named Kenny.  Mill workers hoping to hang on to their jobs are contrasted with the insular lives of college professors and the paranoid administration that controls them.
The plot gradually takes shape as the author weaves together what in the beginning seems like disparate, disjointed scenes with our protagonist Kenny as the prow of the novel.  As the mosaic unfolds and the flecks of character and detail filled in, we understand that greed, love, abandonment, and disillusionment tie the players together in a play that yields much in how we understand our own lives.
Just like a play, the book opens with a listing of the characters in our drama, with a brief description of each.  That one finds oneself going back to them unearths that which is so difficult to do – weave a tale that is dreamlike, filled with dramatic tension, yet easy for the reader to follow.  The poetry in the writing draws us on, but the constant stream of sometimes only paragraph-long vignettes can leave us untethered, wondering what that fine, short piece of writing was all about.
Petersen is a storyteller and a literary craftsman who has reached high in this effort.  With his talent, who can blame him?
By Mark R. Russell
Mark Russell first came to Hay Island in1956 as a six month-old.  The family summered on Hay Island every year thereafter.  His mother and father purchased the Cedar Nook Girls Camp property originally owned and built by the Lewis family of Virginia Beach, VA in 1968.  Mark and his three siblings continue to spend as much time there as the seasons allow.  His time away from the River has been consumed by raising three now twenty-something children and working in industrial investment banking and business development.  His first novel - The Adventures of Buster the Black Lab, is with his literary agent in New York.