In December I won an auction on eBay – a pewter "Trophy Cup".  Once again I had found a piece of Thousand Islands and May Irwin history and once again I was thrilled to add this to my collection.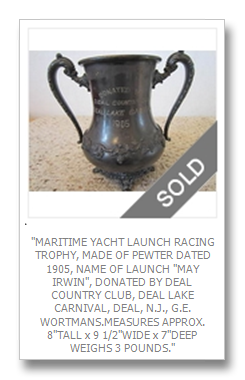 Over the years I have found dozens of pieces of memorabilia all dealing with the famous Vaudeville actress, May Irwin.   Sometimes my "find" will be a colorful piece of sheet music, or cabinet photographs, calling cards, glass negatives, playbills, letters and I even have six of May Irwin's china dinner plates.  
Each time I add something to the collection I feel like another piece of the puzzle will help to identify more information about her exciting life.
My search began in 1993 when I found a copy of May Irwin's Home Cooking.   This simple purchase sent me on my quest.  Soon after I discovered a book review written in 1904  and appeared in Clayton's newspaper of the day, the St. Lawrence.  (Shared below)
I also found a December 1895 New York Times article about May Irwin which highlighted her housekeeping skills. "May Irwin Is an Accomplished Housewife and Not Dependent on Her Servants. Prepares Toothsome Dishes. She Discards a Chafing Dish Because It is too Selfish – Cooks on a Stove and Uses Wooden Spoons – Moves Even When It Is Not May Day…"
Reading through all the material I learned that May's Home Cooking was published in 1904 and she planned a second version in 1914, but it was never published.
In 1995 found a second copy of the original book.  I purchased it from an antiquarian book dealer in New York City.  But this copy was different.  Each of the 1904 book pages contained hand written recipes organized in the same way as the first edition, with "Recipes" "Jokes" and "Poems from Vaudeville".    This type of work by May was typical as she had a reputation for being  frugal.
The book's publisher was Frederic A. Stokes, whose fine reputation attracted many established writers.  The illustrations were drawn by Francis Brook Farley and it is safe to say May wrote her own "jokes", however she was quick to give additional credits:  "Dainty Dishes for Delicate Digestions:  Being a collection of recipes, some of which were pried away from reticent chefs and head waiters, and others that the author's friends have generously contributed, with several of her own."
For those not able to find an original copy of the book, it has been reprinted on line through the Cornell University Library, Internet Archive service.
____________________
May Irwin's Cook Book
She Tells about Good Things to Eat and Sprinkles Recipes With Jokes
Published originally in Clayton, New York On the St. Lawrence newspaper, 1904 (Author unknown)
May Irwin is an author. She is slated to leap into fame in a new line this week, when "May Irwin's Home Cooking" comes out.

Any one could tell just to look at May Irwin that she's a good cook. For the best of cooks are those who like their own output, and it is evident that she'd be the best person in the world to stay with chestnut cro­quettes and compote with deviled lobster. In fact, as all the theatrical world knows, as a chafing dish chef, she takes rank with the best.

"May Irwin's Home Cooking" is a flossy cookbook and a vaudeville jest book rolled into one. She scorns the hash and baked beans and self-rising bread of everyday life, but she's strong on such incidental trimmings of happy and convivial times as devilled eggs and anchovy toast, minced clams, lobster cutlets and mushrooms under glass.

From every recipe there's a joke, culled from Miss Irwin's old parts or borrowed from her friends. The rec­ipe's on one page and the joke's on the opposite page, so that while the chafing dish is bubbling the hostess can read from her jest book and keep the guests in good humor. There's also a little sketch just under each rec­ipe for the entertainment of the cook.

The author dedicates her work "to those who have laughed at her serious efforts to be graceful and sylphlike for her benefit; to those who failed to

laugh, and to those who told her to go ahead and eat it, when she should have been adhering to her saccharine tablets and dry toast, with the hope that they may be tempted into eating "not wisely, but too well."

Then she plunges into it with an appetizing recipe for creamed ham and poached eggs. The recipe for "ham and" on page 17 is garnished with this jokelet:

"Waiter, what have you to eat?" "Well, I've got pigs' feet and-" "Don't tell me your misfortunes. I want to know what you have to eat."

Now and then, Miss Irwin aban­dons prosaic pinches of salt and half cups of butter and gets gay. For exam­ple, she dresses up an appetizing rec­ipe for clam chowder with the snap­per: "To be eaten in undress uniform sans-!"

She explains, apropos of her recipe for fried bacon: "I haven't tried it, but it looks good to me," and as for Sarah's fruit cake, which must be kept a year before serving, she advises that it be kept in the safe.

She just slings herself on drink­ables. Little effusions by minor poets in praise of the vine garnish the oppo­site pages. It makes you kind of en­thusiastic just to read the ingredients.

"After the first quart is exhausted," she says of the essential part of cham­pagne cup, "a second (if desired) may be poured in over the same ingredients, and you will find the second is better than the first, because the fruit is well soaked—and for other reasons." This recipe is laid to Julia Roberts. And of the tea punch, which is laid to a celebrated chef, she adds:

"Serve in teacups while it is flaming—after a long course dinner— with the lights turned low, mandolins and guitars quietly playing in the next room, and— what more can I say?"

Opposite the recipe for tripe and oysters there is this appetizing tale: I remember when I was return'ing from Chicago my last season on the road, I went into the dining car, and a small boy started to laugh so his mother couldn't stop him.

I said to her, "That boy needs a spanking."

"I know he does, but I don't believe in spanking a boy on a full stomach."

I said, "Neither do I. Turn him over."

_____________________________________
Conclusion
What will 2013 bring in the way of May Irwin's life?  I don't know, but I look forward to gathering more and if possible sharing it with those Thousand Islanders who appreciate her charm, humor and talents.
By Karen Killian
Karen Killian began her working career as a school teacher and will be remembered by Thousand Islanders for her many years as manager of Captain Spicer's Gift Shop.  No longer spending as much time in the region, Karen has not lost her passion for collecting all things May Irwin.  Over the years she has generously shared her treasures with her customers and those of us who appreciate our history.  Be sure to see "May Irwin" Historical Discoveries, compiled by Karen Killian in our History section of THE PLACE and May Irwin and her Keeper, written in April 2009 by Kim Lunman.