Written by
Tim Kocher
posted on January 13, 2013 07:31
It was about 45 years ago, give or take a few years, when I first visited the Thousand Islands. I was about 7 or 8 years old when my parents camped at a State Park near Alexandria Bay. The park is named Keewaydin which at the time I had a hard enough time pronouncing it much less trying to understand its meaning.  [ "Keewaydin" (kiiwaydin) means "northwest wind" in Ojibway.]
It was towards the end of the camping season and the weather was cold and rainy. With nothing to do on a miserable day I made my way down to the marina. As I crested the hill I was hypnotized by the beauty that lay before me. The marina was carved around rocks, a sight I had never seen before. I sat there for hours just staring at the boats and dreaming that someday I too would own one and keep it right there on one of the docks. Soon my father yelled for me and off we went returning home from the rather nasty weather.
25 years later I was now married and a proud father of three great kids. My wife and I decided it was time to buy a boat so we could spend more "quality time" with our children. It was a big expense, but it proved to be well worth the investment. To this day my children, now all grown with their own families, still reminisce of the special times we spent on "The Boat".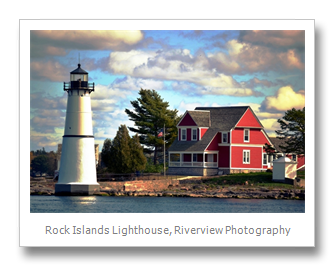 We kept our boat on Oneida Lake in Brewerton, NY. It was nice but I just couldn't get the vision of what I had seen many years prior. Friends of ours, also boat owners, asked if we wanted to tag along with them to the Thousand Islands for a two-week vacation. Without hesitation, I said yes, and I know just where we should go. That's right, Keewaydin State Park.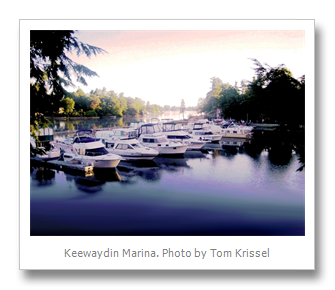 We set out through the Erie Canal system, then east across Lake Ontario and down the St. Lawrence to our final destination. When we arrived it was like stepping back in time. Everything was just as I remembered. This park was previously an estate on millionaires' row, with a mansion and several out buildings. The mansion itself has been torn down to make way for the Thousand Islands Parks Office but some of the out buildings still exist. With a little imagination you can still see the mansion in its entire grandeur of days past.
We stayed a few days and then inquired about a permanent slip. We were told there was a 10-year waiting list. Nevertheless, we put our name on the list and realized as we waited, in fact the decade, that it was probably not going to happen. However, after boating on Oneida Lake for exactly 10 years, we were notified of an opening at Keewaydin and offered dockage. We accepted and have never looked back. There is no place on earth like the Thousand Islands and we have no intentions of going anywhere else. This will be our 14th season at Keewaydin and we are usually there every weekend between May and October, rain or shine. After all, a rainy day here is still better than a sunny day at work.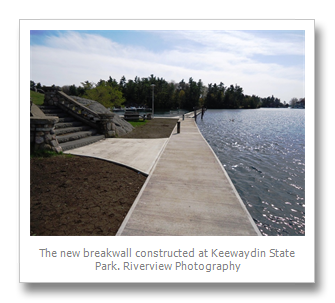 There is not a day that goes by that I don't appreciate the Region's beauty and thank God that I have been blessed with something most people can only dream about. The friends we have made and times we have shared will live in us, our children and our grand children forever. There is no place on earth like the Thousand Islands!
Now getting ready for retirement, I am looking forward to more summers at Keewaydin and capturing many more memories through my camera lens.
By Tim Kocher
Tim Kocher and his wife, Pam, are enthusiastic mariners from N Syracuse, NY. He has worked in the transportation industry for 32 years. He has also held positions as president and fire chief for his local fire department which he was a member for 20 years. He is currently enrolled at Syracuse University working on bachelors degree in Information Management. Nearing retirement, Tim is starting to pursue his real passion which is photography. He does this under the name Riverview Photography and can be found at Riverviewpictures.com.