Written by
Susan W. Smith
posted on January 13, 2013 07:25
Were you around this summer to see photographers and videographers with cameras in hand shooting from the air, on boats, ashore and underwater?  Actually hundreds of hours of River footage were captured by the River's McLellan Group (from Wood Isle in the Lake Fleet) and put together for a very special project which is branded as RiverQuest (RQ).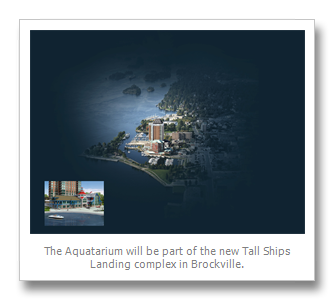 There is a tall new building constructed on Brockville's waterfront and in it will be one of the region's most ambitious attractions – the Aquatarium.  When completed in 2014, its 25,000 square foot discovery centre will focus on all things water-related.
You probably already know that the Thousand Islands is made up of museums, castles, forts, theatres, art centres, environmental reserves and boat tours – all located on both sides of the River and the border.  How is it possible to bring everything together to allow a family visiting from New York, Boston, Toronto or Montreal to see it all?
Brockville's Aquatarium decided not to stand alone, but to bring everyone together.   That initiative is branded as RiverQuest, and their new website launched on January 10th, connecting some of the region's most important components.  "Click" on a "Quest" and you will discover an adventure that links several important River experiences.
With RiverQuest partners and friends working together and cross promoting each other (along both sides of the border) the stories and attractions of this special place will be shared with a far bigger audience in ways that no single entity could afford to do on its own. The best way to see what RiverQuest plans to be is to visit the new website:
http://www.1000islandsriverquest.com
All the information you need – descriptions  - hours of operations - what you will see when you arrive – is designed to help families plan a visit to the Thousand Islands that goes beyond a single place. For example, begin in Brockville and end in Clayton… or  go from Kingston to Brockville and then on to Prescott…
So… Let's begin.
Here is the new Aquatarium.
Now what might you see if you get out on the River and explore?
RiverQuest - A Million Things to Experience
The really important aspect of RiverQuest is what it is doing for our area. If you're on this site you'll no doubt agree that the region is truly one of the most spectacular places in the world but it's not particularly well known. Research shows that there are 50 million people within a 6 hour drive but unlike the glory days at the turn of the 19th century, very few people know it even exists, let alone all the wonderful places to visit.   So far the following have joined as partners or friends of RiverQuest:
1000 Islands Accommodations Partners, Gananoque, ON
1000 Islands Seaway Cruises, Brockville, ON
Aquatarium, Brockville, ON
Antique Boat Museum, Clayton, NY
Bottom Time Diving, Iroquois, ON
Brockville Arts Centre, ON
Brockville Museum, ON
Cape Vincent Chamber of Commerce
City of Brockville, Brockville, ON
Downtown Brockville (DBIA)
Frederic Remington Art Museum, Ogdensburg, NY
Gananoque Boat Line, Gananoque, ON
Half Moon Bay, Gananoque, ON
Kingston 1000 Island Cruises, Kingston, ON
Lost Villages Historical Society, Long Sault, ON
Rockport Boat Lines, Rockport, ON
St. Lawrence Shakespeare Festival, Prescott, ON
St. Lawrence Seaway Management Corporation
Save the River, Clayton, NY
Singer Castle, Near Schermerhown Landing, NY
The St. Lawrence River Institute, Cornwall, ON
Thousand Islands Bridge Authority/Boldt Castle
Thousand Islands Land Trust, Clayton, NY
Thousand Islands Life Magazine
Thousand Islands Playhouse, Gananoque, ON
Uncle Sam Boat Tours, Alexandria Bay, NY
[Note:  Since publication on January 15, additional partners thave joined RiverQuest.  Check back again as we continue to update our list] 
Over the following months more partners and friends will be added as they come aboard adding further interactivity and building ever greater levels of mutual support.
Ian Coristine has generously provided many of his photographs to support RiverQuest and the Aquatarium and you can see them on their respective websites. Ian is someone who has been smitten by the River from the moment he first saw it from his ultralight. His award-winning eBook "One in a Thousand" www.oneinathousand.ca, tells his story of discovery in major, multimedia detail.
There is one big challenge RiverQuest is facing. Whether to spell theatre and centre with a Canadian "re" or American "er" word ending. RQ is an international undertaking after all and they don't want either side to think the other can't spell!
By Susan W. Smith, susansmith@thousandislandslife.com