Readers of Thousand Islands Life well know how the St. Lawrence River inspires artists, poets, writers, and photographers. Quilters, too, have loosed their creativity to capture the uniqueness of the Islands' history, nature, culture, and beauty.
Summers on the river prompted quilter-turned-designer and now-author, Mary Knapp to hand-dye and sun-dye her own fabrics in lovely shades of blue and green. After several experiments, the retired biology teacher refined her processes to create fabrics she stitched into award-winning quilts, earning honors at shows in New York and Vermont and the prestigious American Quilter's Society event in Paducah, Kentucky.
"A quilt made with a variety of fabrics is much more interesting to me than one of just four or five fabrics, but always the end result must also be easy to look at. It's a fine balance between peace and chaos," Mary says.
In the late 1990s, Mary was encouraged to become a quilt pattern designer by Teresa Mitchell of Clayton. The late President and CEO of the Great Lakes Seaway Trail was an avid quilter who recognized the potential of quilting as a cultural heritage travel theme, and as an event to encourage visitation to the 1000 Islands region of the 518-mile-long byway in the spring season.
Teresa invited Mary to create quilt block patterns for the nine publicly-accessible lighthouses on the byway and to be the featured quilter at the first Great Lakes Seaway Trail Quilt Show in Sackets Harbor, NY, in 2001.
The Seaway Trail Foundation began selling the designs as quilt patterns and notecards and Mary was on the road to a career as a published designer.
Mary created patterns with birding and boating themes for later shows.
"I enjoy the opportunity to collaborate with the Great Lakes Seaway Trail to create patterns that tell the story of the fabulous natural, recreational and cultural resources of the byway region and are patterns that quilters can easily adapt with colors and fabrics to their own personal stories of exploration," Mary says.
You might think that since she summers on the River, Mary would make only quilts with warm themes. Not so, she credits Teresa and the timing of the Great Lakes Seaway Trail quilt shows in March with inspiring her "Trees of March" blocks that celebrate the end of winter.
"Those star tree designs reflect the burst of color the quilt shows add to the early spring in the 1000 Islands region as we leave winter's gray behind with the hues of crocus and snowbells about to break through crusty ground," Mary explains.
The Trees of March patterns are among the 35 designs, templates and projects in Mary's first book, titled Star Quilts, dedicated to Teresa and published by C&T Publishing.
Mary will be speaking at the 2013 show in Sackets Harbor on Saturday, March 16.
Region's History Draws Viewers' Choice
The War of 1812 battles fought on land and water in the River region provided a "regiment" of nine Canadian quilters, all living history interpreters at Upper Canada Village, icons for a pictorial quilt that won the Viewers' Choice honors at the 2012 quilt show in Sackets Harbor.
"British Major Sir Isaac Brock is front and center. Lieutenant General Sir George Prevost is seen navigating his horse home in shame for not advancing his troops at Plattsburgh," says Janice Toonders, who demonstrates spinning and weaving at the historic village site in Morrisburg, Ontario.
Janice designed the quilt using an Irish chain pattern. Janice, Martina Bols, Linda Brown, Mary Casselman, Christine Christie, Dianne Helmer, Ivah Malkin, Marjorie Munroe, Judy Neville, and Sharon Shaver used felt, silk thread and cotton fabrics to fashion blocks with Canada's military and civilian heroes of the war.
The Upper Canada Village quilters included the sloop "Wolf" that fought in one of the Battles of Sackett's Harbour (historic spelling). First Nation's Confederacy leader Tecumseh and Joseph Brant, the Mohawk Chief who was working with the British to create a nation in the west, each have a block.
A bear, a moose, a First Nation's symbol, a British sailor, and Laura Secord who notified the British of a U.S. attack are also among the quilt's storytelling images.
That quilt is now among the 26 quilts selected for the Great Lakes Seaway Trail War of 1812 educational traveling exhibit touring the U.S. and Canada into 2015. The exhibit has been to Upper Canada Village, Fort Wellington in Prescott, Ontario, and major quilt shows in the eastern U.S. The exhibit will be at the Rocky Mountain Quilt Festival in Colorado in August 2013.
A Glengarry Light Infantry Tribute
For Sheila Cornett of Kingston, the War of 1812 quilt theme was a perfect blend of two loves.
"I jumped at the chance to combine two enthusiasms – my love of 19th-century history and quilting," Sheila says. "I was able to find a lot of research information on the British garrisoned at Kingston to make a medallion quilt with a wool tartan centerpiece commemorating the men of the Glengarry Light Infantry recruited from Upper Canada in 1811 by British Lieutenant-Colonel MacDonnell, known as Red George."
Sheila adds that some of the recruits had emigrated to Canada with families from the Scotland highlands.
"For my quilt design, I imagined they might have brought a treasured piece of tartan cloth with them," Sheila says.
Major land battles took place along the St. Lawrence River and Lake Ontario waterfront, throughout the Niagara River frontier, and along Lake Erie. Battles were fought at such places at Lundy's Lane, Crysler's Farm, and Fort York in Canada, and at Buffalo, Youngstown, Oswego and Ogdensburg in New York.
Lost Villages Remembered
Bolstered by her first attempt at quilting for the 1812 bicentennial show, and with a love of the history of the St. Lawrence River region, Margot Dixon put her hands to fabric and thread once again for this year's Beauty of the Byways theme.
Margot, the Training and Research Officer, a costume specialist, and a living history interpreter at Upper Canada Village, humbly says, "I am still not a 'real' quilter, but I wanted to represent six small villages lost when the Saint Lawrence Seaway was created to be represented.
"In the 1950s the north shoreline of the St. Lawrence River between Cardinal and Cornwall, Ontario, was changed forever by the St. Lawrence and Ontario Hydro projects. Gone were the wild rapids and in their place was a quiet and placid lake. Gone also was the lifestyle of farmland and small villages," Margot writes for the story card that will be displayed with her wallhanging.
"Look carefully under the blue waters to still find remnants of times past. Along the shore, a new beauty now lines the river: miles of parkland, beaches and bush, and a wonderful recreation trail for hikers and bicyclists. Beauties lost, but new beauty found," she adds.
Some of the buildings saved from the flooding of the lost villages are part of Upper Canada Village, where 1860's homestead and community life is recreated with authentic buildings and costumed interpreters.
Native Quilter Catches Dreams in Fabric
When Dyan Swamp wants to make a quilt, she just has to step into her Dreamcrafters Quilt Shop on the Akwesasne Mohawk Nation on the St. Lawrence River in Hogansburg, NY, to select colors, patterns and textures from more than 5,000 bolts of fabric.
She creates her own designs and puts her creative twist to published patterns. In 2010, Dyan made her first quilted "dreamcatcher" - a small hoop said in Native American cultural lore to trap bad dreams until dawn when they disappear.
"I knew how to make a traditional dreamcatcher using leather and feathers, but I had never made one in fabric," she says.
That same year, Dyan made a 20-color, round "Rainbow Spiral" quilt voted Viewers' Choice honors at the Great Lakes Seaway Trail "Circles and Wheels on the Byway" Quilt Show.
In 2012, Dyan was commissioned to make some traditional attire worn by Mohayk Naiton representatives who traveled to Rome for canonization of the first Native American Catholic saint, Kateri Kekakwitha.  The "Lily of the Mohawks" lived in a 17th century settlement along the St. Lawrence River in what is now Quebec. Upon her death at age 24, her facial scars caused by smallpox were healed and those attending her funeral were also said to have been healed.
Dyan will be at the March 16-17, 23-24 Great Lakes Seaway Trail 2013 show with some of her work on exhibit and lots of fabric for some shopping fun.
No quilting article on 1000 Islands-inspired works would be complete without mention of the beautiful pictorial quilt that hangs in the 1000 Islands International Tourism Council office in Alexandria Bay, NY. April Neisz created a showcase of the historic recreational playground replete with a sailing ship, Boldt Castle, an 1812 soldier, a lighthouse, a skiff, and a quilt suspended from the International Bridge. The quilt received a Special Honorable Mention award at the 2009 Favorite Seaway Trail Places show.
If you are inspired by all this creative energy to pick up needle and thread, the 2013 show theme is Beauty of the Byways in the U.S. and Canada and for 2014 Vineyards, Fields, Farms and Food. Works can be pieced, appliquéd, traditional, pictorial, contemporary, embellished, art quilts or wearable. Find details at www.seawaytrail.com/quilting.
Happy quilting!
By Kara Lynn Dunn
Kara Lynn Dunn is the publicist for the New York Sea Grant Great Lakes Program and the Great Lakes Seaway Trail.   She lives in Mannsville, NY, with her husband and photographer, Brian Whattam, who grew up in Three Mile Bay, NY. She earned a journalism degree at the University of Pittsburgh; is a freelance writer, publicist, and designer; and has authored two books on North Country natural and historic sites. Kara vividly recalls childhood camping adventures along the St. Lawrence River with the Village of Mannsville Summer Recreation Program.
For More Quilting Art Inspiration
Visit the March 16-17, 23-24, 2013
Great Lakes Seaway Trail Beauty of the Byways Quilt Show
Sackets Harbor, NY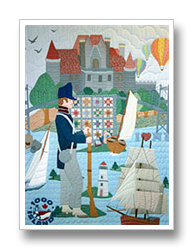 Quilts of favorite byways and destinations by American and Canadian quilters, 56-piece Route 66 traveling quilts display, 80-piece Hoffman Challenge Quilts traveling trunk collection, preview of 2014 show theme: Vineyards, Fields, Farms and Food, demonstrations, speakers, vendors in historic venues throughout waterfront village. Co-sponsored by Orleans County Country Barn Quilt Trail.

Entry guidelines and more info: Lynette Lundy-Beck, 315-646-1000 x203, lynette@seawaytrail.com,

web: www.seawaytrail.com/quilting