Written by
Susan W. Smith
posted on February 13, 2013 07:23
Wheelock Souvenir China
In early February we received this email from Carol Apperson. Oceanside, Oregon, USA.  Carol had found our January 2012 article written by Robert L. Matthews, TI Collectables, Part III, Wheelock Souvenir China.  Here is her message:
"Found your site while researching the little dish. The mark on the bottom is different then what you show.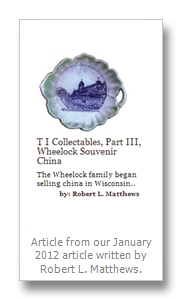 I found it in a Goodwill Store in Oregon. It's in perfect condition which I find amazing after being tossed in with all sorts of items.  I've learned quite a lot about Carthage Mo. and W.T. Roach.  Now after reading your info I've a better understanding of Wheelock because I assumed Wheelock was an Austrian company.
The detail is amazing, magnify and the bricks can be seen, also the added color you talk of can be seen as trees.  I think this piece dates about 1900 maybe before, since I see Mr. Roach in a Carthage directory.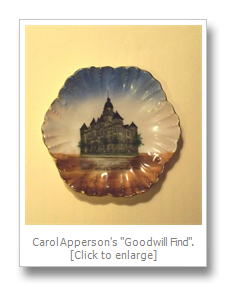 I planned to use it in a mosaic piece ..horrors.. I'm glad I googled.  I plan to return it to Carthage if they want it for their museum. The Court House is a centerpiece for the town and the Roach name is well known.
I'll be looking at tourist pieces very differently now ! Thank you…"
We contacted Robert Matthews and he reassured Carol that it was a very good piece.
Carol did more research and found the Powers Museum in Carthage, Missouri.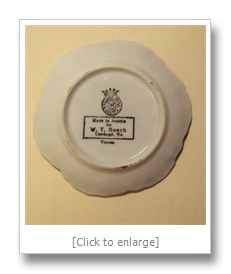 Within a week she had packaged up the lovely plate and sent it to the Museum.
This was followed with the happy news that Michele Hansford, Director of the Museum responded.
"We appreciate your time to look up the history of the item and to call us. Powers Museum will be glad to give the item a new home."
and,
"Carol, your little dish arrived in perfect condition yesterday.  Thank you for the care you took in packing!  … Again, thank you so much for sending this item back to Cathage." 
_______________________________
Family History Thread…
Also in February we received an interesting email from Joan Mina (Stone) Jakubowski.
"Wonderful site, I applaud your group. I am Joan Mina, grand daughter of the Mrs. Charles Spencer you mention in chapter four-Alexandria Bay…"
Joan went on to present her family history.
The material came from excerpts we published in 2010 of a North Country book written by the late Mina Herrick King.  These excerpts are found in our section THE PLACE:  History.
It is another fine example of ways Thousand Islands Life is bringing more people together to celebrate the past.
TI Life's Introduction to "Things I Remember" by Mina Herrick King.   In December 2009 we received a note from Jay King, born in Redwood, NY...
Pages within this series: