Written by
Ian Coristine
posted on August 15, 2008 19:21
As was his way, Paul generously shared credit for this online publication with Mike Franklin and myself but the reality is that the content was almost entirely driven by his boundless knowledge, energy, enthusiasm and love of the place. Together we would discuss goals and objectives and Mike provided considerable technical expertise to get it up and running while I offered images, but this was primarily Paul's magazine and he made it a good one. If you take the time to really explore the site, you'll find an incredibly in-depth resource for Thousand Islanders that simply does not exist anywhere else and should not be lost.
The site has two principal components; an extensive overview of the region and a periodical magazine that focuses on the best within the region. With Paul's passing, Mike Franklin and I are hoping that with your help we may continue its publication in the highest quality manner possible. Neither of us has unlimited time available for this, nor are we as knowledgeable about the place as Paul.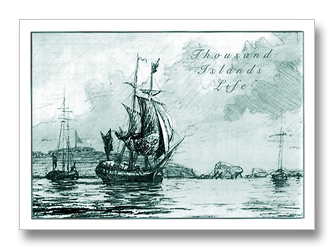 At this point the site has over 2,100 direct subscribers and a readership in the 6,000 range with the vast majority being core Thousand Islanders who summer here and winter in cities across the continent. Within this group remain many deeply knowledgeable and caring islanders who have considerable knowledge and material about portions or aspects of the whole that would be of interest to others. We are hoping you will share your expertise by submitting stories, photography, artwork and ideas. A number of articles and features submitted by others have already been published and we would like to build on that.
Paul's goal was to create something of continuing value that will benefit the region into the future. Despite his illness, he worked feverishly over the last two years to get the site to a point where it would perpetuate. His vision was to create a critical mass of visitors and content so that ThousandIslandsLife.com would continue beyond his lifetime for future generations to enjoy, and as an historical resource and accessible record of the place. It is our hope that many more of you will take an active role by sharing material that will keep the bar high and with luck and more quality contributions, perhaps even raise it further.
Ian Coristine & Mike Franklin
Steering Committee, Thousand Islands Life.