GE at Carleton Island
Written by
Timothy W. Lake
posted on March 13, 2013 07:34
Early in September, 1927 a steam-powered barge appeared on the water off Snowshoe Point near Henderson Harbor in eastern Lake Ontario. Arriving from the north, loaded with dredge materials and a jib crane with a clam bucket, the barge neared the end of its journey from the upper St. Lawrence River. Carefully navigating around Lime Barrel Shoal, the barge looked like a small house moving across the water. It slowly maneuvered past General Electric's executive resort at Association Island and into the calm waters of Snowshoe Bay. It would stay there for weeks and have a long-lasting impact upon Henderson Harbor and the Thousand Islands.
In the wheelhouse was Captain Augustus R. "Gus" Hinckley of Cape Vincent, NY. Navigating such a large vessel into the shallows of the bay was a tricky maneuver but 72-year-old Gus Hinckley knew the harbor and bay waters very well. Over 60 years he operated a steamship coal hauling and marine excavation and salvage business from the St. Lawrence River to Oswego. Caught many times in the great storms of Lake Ontario, he beat every one of them, including grounding a ship that dunked him in the water of Gravely Bay off Henderson's Stony Point. According to author Richard Palmer, Hinckley was a natural but risk-taking sailor. He was born on Wolfe Island, Canada, and became renowned for his ability to raise wrecks from the lake floor when other salvagers gave up. Each winter he collected river and lake navigation buoys for the U.S. Coast Guard and he dug Reed Canal in Henderson Harbor for landowner Claude Reed. In 1927, nearing the end of his adventurous and risky marine business, one of his final large excavation jobs was digging the "Cut" in Snowshoe Bay.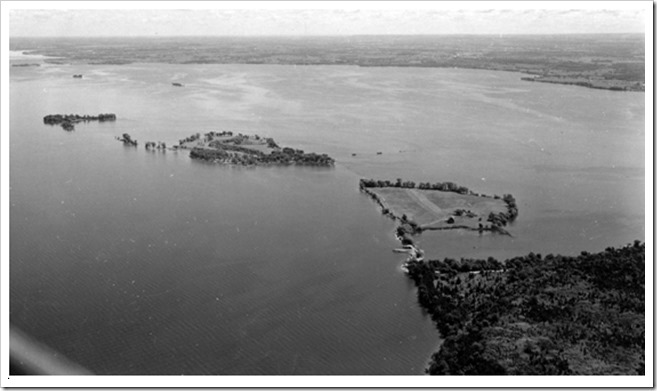 This 1940's view shows Snowshoe Point, bottom right, the gravel bar and the "Cut" between the point and Hovey's Island, right-center, and GE's Association Island, left-center. Along with Davis and Sixtown Islands, left, these islands form Sixtown Point and separate Henderson Bay, right, from Lake Ontario, left. Snowshoe Bay is the nearly surrounded body of water between Snowshoe Point and Hovey's Island.
Photo courtesy of the Schenectady Museum/miSci
Capt. Hinckley shoved the rust and mud-colored barge into the farthest corner of the bay, behind a thick gravel bar that connected Snowshoe Point with Hovey's Island. The barge, with its tall derrick, long angular boom, steel cables of the jib crane, and small cabin with a smokestack would certainly have been noticed by shoreline cottagers squeezing in the last few weeks of summer. Snowshoe Bay was nearly surrounded by land with a handful of cottages in Stick architecture of the 1890's on the point. Across the narrow bay were the dock, boathouse, fishermen's cabin, barn and farmhouse of the Winnie Hovey family's former Snowshoe Inn on Hovey's Island. The end of the bay was formed by the gravel bar. It was a peaceful and picturesque location with the steep slopes of Snowshoe Point covered with trees that swept down to the calm water's edge. The lake was on the other side of the bar where it was often agitated by the strong westerly winds. Local cottage residents who enjoyed and longed to keep the solitude of the small bay most likely watched Capt. Hinckley moor the barge with bewilderment and shock!
For others of this bustling fishing and boating community, populating in 1927 with new cottage owners from Watertown, Syracuse, Utica and Rochester, including the men from GE, Hinckley's barge was a sign of progress.
While the gravel bar created a calm lagoon environment at the end of the bay, and a simple path to Hovey's Island, it was a major obstacle for fishermen of the early 20th century. Leaving the marina docks in Henderson Harbor, early fishing guides spent a few hours rowing their double-end skiffs across Henderson Bay and into Snowshoe Bay, and then dragging their heavy wooden boats over the bar to get to the lake and the best fishing grounds among the offshore islands. However, by 1927 motors had replaced oars in most of the local boats. Large motor driven cruisers were now common in Henderson Harbor. The bar caused a long and sometimes dangerous journey for these boats around Sixtown Point and it prevented a quick run into the bay when sudden and frequent gales popped up on the lake.
Capt. Hinckley and his men immediately began cutting into the gravel bar with the large teeth of the clam bucket. Steam hissed from the boiler vents, the cables sang as the bucket danced up and down, and the ratchets click-clacked away as the levers were pulled to pivot the boom around for another bite into the gravel and mud. Chocolate and grey-colored water filled the small bay and slowly, a hole emerged- an opening into the lake. From their bay cottages, summer residents would have looked down upon the hulk of a barge with its noisy gears and cables. It would have been the most excitement around Snowshoe Bay since GE took over the small fishing resort on Association Island 15 years earlier. Capt. Hinckley's work would forever change the bucolic nature of Snowshoe Bay and greatly alter the habits of boaters and fishermen in Henderson Harbor. It would also begin the process of the harbor's most prominent landowner, the General Electric Company, to envision moving its luxurious executive summer resort to the Thousand Islands.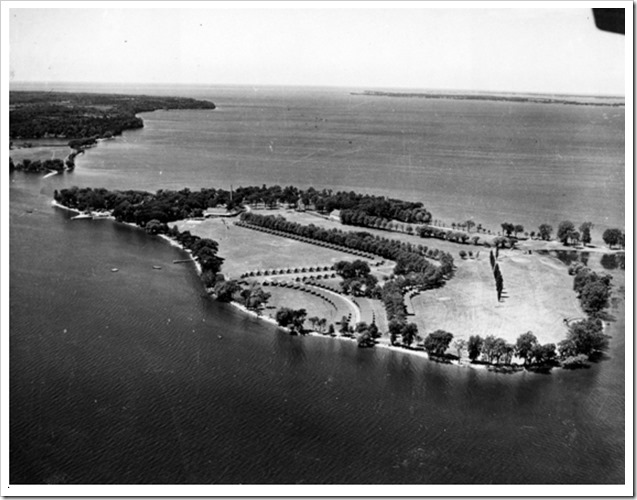 This 1940's view from over Henderson Bay shows a fully developed Association Island, owned by GE from 1912-1959. The 64-acre island was prone to flooding and was too small for expansion of the island golf course, right. At the top left are Hovey's Island and Snowshoe Bay. At the top right are Stony and Galloo Islands in Lake Ontario.
Photo courtesy of the Schenectady Museum/miSci.
On the afternoon of Saturday, August 20, 1927 several cottage residents of Henderson Harbor met on the docks at Oliver J. McConnell's boathouse to plan the "Cut" through the gravel bar. It had only recently become possible when in 1926 GE purchased Hovey's Island and the narrow gravel bar. GE's acquisition not only changed ownership of the island but use of the island from the Hovey family farm and their small fishing camp to the rapidly popular sport of golf. It also provided an opportunity for harbor residents to raise half the cost of digging the "Cut," as it came to be known, from GE's deep pockets.
The meeting site at McConnell's boathouse was probably not random. McConnell's family had spent their summers in Henderson Harbor since the 1880's when they built a small cottage at the end of Snowshoe Point, overlooking the lake. Family members had property and access to both the lake and the bay, but no quick and easily navigable waterway between them. The prominently situated two-story, double-slip McConnell boathouse in Henderson Harbor afforded the men gathered that day ample space to mingle, smoke their cigars, discuss the summer's fishing trips, and admire the wooden launches in the McConnell fleet. The boathouse would later become the renowned Henchen Marina.
Among the prominent cottage and boat owners meeting that afternoon were John C. Marsellus, owner of the Marsellus Casket Company of Syracuse; Wesley Waite of Watertown and part of the family which helped organize the Highland Park community in Henderson Harbor; McConnell, a wealthy mining and timber businessman; and W. B. Rogers of the General Electric Company of Harrison, NJ, owner of the Association Island corporate retreat, 2 ½ miles offshore.
The Henderson Harbor men wanted a quick route to the lake and a safe retreat from storms. Rogers wanted a sturdy road from Snowshoe Point to GE's newly acquired Hovey's Island so it could build a bigger golf course. Golf had only recently become popular among corporate executives in America with Walter Hagan and Bobby Jones dominating and publicizing the game in the 1920's. Photographs and films from 1925-1937 depict the GE executives golfing on Association and Hovey's Islands. Dozens of vintage 1930's golf clubs and bags were stashed away in an Association Island cabin and were still there in the early 1970's. Golf was obviously important to the GE campers but even a second island did not provide enough space for a professional course.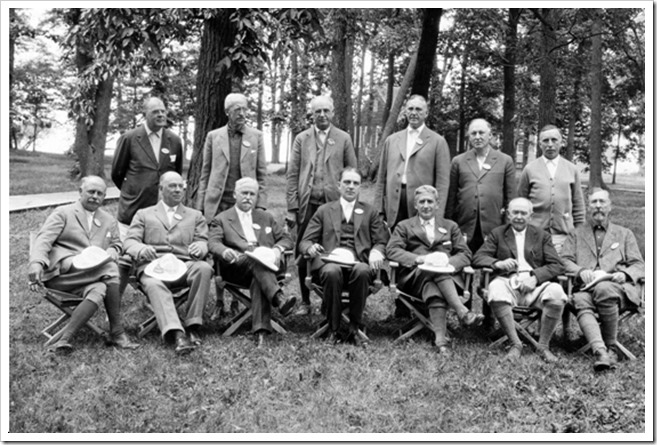 GE executives, who founded or operated Association Island, are pictured in this c. 1925 photograph on the island near Henderson Harbor. Seated from left to right are: Jesse R. Lovejoy, Anson W. Burchard, G.E. Emmons, Owen D. Young, Gerard Swope, Edwin W. Rice, Jr. and unidentified. Standing, 3rd through 6th from left, Burton G. Tremaine, Francis C. Pratt, Franklin S. Terry, and E.W. Allen. Tremaine and Terry were the founders of Association Island. The others could not be positively identified. Young and Swope made the decision in 1929-30 to purchase Carleton Island and planned to move the resort by 1931.
Photo courtesy of the Schenectady Museum/miSci.
GE was also plagued by frequent flooding on Association Island and combined with its quest for a larger golf course these two issues prompted the company to search for another island retreat. Additionally, GE had paid $22,500 for Hovey's Island and some apple orchards on Snowshoe Point and it wanted the added value from a better road and boat channel for a potential sale of all of its Henderson Harbor holdings, contemplated for the near future. It was at this time, from 1926-1929 that GE executives began seriously considering relocating to Carleton Island.
By 1927, GE had developed Association Island into a full-scale company retreat and conference center. Holding several "camps" each summer for its manufacturing, engineering, sales, and executive divisions, thousands of employees from Cleveland to Boston and Washington to Schenectady and beyond to Toronto, Canada, visited the island. Business meetings were held each morning, and after lunch the GE troops enjoyed team sports, horse riding, fishing, shooting, golfing, sailing, and lavish meals and drinking, even during Prohibition, in the island dining tents or with enormous picnics on the island lawn. Visitors slept in the unique Association Island "tent" cabins and were ferried about the lake and to the St. Lawrence River with a large fleet of GE boats. Island managers and some staff members were recruited from prestigious hotels in New York, Chicago, and Cleveland. For most employees it was a cherished invitation to the island and a chance to connect with top GE executives at the company's expense. For GE it was a chance to mold the company's new policies and ideals into the ever expanding legion of managers. In the 1920's, elite employee's families were also invited to enjoy the cool summer breezes, swim in the lake, and play games with their children. It was a company-made utopia when profits were flowing and it was growing each season.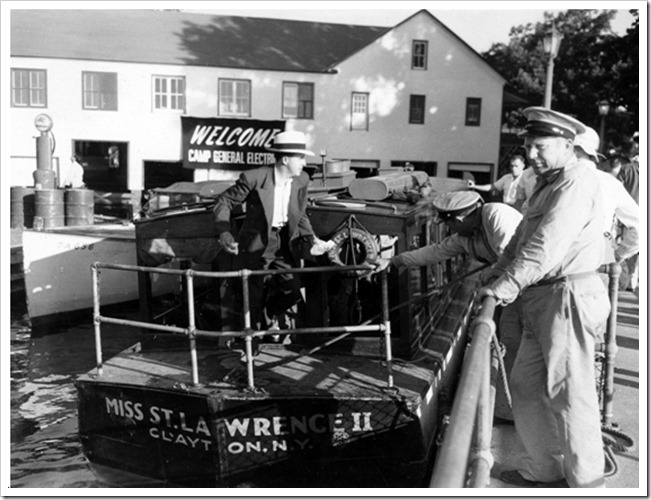 In 1930 when GE was purchasing Carleton Island, visitors to Association Island would sometimes arrive on the Miss St. Lawrence II, based in Clayton. In the background at Association Island is the large 8-slip boathouse that was built prior to 1910 and razed by GE in the early 1950's. On the left is one of GE's many Association Island-based boats, the Islander.
Photo courtesy of the Schenectady Museum/miSci.
With a local subscription of $7,000, half paid by GE, construction of the Cut began soon after the meeting at McConnell's boathouse, in September of 1927. Capt. Hinckley and his crew installed concrete bridge abutments to support a one-lane bridge. A boat channel was cut through the gravel bar and dredged to a depth of 10 feet. Boaters were now spared the long and potentially dangerous journey around Association Island. Most importantly, they could quickly shoot into Snowshoe Bay when they got caught in a summer gale. And GE could now easily move trucks and other heavy equipment onto Hovey's Island without concern that the road might be flooded.
However, while the new road and bridge remained high and dry, extensive flooding caused by high water levels in Lake Ontario in the winter of 1929-30 filled the new boat channel with gravel and stone. A photograph from this event shows the debris nearly halfway up the concrete abutments. The flooding also caused extensive damage to the Association Island boathouse, docks, and a small golf course/driving range on the northeastern side of the island. Film from this event shows severe damage to both islands. Along with growing pains on the islands and bigger plans for its company retreat of the future, the flooding event caused GE to accelerate its plan to relocate to Carleton Island.
Visitors to Association Island typically arrived in northern New York on Pullman (sleeper) cars on the railroad. Travelling overnight, they would arrive at small stations in Pierrepont Manor, Adams, or Adams Center, NY and then take a bus to Henderson Harbor where they would catch a ferry boat to the island. Guests also arrived at Sackets Harbor and even in Clayton, NY where they would catch a boat directly to the island. In August 1916, for example, a fleet of Pullman's carried inventor Thomas A. Edison and about 100 employees related to his electrical engineering companies to northern New York where they spent several days at Association Island with GE executives and engineers, including Charles P. Steinmetz, GE's consultant wizard of alternating current. A photograph of Edison and Steinmetz sitting on the steps of the island administration building is just one of many historical photographs in the author's 2013 book, Association Island. These gatherings were known as Camp Edison, and later, Camp Incas. In July, 1930 world explorer and aviator, Admiral Richard E. Byrd arrived by train at Clayton where he boarded the cruiser Miss St. Lawrence II and motored up the river and across the lake to Association Island where he regaled the campers with stories of his recent South Pole expedition. High profile and celebrity guests at Association Island were proving successful to motivate engineering innovation, production, and sales among the hundreds of GE employees who visited the island each summer.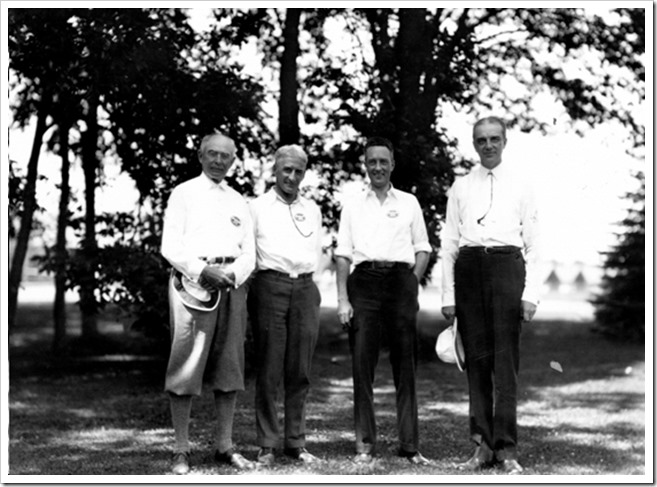 In July of 1930, GE hosted world explorer and aviator, Admiral Richard E. Byrd, at Association Island. Arriving by train at Clayton, NY, Adm. Byrd was first taken to Carleton Island to advise GE on where to locate a landing strip on the island. Pictured at Association Island from left to right are, GE executive Edwin W. Rice, Jr. and President Gerard Swope, Adm. Byrd, and GE Chairman Owen D. Young. Some of the Association Island "tents" can be seen on the right.
Photo courtesy of the Schenectady Museum/MiSci.
Nearly the same time as the visit by Adm. Byrd, GE executives Owen D. Young and Gerard Swope took a boat ride to Carleton Island, their second trip after their initial visit in the summer of 1929, according to newspaper reports in the summer of 1930. Earlier that year, they had formed the General Electric Realty Corporation as a holding company "for property other than factories," and appointed Edwin Irving as president and G. W. Lewis, Swope's assistant, as secretary-treasurer.
"We were aware of it," said Margaret Ann Cross Bean in 2013 of GE's interest in Carleton Island. Bean was a young girl in 1930 and she spent summers on Carleton Island with her family. "They kept sending people over. They were interested in the villa. I remember that a golf course would be built."
Irving, Lewis, Association Island manager Frank H. Wiggins, GE's island director Rogers, and several other members of the GE Carleton Island committee from Cleveland, Newark, Rochester, Detroit, Toronto, and Schenectady also visited Carleton Island during the summer of 1930. They were making big plans.
Envisioning a more lavish retreat than they already had on Association Island, and wary of the constant flooding of their island, company chairman Young and president Swope instructed Irving to purchase options on more than 1,200 acres of land on Carleton Island (nearly the entire island) and 2.48 acres of land from farmer James A. Peo surrounding Peo's Bay, across the St. Lawrence River near Cape Vincent. GE's plan was to move all of its meeting and recreation facilities from Association Island to Carleton Island and build three nine-hole golf courses, polo grounds, tennis courts, shooting range, cottages, mess hall and electrical, water and sewer facilities by the summer of 1931! Peo's Bay would be used as a ferry landing. It was a grand and ambitious plan but in 1929-30, the members of GE's Carleton Island committee could not have imagined the obstacles that would stand in their way.
Continue on Page 2 . . .
Comments
Comment by: Steve Newcomb ( )
Left at: 10:24 AM Friday, March 15, 2013
---
We've been vacationing on Carleton Island since 1995, and naturally we've been interested in every historical detail, but this article significantly increases our understanding of the evolution of GE's attitude and influence. This article demonstrates good research and good reporting. Thank you, Timothy W. Lake!
Comment by: Pat Regan ( )
Left at: 2:24 PM Friday, March 15, 2013
---
Tim has written an excellent and extremely interesting bit of the Carleton Island history. I really enjoyed it.
Comment by: Greg Oliver ( )
Left at: 9:34 PM Friday, March 15, 2013
---
I spend a lot of time on Carleton Island every summer and this was a great article. It helped piece together a lot of stories that I have heard over the years on the Island.
Comment by: Victor Bongard ( )
Left at: 10:05 AM Saturday, March 16, 2013
---
Wow, great piece! I feel at the same time informed and intrigued. Looking forward to further Carleton Island adventures.
Comment by: Pam Kopiel ( )
Left at: 12:15 PM Saturday, March 16, 2013
---
Great article and now I appreciate my view from Lower Hovey Tract Rd and my cottage. Windmills stay away...
Comment by: Steve Newcomb ( )
Left at: 1:36 PM Saturday, March 16, 2013
---
Why the opposition to wind turbines, Pam? We see over 100 of them from our property, as we look across the channel at Wolfe Island. They are gorgeous pieces of aerodynamic engineering. They represent a rational, civilized adaptation to the human need for energy resources, clean air, peaceful weather, and local jobs. I can't believe you'd really rather have a wrecked planetary ecosystem, the loss of drinkable water supplies (due to fracking, etc.), and the huge increase in severe weather events that we're now seeing worldwide.
Nor would you really like to participate in a human civilization that's starving for energy, I think. Humans, like all other creatures in God's creation, must choose between adapting, on the one hand, and dying, on the other hand. Personally, I prefer to adapt. It's better for future generations, don't you think? I hope you will reconsider your position on this. It's not so terrible to see windmills turning industriously. It means somebody, somewhere, is making rational decisions, and preferring life over death.
Comment by: Fred Peterson ( )
Left at: 4:28 PM Saturday, March 16, 2013
---
I can understand Pam's aversion to wind turbines. You certainly don't want to be too close to them. I have driven through the Tug Hill wind farm and appreciate the sculptural quality, but wouldn't want them close to my residence. As to fracking and ground water pollution, I believe some more research is needed into the existing technology before not utilizing it. Fracking at depths exceeding 10,000 feet with the current encasement techniques will not affect the aquifer. New York State is missing out on the natural gas trapped miles beneath the surface.
Comment by: Steve Newcomb ( )
Left at: 11:58 AM Sunday, March 17, 2013
---
Living here on the shore of Lake Canandaigua, and overlooking our water supply, we're in prime fracking territory. When, in the absence of the research you want to skip, Fred, fracking chemicals turn up in the lake and its connected aquifers, what water do you propose we drink? What about the wildlife? What about the crops and vineyards?
We already know what happens when industries use state-of-the-art technologies to protect everyone from the horrific possibilities inherent in those technologies. Fukushima. Abandoned whole towns in Texas (due to fracking!). When will the Texas towns become livable again? Nobody knows. In fact, the deadliness there is still spreading onto the surrounding ranches today, and nobody knows when it will stop spreading, or where. When will Fukushima be safe? Nobody knows, but not for many generations, apparently. How much of the future of humanity are you willing to risk in exchange for slightly lower taxes today? All of it, apparently. It's a truly terrible bargain. Please think ahead -- farther than the next business cycle, please. Think thousands of years, because that's what we're talking about, here. It's no joke.
I wouldn't choose to live under a wind turbine, either. But: wind turbines don't poison aquifers, or spread deadly radioactive materials with half-lives of centuries, or contribute to climate change. Wind development makes long-term sense for everyone on this planet. Fracking does not.
Speaking of state-of-the-art technology that doesn't actually work: remember the Gulf of Mexico. It may be generations before we even know the full consequences of that horrendous mess, which was also caused by a wildly improbable technology failure. Truth is: technologies *always* fail; it's just a matter of time.
What happens when a wind turbine fails? Nothing very bad. Certainly nothing that endangers life for thousands of years. What happens when we penetrate miles of rock, connecting the aquifer level to the petroleum level? Maybe nothing. Maybe nothing for years, Then, like Fukushima, and the Gulf of Mexico, and many other cases, something will happen. And then there's no way to recover. "We didn't consider the possibility that so many things could go wrong!" (Satements similar to this was made by different responsible people after each of those events.)
Think about your descendants. How many generations are you willing to worry about? You should worry about *all* of them when considering how you may limit their options for living on and enjoying this planet, their only home.
Comment by: Greg Smith ( )
Left at: 7:48 PM Monday, March 18, 2013
---
Great article Tim!
Comment by: Mike and Jane Falvey ( )
Left at: 7:58 PM Wednesday, March 20, 2013
---
Loved the article on Carleton Island. There seems to be more information about the early history of Carleton than about it in the 20th century. We'd love to know about what existed on the Island in the last 150 years, the location of farms, houses etc. Years ago, an elderly "River Rat" friend of ours told us some tales from his past of his exploits around Carleton as a young man. He had told us about GE's ownership and told us a story that GE had constructed a tower with the world's biggest light bulb on it. It supposedly was lit only once, then never lit again due to its brightness. He has since passed away and we were never able to question him further about it. No one that we've talked to seems to know anything about it. Is this the water tower that is mentioned? We have found a spot that has 4 concrete footings like would support a tower and a center piling with conduit coming out of it. This is probably the water tower for the golf course, but is there any truth to the light bulb story?
Comment by: Tim Lake ( )
Left at: 9:24 PM Wednesday, March 20, 2013
---
Mike and Jane Falvey,
The light bulb in the water tower story would not seem out of place for the GE men of the 1930s. They certainly had the money, engineering and innovation to give it a try. However, I've not seen any documentation that it was fact. It is a great story.
The water tower constructed by GE was marked for me on a map of Carleton Island by Marjorie Williams Crothers, a young girl in the 1930s, who is described in the article.
She marked the water tower as slightly northeast from dead center of the island, not far from the original island schoolhouse which was in the very center of the island.
Several people have described to me how GE had the very best of technology at Association Island; lighting, audio and projection theatre equipment, generators and small electronics. They even had their own radio station which broadcast music around the island. Many photographs of the technology they used are in my vintage photograph book on Association Island which will be published and released on May 27.
Tim Lake
Comment by: Mike and Jane Falvey ( )
Left at: 8:09 PM Thursday, March 21, 2013
---
The location we are aware of is very near the center of the island and also approximates the highest elevation on the island as best we can determine. Are there any pictures of it? Any idea when it was taken down? There is no evidence of any piping, but that could have been removed along with the tower. It is a long way from the River. We were also told that before WWII the Japanese scavenged the area for steel. Are there any maps that show the location of various farms and other structures like the school? In our many treks around the island we are constantly discovering concrete slabs and old foundations in the middle of a field or even in the woods and wonder what was there a hundred years ago. Even digging in our yard sometimes reveals bits of broken china or a bottle and it makes you wonder.
Comment by: Patti (Wescott) Ingram ( )
Left at: 4:55 PM Sunday, March 24, 2013
---
What a wonderful article. I can't wait to show it to my dad as I am sure it is going to bring back many memories.
Comment by: Deane Parkhurst ( )
Left at: 5:41 PM Tuesday, April 9, 2013
---
Fascinating story. As a college student in 1956 I worked on Association Island as a part of the entertainment crew helping with lighting and stage management for the small group of performers hired for the season. Conference sessions for GE executives lasted two and a half days. We staged five shows for each session, one each for lunch breaks and a "dinner show" that followed the evening meal. The final show was the "good by" production just before conferees left the island. A small but serviceable stage was set near The Black Cat bar where liquor flowed more than freely as noted in the story. Some of the cast members lived on the island while others, myself included, were housed in a large building on the mainland in Henderson Harbor. Transportation to and from the island was by two passenger boats, The Claverack and The Islander. Newer versions, I discovered, of earlier craft bearing the same names. There was also a work boat, a converted wartime LCM, named Elsie M. Logical. I did not know until reading this story that 1956 would be the final year of operation by GE.
Comment by: Mark Bond ( )
Left at: 12:21 PM Sunday, April 14, 2013
---
Tim,I really enjoyed your article on Carlton Island, being a Philly resident for 25 years, I've enjoyed watching you as a local news person. Nice to know your a fellow 1000 Islander!
On a sad note, I'm sorry Steve Newcomb had to set up his political soapbox on your page. Its a shame propaganda bantering is permitted to invade our peaceful space.
Comment by: Mrs. Ruth Staley ( )
Left at: 10:50 PM Friday, May 3, 2013
---
Tim: The article gets an A++. And I am not prejudiced.
Keep up the good word - we need more historians!!!! Your Mother-In-Law (according to the Texas Laws - I guess they transfer up there!!!!)
Comment by: Ruth Staley ( )
Left at: 9:19 AM Saturday, May 4, 2013
---
Tim, I give you an A++ on your essay. You are multitalend and you make beautiful grandchildren. I am proud to be you MIL (According to the state of Texas and I guess it transfers up North.) tee hee
Comment by: Adele Rouser ( )
Left at: 9:52 PM Thursday, October 10, 2013
---
We camped there last week in our motorhome...its a KOA campground....the prettiest one we have ever been to. The man in the office said it used to belong to GE so I started looking for more information on it. I was fascinated by the old buildings there that havnt been restored yet...its kind of like a trip back in time..It kind of reminded me of the movie dirty dancing where families went on vacations by the water, had shows and dancing..I.went on the shore looking for seaglass,,,found a lot and also pieces of dinnerware and pottery pieces...One white plate piece has two out of 3 initials of someone on it....I just loved this island!
Comment by: Charles Millar
Left at: 9:50 AM Wednesday, October 15, 2014
---
More than a year after the post concerning the "tower" my brother Bill got the excellent idea of checking our grandfather's charts in our cottage at the Island. Chart 1, August 7, 1917, revised to March 1918 shows a tower at the highest point on the Island indicated by a triangle. According to the chart abbreviation legend a triangle means a Storm Signal Station or Radiotelegraph Station (or possibly both).
GE may have used this tower for another purpose, but we have no idea other than that.
My father did mention that he and others, when they were young, would go the highest point on the Island and from there you could see Kingston. Perhaps they climbed the tower for that view!
Comment by: Charles Millar
Left at: 1:26 PM Sunday, October 19, 2014
---
Just to add one more observation, a1938 Lake Survey chart shows a tank in the middle of Carleton Island.
Comment by: Tim Lake
Left at: 10:01 PM Monday, December 1, 2014
---
Charles,
Great idea to check the old charts. Nothing would surprise me about what GE may have built in those days. As some legal court documents suggest with Association Island, the top GE executives used the company's island for their own personal pleasure too. GE also worked very closely with the U.S. Government and the War Department during WW I and II. And they were always into experimenting with new electrical devices.
One of these summers I'll get the time to cruise up there in the boat. I'd love to take a tour of your section of the island, especially old Fort Haldiimand.
Tim
Comment by: Charlie Millar
Left at: 2:20 PM Tuesday, December 2, 2014
---
I believe that the 1938 chart shows the "GE tower". I understand that there are remains.
Charlie
Comment by: BobHodge
Left at: 3:06 PM Saturday, June 30, 2018
---
I'd be very interested in seeing any other photos of the theatre, labs, projection booth or the public address equipment at the island. I understand that the theatre has (had?) a General Electric lighting board that used thyratron tubes in the control circuit. The same that the Proctors theatre in Schenectady used.