Written by
Arthur Bronstein
posted on May 13, 2013 07:23
This summer we want to hear from visiting mariners.  Whether you are on a yacht, sailboat, or canoe or kayak – consider sending us of how you spent your holiday.  If you have "hints" about cooking in the galley, cleaning the decks or good books to read, send them along.  Together we can enjoy a cruise among the Thousand Islands.
We asked Arthur Bronstein what life was like as a  visiting sailor.
____________________
Introduction:  I have been sailing on Lake Ontario since 1981, when I joined the Henderson Harbor Yacht Club with my wife Nancy. We raised both of our boys on the boat and sailed into the Thousand Islands for two-week visits each summer. Our most favorite area  on the St. Lawrence River near Gananoque Ontario, where we frequent the Thousand Islands National Park islands called Beau Rivage, Camelot, Mulcaster and others.
Our Holiday: My wife, Nancy  and I arrive at Henderson Harbor (on Lake Ontario in NY State) and put our dinghy in the water.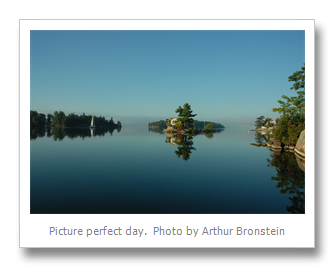 Our C&C 35 Mark II sailboat is hanging on a mooring in the harbor and needs to be loaded with supplies for our two week vacation in the Thousand Islands.
We bring the boat into the dock at our sailing club and get her provisioned and tie down the kayak and bicycles.
It's 11:00 am and we push off the dock and head north for the entrance to the St Lawrence River 20 nautical miles away. After about 7 hours of sailing (and some motoring), we arrive at the Gananoque Municipal Marina to check into Canadian Customs.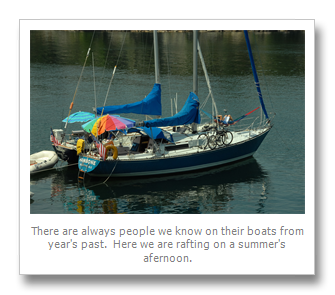 Once cleared and set off to our favorite island, Beau Rivage, where we set our anchor and take a long needed swim in the crystal clear water.
We cook some dinner, open a bottle of red wine and soak up the beautiful sights, sounds and smells of a summer evening on the boat.
We watch the sunset and go down below before the bugs come out.......tomorrow is another day. We will take our bikes to the ferry dock and go for a long bike ride before returning for another swim, kayak and dinner.
There are always people we know on their boats from years past that we get to see only in the Islands each year. I wish it could just go on forever but before you know it, it's time to head back to our home port of Henderson Harbor and put the boat back out on the mooring. But you know, "We'll be back"!
By Arthur Bronstein
Arthur and Nancy Bronstein live in Syracuse, NY.  Their boat is a C&C 35 Mark II, named HAMBONE, built by C&C Yachts in Niagara On The Lake, in 1975. Arthur is a Private Fire Investigator and a member of "The BABY BOOMERS Band" (website: thebabyboomersband.com)  Arthur plays acoustic and electric Guitars. 
Note to author:  Bring along your guitar this summer and serenade the Admiralty Islanders, please.