Written by
April Scott-Clarke
posted on May 13, 2013 07:28
As far as debut novels go, this is a great one.
Inspired by a true story, this novel was the outcome of a screenplay written by Doyon and his wife, about five years ago.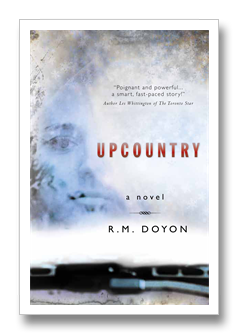 Although the author is Canadian and spent most of his career in Ottawa, Ont., he chose to set the book in his summer stomping grounds of upstate New York. "There have been some fine Canadian novels written, but they are for Canadian audiences. I wanted Americans to buy the book," he explains of his setting choice.
When I spoke with Doyon, he gives props to Canadian authors but was realistic that he wasn't going to attain Margaret Atwood-style success with his debut novel and so decided to target the larger U.S. market. "I also find the area between Alexandria Bay and Lake Placid to be very rich in detail, and the people I've met have been very interesting."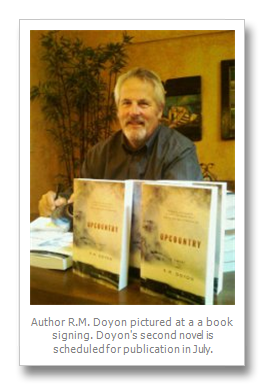 The two main protagonists are supported by a handful of secondary characters, all of which the reader is able to connect with and easily understand their role in the story.
There's a recognizable Thelma and Louise feel to the plot, but Doyon says that connection was purely accidental. "I see it more as a coming together of sisters than making a statement like Thelma and Louise did," he says.
Written from the female perspective and with a strong survivor theme, there are several unpredictable twists that add action and heartache to the storyline.
While I didn't find this book to be overly thought provoking, I don't think that was the intention. It's entertaining and an easy read, great for summer.
Doyon's second book, Thou Torturest Me, a sequel to Upcountry, is set to hit store shelves in July.
Upcountry is available at Corbin's River Heritage book store in Clayton, NY.  It is  available on Amazon and there is also a Kindle version available.
About the Author
R.M. Doyon has been a journalist, writer, public relations executive and entrepreneur for more than three decades. 
A graduate of the University of Western Ontario and Carleton University's School of Journalism, he began his career with the Ottawa Citizen before becoming a political reporter and Parliamentary Bureau Chief for United Press International, where he crossed paths with six Canadian prime ministers and one U.S president.  After his time at UPI, Doyon wrote for The Vancouver Province, Maclean's, and The Financial Post before serving as a speechwriter and senior communications advisor in two Canadian government departments.  An avid observer of the American presidency, he boasts to family and friends alike that he has set foot in the Oval Office. 
Though successful in business, during which he co-founded one of North America's most-admired public relations firms, he never lost his love for fiction and screenwriting.  In addition to Upcountry, he is the author of Pirouette, a stage-play on the life and times of Pierre Elliott Trudeau, and has co-written two screenplays—Shoulda, Coulda, Woulda and The Last Carousel with his wife Shelley.
Synopsis
JANE SCHUMACHER, a smart and spirited political aide to the Governor of New York, is shepherding her charismatic boss for a serious run for the White House. 

But after a visit to her doctor shortly before Thanksgiving, she begins to doubt whether her dreams will come true.  Angered and shaken, and after years of absence, Jane abruptly cancels her holiday plans with her handsome Argentinean-born boyfriend to return to her upcountry hometown.

Upon her arrival, however, Jane encounters reminders from a troubled past.  A chance meeting with an old beau.  An awkward reunion with a distant father.  A skeptical and dismissive twin sister.  A crude and vulgar brother-in-law.  And, throughout it all, the haunting voice of her late mother.

Following a disastrous Thanksgiving dinner, Jane discovers her sister's painful secret and faces a fateful dilemma:  should she simply rescue her sister from her husband's evil clutches or take justice into her own hands?  But for Jane Schumacher, nothing is ever simple.  Nothing is cut and dried.

Set against an engaging backdrop of modern political times, Upcountry is a riveting, page-turning story of sibling strife and affection, of sadness and grief, and finally redemption and rebirth.
By April Scott-Clarke
April Scott-Clarke is a writer, editor, mom, wife and outdoor enthusiast, currently holding the fulltime post of web editor for Ontario Out Of Doors magazine.  April's written for a number of titles includingthe Ottawa Sun, CBC.ca and Moneysense.ca. She grew up on the outskirts of Brockville and although she doesn't live in the area anymore, she's a frequent visitor. Follow her on Twitter @AScott_Clarke