Written by
Kim Robinson
posted on June 13, 2013 07:31
Camping on an island has a special appeal -- that feeling of leaving the everyday back on the mainland. This quality that makes an island retreat so appealing can also be a challenge. Setting up an island camp usually takes a bit more planning and coordination than your typical car camping trip. This summer Thousand Islands National Park is making getting away to the islands much easier with oTENTik, Parks Canada's new camping accommodation.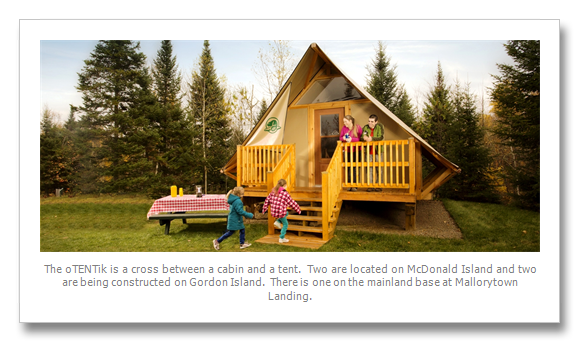 The oTENTik is a cross between a cabin and a tent, and it eliminates the need to bring much of the larger gear that campers would typically have to pack. On the inside, the oTENTik provides bunking space and a table and chairs for six people along with solar lighting for evenings indoors. Outside, there is a charcoal grill, a firepit, a covered area for food preparation, and a food storage locker.
There are Adirondack chairs for relaxing on the deck or around the campfire. Best of all, while the oTENTik gives you the feeling of sleeping under canvas, you'll never encounter a soggy night in this tent. The oTENTik is built on a raised platform with a wooden frame and a high, rigid tent fly that whisks water away from the campers inside.
There are four oTENTik units on park islands, two on McDonald Island and two that are currently being constructed on Gordon Island.
"We selected the sites with that island escape in mind," says visitor experience manager Sophie Borcoman. "The tents are tucked into the woods but also provide excellent waterfront space to enjoy island views."
The oTENTiks that are being built on Gordon Island are located on the quiet south end of the island, while the sites on McDonald Island face the water on the northwest shoreline.
Borcoman says the oTENTik will appeal to kayakers who like the ease of staying in a ready-made camp after a day of paddling, or boaters who want some extra space for friends and family. For visitors who still prefer to drive to their site, the park has an oTENTik unit at its Mallorytown Landing Visitor Centre. Set apart from the day-use area on its own patch of waterfront with a view of Dark Island and Singer Castle, this mainland site provides some of that island feeling. 
Long-time camper and park interpreter Marianne Kelly says she can't wait to try out the oTENTik. She often camps with friends and she sees the oTENTik as a very economical way of adding some comfort to her camping experience.
"I usually do more rugged, backcountry camping, but if I split the cost with friends, for $15 a night I can sleep in a bunk, on a mattress, in a comfortable cabin set-up -- I think I know which way I'll be going with camping out on the islands."
The units rent for $90 a night. Starting in late June, reservations can be made through Parks Canada's reservation system at reservation.parkscanada.gc.ca or 1-877-737-3783. In addition to reservations for the oTENTik, this summer Thousand Islands National Park is offering the option of reserving regular campsites on Mulcaster, Beau Rivage and Camelot Islands. The park plans to add more campsites to the reservation system next season.
For more information, see the park website at pc.gc.ca/ti
By Kim Robinson
Kim Robinson has worked in interpretation for Parks Canada since 1997. For many years she worked at National Historic Sites in Eastern Ontario -- Fort Wellington, the Rideau Canal and Laurier House -- but she's made the switch to National Parks and is on staff at Thousand Islands National Park.  Before joining Parks Canada, Kim spent a few years as a journalist writing for a weekly newspaper, the Winchester Press.