The boat you are looking at is the oldest motoryacht in continuous usage anywhere in North America, and presents one of those rare opportunities for the right owner or collector to acquire a piece of living history. The FLOX is one of the most significant boats in existence as I will explain, and If this boat was a home it would be at the top of the list on the National Register of Historic Places. She is that important.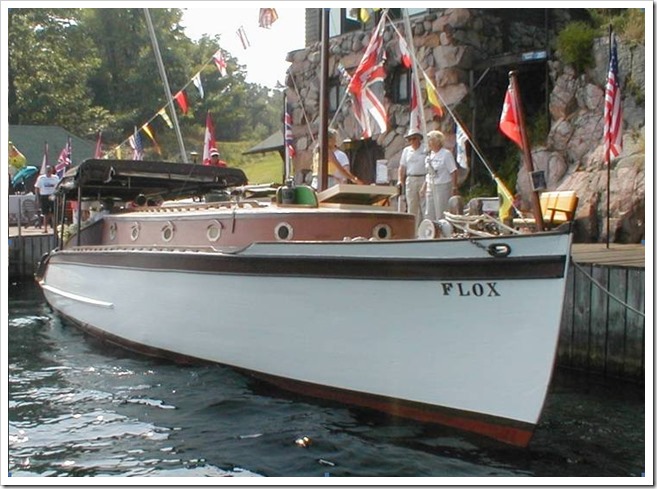 1912 40' MOTORYACHT "FLOX"
ONE HUNDRED YEAR OLD CRUISER
LOOKING FOR GOOD HOME
Have you ever considered owning a legend?
(GREAT WITH CHILDREN AND IMMATURE ADULTS.)
If I had to chose one word to sum up the history of the FLOX, without question it would be "fun."
Whether I am considering my own wonderful memories with the boat or looking back through the photo documentation of the boat from the 1920's right up to today, everyone who ever sailed aboard the FLOX would tell you that she has a karma which helped to ensure lasting memories of fun and good times for each of them. This historic boat really deserves to find a special home with a passionate young owner, or else we'll have to start a rescue fund and have FLOX put on display in the Antique Boat Museum in Clayton, NY!
It was over fifty years ago that I first laid eyes on the FLOX. She was tied up at the dock in Clayton, NY, and it was hard not to notice her for two reasons.  First - the lines of the boat, with her plumb bow, raised trunk cabin with polished brass portholes, tapered transom, and an extended canvas top made it obvious this was a vintage classic yacht.  Second - FLOX looked like a college fraternity party on Homecoming Weekend with laughter and music in the air, lots of smiling guys and girls jumping on and off the boat non-stop, an open bar that never closed, and in the center of this jovial madness, the ringmaster himself Paul Webb, who back then was as ageless as Peter Pan. To all who knew her, especially me, it seemed like the FLOX would go on forever.
Perhaps that's why I was surprised when the owner of FLOX, Paul Webb, called me last fall and asked if he could meet with me about the boat, and when I asked if everything was ok he said "not really", and so on that cheery note, we agreed to meet the following day at our cottage in Ivy Lea. As we sat at the dining table Paul explained that it had become physically impossible for him to take care of the boat after several recent back operations and then said, "I need to find a home for the FLOX Mike, and I'm not sure if you can help me with this or not?"
At first I assumed that because my company builds new fiberglass yachts Paul thought maybe I wouldn't be interested in helping him sell the boat, but as the story unfolded, I began to understand what Paul was trying to tell me, he was not trying to just "sell" the boat, he was hoping there was some way to find the right home for the FLOX and hopefully locate an owner who would love it, care for it, and most important of all, continue the unbroken 100 year tradition of sailing the St. Lawrence River each summer.
I told Paul I would be happy to help in the search for that perfect owner and suggested we start by reaching out to people we know in the Thousand Island's hoping one of them may know the perfect candidate to take over the command of the FLOX. In my fantasy vision it is some young guy in his late 20's or early 30's with blonde hair who loves boats, loves working with his hands, and loves people -- a young man just like Paul Webb when he was first took command of the FLOX back in 1955!
BRIEF HISTORY OF THE FLOX
A good overview of the FLOX was provided in the invitation to help celebrate her 100th birthday at a party was held in Clayton, NY in 2012:
"Built in Montreal in 1912 by L. J. Marchand (Length 40.7 ft. beam, 9.5 ft. , powered by original 32 h.p. Van Blerck gasoline marine engine, the 'FLOX" was originally owned by Mr. H.S. Grove of Montreal. A living reminder of an age long past, the history of the "FLOX" Encompasses some of the most significant events of the 20th century.

 

Under the flag of the Canadian Navy she served faithfully and anonymously as a naval tender in His Majesty's Navy for five years during World War I. She was purchased by Albert (Bert) Webb in 1920 with prize money from W.W. I.

 

She was the first power cruiser to fly the Hudson Yacht Club burgee (Hudson, QC). In August of 1920 "FLOX" made her first cruise under her new owner up the Rideau and returned via Kingston and the St. Lawrence.

 

In the summer of 1930 the boom of a sailboat swept away the canvas canopy and Mr. Webb replaced it with a wood and canvas "hardtop" which lasted until 1969.

During World War II, she was allowed 60 gallons of gas per season, so her travels were limited to a mere 60 miles.

 

"FLOX" was handed over to his son, Paul Webb, the present owner, in 1955. In 1958 a new "flying bridge" and new engine were added. In 1968, the original Van Blerck engine was reinstalled, and a year later the hardtop and flying bridge were replace with a canvas top similar to the original.

 

As she is today, "FLOX" is a faithful reflection of the young lady who first wet her bottom, in the spring of 2012. In no way is she a reproduction. She has survived many near tragedies and for a long, long time her planks have echoed the happy sounds of people enjoying life."
THE FLOX STORIES
In the world of serious collectables, the first thing they look for is whether the artifact is in original condition or not. So many antique boats you see today are far from original, and in some cases, the only thing "original" is about 4' of the old keel and a dozen pieces of hardware, and everything else you see was recreated in a custom boat shop.
The second thing real collectors place a great deal of value on is the historical documentation, and because FLOX has been in one family for almost her entire life, she has an impressive level of documentation in both text and photographs.
As part of her 100th birthday celebration, Paul's wife Twyla Webb asked all former shipmates who had sailed with the FLOX to send a favorite sea story to be included in a book of memories that is unlike anything I have ever seen in the world of boating. I had a lot of great FLOX stories myself but this one happens to be my favorite story:
It was back in August 1971 when I owned the Anchor Marina in Cape Vincent, NY. I was walking across the yard when the P.A. system suddenly blared out, "Mike Joyce come to the office we are getting a distress call from the FLOX" and my heart began to race as I imagined the FLOX had sprung a plank and was taking on water fast. I hollered to one of the mechanics to get a boat ready for a rescue trip and ran inside where I picked up the microphone and said, "this is Anchor Marina calling the FLOX, go ahead Paul." When Paul answer the radio call I asked what the emergency was so I would know what equipment to grab and he replied, "This is serious Mike, we've run out of Champagne." Everyone in the marina office burst into laughter!
Now as a substitute FLOX crewmember back then, I knew that part of Paul's unique preservation program was to keep the bilge packed with ice and loaded with champagne for all major events, and this was the Antique Boat Show weekend, which is quite similar to The Heart Ball in Palm Beach as far as social importance for River Rats. Paul proceeded to explain that all the judges had somehow fallen amongst thieves and joined the cast and crew to drain his entire supply.

I sprang into action, knowing time was of the essence, went to the liquor store in Cape Vincent across from my marina, bought their entire stock of eight cases of champagne, and raced to Mercier's Marina in Clayton. After explaining the emergency to one of the yacht owners tied up there he proceeded to lower his tender which I then filled with the cases of champagne and rowed over to the FLOX where I was greeted by thunderous applause and cheers from everyone on the dock. Somewhere, I even have a great photograph that Doc Presley took of me sitting on top of the cases of champagne while rowing across.
WILL YOU HELP "FLOX" FIND A HOME?
With tens of thousands of miles under her keel, and a documented history going back to her christening in 1912, this storied yacht served with distinction in World War I and over the past 100 years she has seen it all, done it all, and has played an integral role in the history of the 1000 Islands.
Go to any marina on either side of the border and just mention the name FLOX and get ready as people to share their memories with you. This is a great story that deserves to go on for another 100 years and hopefully someone reading this article will have an "Aha!" moment and help identify the new owner who is destined to continue guiding FLOX through the waters of this area we all love so well.
By Michael Joyce
Mike is the Chairman/CEO of Hargrave Custom Yachts in Fort Lauderdale, Florida and has been coming to the River since 1963. He began his career in the music industry in New York City before his love of boats and the Thousand Islands led him to purchase the Anchor Marina in Cape Vincent in 1968. In 1977 he moved to Florida to work for Hall of Fame yacht designer Jack Hargrave and has continued playing an active role in the marine industry since that time. His company builds custom yachts in the 70'-140' size range and he and his wife Jan own seven boats from 16' to 52' in length, including a 1964 25' Lyman that will be in this year's ACBS boat show in Alexandria Bay on Saturday July 21, 2013.

Editor's note:  This is the first article featuring a boat/yacht being for sale rather than a historic property.  We present this in memory and in honor of the late Paul Malo, a preservationist architect who founded ThousandIslandsLife.com and who was passionate about finding good stewards to maintain the Thousand Islands and its history.