Editor's Note:  This piece was originally written by Nancy Bond for her family and shared with the Thousand Islands Museum in Clayton, NY.   Nancy allowed the piece to be published in the Thousand Islands Sun and with TI Life.  It is safe to say many of our houses could and should tell their stories.
I couldn't sleep last night. You know how it is when you've been busy all day and you're really tired. Sometimes you can go to sleep for a half-hour or so and then you wake up and you can toss and turn for hours, but you just can't get back to sleep. It was like that.
Finally I got up and turned the kitchen light on and read the newspaper from cover to cover. I did the crossword puzzle and the "Jumbles" and I answered the questions in the daily quiz. I got three right out of ten.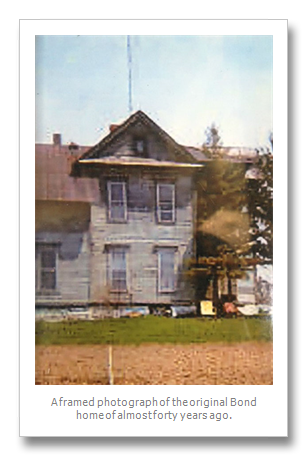 I decided to sit in the recliner and try to get sleepy there. We had just put new carpet in the kitchen and dining room and down the hallway and in the bathroom. The new rugs felt good to my bare feet as I padded around and got comfortable. The carpet seemed to make the house warmer and cozier. I sat in the recliner and thought "when we moved in here almost 40 years1 ago with eight little kids, I never would have believed you could be made livable. You're a great old house and I like you!
Maybe I said it out loud. I must have - because the next thing I knew the house seemed to be talking back.
"Wait a minute lady! What about me? When you moved in here almost forty years ago with those eight little kids, do you know what I was thinking? I thought it would be the end of me!
"Do you know that when I was built almost 150 years ago, I was just about the grandest house around here? All of my beams and boards and rafters - every stick of wood in me was cut in Canada from the finest of trees. It was all brought across the river and up French Creek on barges. Then it was all hauled up the hill on wagons drawn by big teams of Percherons.
"The men who built me were real carpenters. There was no skimping or stretching or making do with less than the best. From the flagstone floor in my cellar to the cast iron 'Captains watch' on my roof -  I was built right! I had solid oak tongue and groove wainscoting in my kitchen and dining room. Every door and window casing was exactly right. The pocket doors that closed off my parlor rolled so silently you couldn't hear them move if you were in the kitchen. From the front steps leading to the parlor door to the back door beside the dry sink built into the washroom, and on out through the summer kitchen and woodshed to the 'Privy" out back, 1 was built right! My pantry cupboards covered one wall from ceiling to floor. I had ten-foot ceilings downstairs and nine-foot ceilings upstairs with a full cellar and a full attic.
The cistern down cellar was kept full by all the eave troughs and down spouts, and the cistern pump in my pantry was the best they made! Oh I was something to see in those days.
"I had a 'birthing room' just off the kitchen where babies were born and kept cozy and warm by the big wood cook stove. There were steps from the washroom that led to the hand pump outside so the water for cooking and washing was handy by. The people who built me knew how a house should be built.
"Years later I was sold to a family who loved to party. There was a big piano in my parlor. Neighbors came from all around with fiddles and banjoes. I was filled with music and dancing and good friends having a great time. Those were good days, too.
"But it happens to most houses, I guess. After a while big houses weren't popular any more. People wanted smaller houses - easier to heat with the new oil furnaces, and easier to put in the plumbing for their new indoor bathrooms and the running water in the kitchens. I was sold again, but this time most of my grand rooms were closed off.
Pretty soon my roof was leaking, my plaster was falling - broken windows weren't repaired and more and more the rain and snow were coming inside. 
"Then I was empty! Abandoned! What a terrible thing for a house that had been so grand!
"That was when you came along. The two of you and all of those little Ones. I remember the way you Iooked at me, and I could hardly blame you. My wallpaper was hanging in shreds. The curtains were blowing out through my broken windows. The mice had free run of the place. The outside wasn't any better. Piles of ashes, tin cans and broken bottles were tangled in the foot high grass and weeds that had been my back yards. Burdocks and broken wire fences were all around me. Oh, I was a mess!
"But when I saw the two of you and those little ones, I knew you only bought me because of the low selling price. I never thought you would fix me up. I thought I was a goner.
"Those first years were rough. I didn't appreciate how my wood stoves and chimneys were torn out and hauled away, but I did feel better when that new oil furnace in my cellar began to 'warm me up and dry me out.' There was no money for repairs at first and when you patched my crumbling plaster by nailing up old cardboard boxes I shuddered to' think what I had come to'.
"And those kids! They were an active little group. At first they were afraid of me. They thought I was haunted and I thought they were wild little Indians, but gradually we got used to' each other.
"When you first started to' fix me up I wasn't happy at all. You tore out my beautiful old wainscoting and got rid of my pocket doors. Gradually my beautiful old long narrow windows were gone and big picture windows were put in. For a long time I hated the changes. My parlor became a kitchen - my kitchen a living room - my birthing room an alcove off the living room! My beautiful pantry cupboards were torn out and my pantry became a bathroom. But then with new windows and new siding, and a new roof I felt quite livable again.
"But all that's not what I wanted to talk about. It's strange how a house and a family can get so comfortable with each other. As those children grew up and you had four more, it seemed as if we belonged together.
"You have to remember that all through the years I was here for them when you weren't. You had to go to work - you had to shop - you had to work outside. I was always here. You did the best you could, but when you couldn't be here, I was. I didn't miss a minute of their growing up. The things that happened away from here were always brought back home. They didn't always tell you about them, but they told each other and I always knew.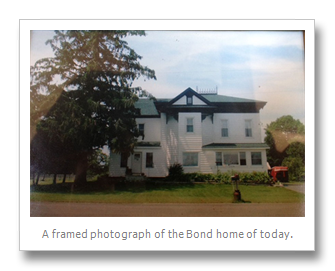 "Sometimes they had problems and secrets that they never talked about, but I saw the tears - I heard things whispered into pillows. I felt their grief and their worries and they always knew things were better when they came home.
"But that's not really what I wanted to talk about either. The last 40 years have been quite a trip. We've gone together from diapers and bottles and toddlers to peanut butter and jelly picnics, and then to cook outs. We've had sleepovers and squabbles, and giggles and secrets whispered in every corner. We've had plots and pranks - pretty good ones, too.
"I've seen you lose your cool and scream at youngsters that didn't deserve it. I've seen you bite your tongue and nearly drive yourself crazy over some really big problems. "I've seen some really great parties - Christmas eves - weddings - Thanksgiving - Easter - unplanned parties that seemed to rock the rafters. I've seen celebrations - broken hearts - anger - every emotion known to the human heart. I know everything you two have done to each other and for each other.
"Now they're all married with homes and families of their own. Some of them even have grandchildren now. I know all of them and do you know, I'd welcome them all back if they ever needed me. At times they do visit and they're quite a group when they get together.
"I guess what I really wanted to say is 'You're a great old girl and I like you too.' Now go to bed. You need your sleep."
I turned the lights off and found my way back to bed in the dark. I know every inch of this grand old house.
When I woke up in the morning common sense told me it must have been a dream, but I have to wonder. I guess a house that has been such a big part of your life has to know a little about you, too. Doesn't it?
By Nancy Bond
Nancy Bond began writing in high school 60+ years ago but then family life took hold as she and her husband Leo raised twelve children on their farm in the town of Clayton. It was only recently that Nancy began writing her memories on paper for her children to enjoy. The Thousand Islands Museum persuaded her to share these memories with the Thousand Islands Sun and now with TI Life for all to enjoy.