Written by
Lynn E. McElfresh
posted on August 13, 2013 07:23
I met Ann Davis in the Thousand Island Pavilion last month. She was one of a group of artists, displaying their wares as part of the Historic Home Walk put on by the Thousand Island Park Landmark Society. I was immediately drawn to Ann's table because of the beautiful tablecloths and linens she had on display. I love tablecloths! But immediately I was distracted by her photo books. I was lucky enough to see the prototype of her newest book Tails of Thousand Island Park that will be released later this month.
In a community that dates back generations, Ann and husband Bob are relative newcomers. They've been coming to the Park for thirteen years, renting before eventually purchasing a cottage nine years ago.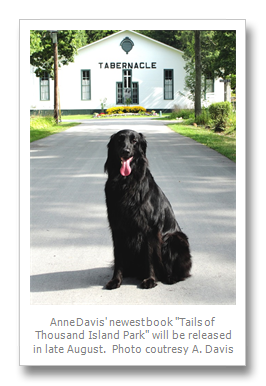 Ann rarely goes anywhere without at least one camera. Tablecloths are her business, but photography is her passion. Ann thinks of herself as a "drive by shooter," constantly clicking photos on her daily walks.
Over the years she's snapped wonderful pictures that deliciously capture the essence of summer life at the Park. Her first book came about when an employee of the Thousand Island Park Corporation was retiring and moving away. Ann thought it would be nice to put some photos together in a book as a remembrance and voile---simply titled Thousand Island Park was born.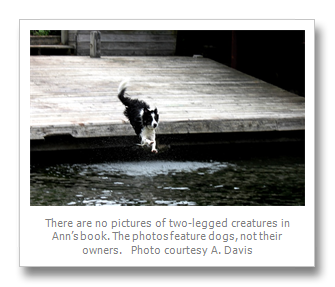 When Ann thinks about the park, the first two things that come to mind are dogs and kids. As an owner of three dogs who love the river (Joey, Justin and Ziva,) Ann decided to put together a photo book featuring Thousand Island Park's canine residents.
The book will be released this month. Ann is planning a dog parade to celebrate, with a portion of the sales to go to a local dog rescue organization.
There are no pictures of two-legged creatures in Ann's book. The photos feature dogs, not their owners. Oh, so many soulful, fetching, panting, tail-wagging dogs. Dogs as they lounge on the porch, jump from the dock, or sit in the golf cart as they wait for their masters to pick up the mail. Exuberance for life on the river shines through her canine subject's eyes. Those tails tell the tales of Thousand Island Park.
By Lynn E. McElfresh
Lynn McElfresh is a regular contributor to TI Life, writing stories dealing with her favorite Grenell Island and island life. We have learned a great deal over the past three years from Lynn McElfresh's musings, from moving pianos to island weddings or from plumbing problems to meeting old friends, taking nature walks and the importance of trees.  Recently she presented several articles about Grenell for its 100th Birthday.  See all of Lynn's 50+ articles here.