Written by
Bruce MacMillan
posted on October 13, 2013 07:19
Email, Facebook, Instagram, and all the other wondrous tools available on the Internet have made it easier than ever to share photos of Thousand Island life with friends, and family, and now, search giant Google is really going to put the Thousand Islands on the map.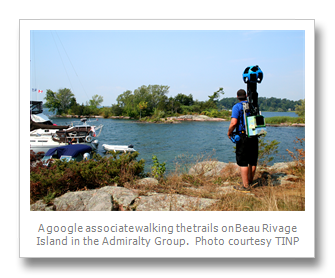 This past August (2013), a Google specialist spent 3 days trekking around Thousand Islands National Park capturing 360° panoramic images of the very best the park has to offer. The Google "Trekker" is essentially a backpack with a camera system, like those on the Google Street Car. It takes multiple images at the same time, which are then seamlessly edited together to create routes that people can navigate and follow online.
Once the Street Views of the park are online (which might take up to one year), visitors to Google Maps will be able to take real – virtual – hikes through Thousand Islands National Park. Given that the park has property on over 20 islands, as well as some mainland property, it was not possible to capture images of every trail. However, by prioritizing image capturing based on popularity of islands, interesting landscapes and features, and ease of access for Google, it was possible to capture a surprisingly large cross section of the park.
"For Parks Canada, bringing Street Views to Thousand Islands National Park gives Canadians and people around the world an opportunity to explore the incredible natural heritage of the Thousand Islands from the comfort of home," said Jeff Leggo, Park Superintendent. "From planning a summer vacation to augmenting classroom lesson plans, the partnership between Parks Canada and Google will better connect Canadians and travellers to the geology and natural heritage of the Thousand Islands region."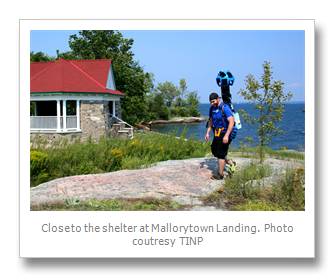 Most of Thousand Islands National Park is only accessible by water, which means a person needs to get in a boat or kayak. Street View will help show what island residents already know: this is an incredible and unique destination and it is well worth packing up a boat or kayak to experience the Thousand Islands. Google Street Views will help people decide where they want to stay, and illustrate some of the hidden gems of the Thousand Islands region that are hard to visualize if you have never been here.
Of course, for those who return to the Thousand Islands each summer, Street Views of Thousand Islands National Park will help winter days pass more quickly as it will be possible to trek island trails even in the middle of January. Virtual though it may be, it will be possible to keep oneself in the Thousand Islands until spring, when boats and kayaks will be back in the water, ready to explore the thousands of opportunities in the Thousand Islands.
By Bruce MacMillan, Thousand Islands National Park
 Bruce MacMillan is a relatively newcomer to the Thousand Islands region, having relocated to Brockville in 2011. With over 20 years media and communications experience, Bruce has worked in TV, Radio, and Theatre, and currently works as a communications officer for Parks Canada based at Thousand Islands National Park.