This summer Meki Tate, a descendant of Cato Leonard visited the Thousand Island Museum in Clayton, NY.   Her visit suggested we should learn more about Cato Leonard who was an African American living on Grindstone Island in the 1940s.  By putting some of the pieces of the historical puzzle together, it appears that Grindstone Island may have played a role in the Underground Railroad.
After the Federal Government passed the Fugitive Act of 1850 the Underground Railroad became the major facilitator for run-a-way slaves to reach the safety in Canada. Slavery had never flourished in Canada like it did in the Southern States. The reasons are many, but the short crop growing season probably made slavery impractical.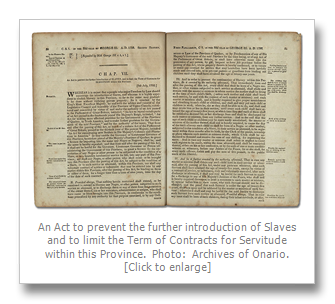 In 1793 the Upper Canada Abolition Act kept people in slavery but abolished importation of new enslaved people into Ontario and provided for emancipation of children born to enslaved mothers when children were 21.   Then the British Imperial Act of 1833 abolished slavery everywhere in the British Empire, including Canada.   Reference material tells us that people escaped from slavery from the time there was slavery with organized efforts starting as early as the late 18th century.  
Historians and scholars have estimated that between 40,000 and 100,000 slaves escaped on what is called the Underground Railroad. This number never presented a serious threat to the institution of slavery, but the escape stories filled slave owners with dread and fear. A former escaped slave, Harriet Tubman, has been credited with leading about 70 slaves to freedom herself and making 13 trips to the South to do so, Harriet was even dubbed "The Moses of Her People".
Today researchers look in memoirs, newspaper articles, manuscripts and even census documents to learn about the "Underground Railroad."  This "Railroad" had no tracks nor was it a railroad, but it did have "stations." 
It is believed to have been in existence as early as 1837. The 1850 Fugitive Act allowed slaves owners to retrieve their "property" from Free States, like New York. New York abolished slavery on 4 July 1827. New York State with its long border with Canada played a significant role in the Underground Railroad, including Northern New York.
The Seaway Trail organization's web page document, Learning on the Great Lakes Seaway Trail, One of America's Byways, provides some examples of Underground Railroad Stations near or on the St. Lawrence River.
John Johnson: Wool carder in Gouverneur and Hailesboro mills settled about 1830 on the Gouverneur Somerville Road. He worked the mills during the day and at night he was known to take passengers through Rossie to Hammond for a rendezvous along the St. Lawrence River.

David Aspinwall: Constableville, New York - Was said to have harbored slaves overnight as they were enroute to Canada.

Jonathan Collins: Constableville, New York- had a large room in his colonial home where it was concealed by thick wall planks to hide its short-term visitors.

Jesse Babcock: Dexter, New York, built his home in 1833. He was a cotton mill superintendent. Later he operated a linseed oil mill and converted it into a plaster mill. He then erected a flourmill. Babcock offered his home as a safe haven. He also contracted with the Union Army to feed recruits at Sackets Harbor.

Grenadier Island: According to Nellie Casler, a historian for the town of Cape Vincent, there was a house on the island that had a hidden room for fugitive slaves.

Point Peninsula: According to the late John Carlisle, there is a house out on the peninsula that was a safe haven for runaway slaves.
Grindstone Island
It appears that Grindstone Island may have played a role in the Underground Railroad. The primary evidence for this assertion comes from an obituary published in the Jefferson County Journal, May 1926, for Joseph Leonard. The obituary says that Joseph was born on Grindstone on 23 December 1842 and that he was the son of Cato Leonard and Polly Wright Leonard.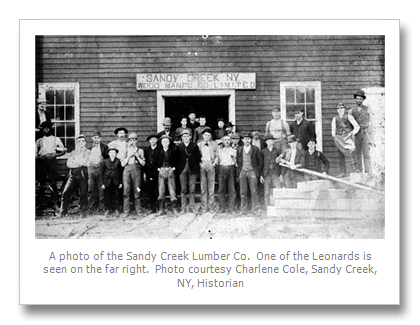 According to Charlene Cole, Sandy Creek, NY, Historian "In 1851 he (Henry Roberts) married Jane Leonard, daughter of Cato Leonard, a free African and resident of Grindstone Island in the St, Lawrence River. Henry Roberts severed in the 29th Connecticut Volunteers during the Civil War;  Meki Tate is descended from this union.
The 29th Connecticut Volunteer's web page states "Cato Leonard was probably the northernmost stationmaster on the North Country's Underground Railroad. He was the brother of Tom Leonard of Syracuse, known to have been an "agent."
Cato's brother; Tom Leonard's activities in Syracuse were chronicled in Uncovering the Freedom Trail and Syracuse and Onondaga County3 (Syracuse: Preservation Association of Central New York, 2002), by Dr. Judith Wellman as follows:
Tom Leonard arrived in Syracuse in the early 1830s, just after the formal end of slavery in New York State. Leonard was mostly likely a freedom seeker himself, since in census reports he gave inconsistent listings for his place of birth. In federal census records, he listed New York State, yet in state census records he listed either Virginia (1855) or Maryland (1865). In the 1855 New York State census, Leonard's sister Martha Sidney listed her place of birth as Canada. Thomas Leonard worked as a waiter, boatman (most likely on the Erie Canal), and laborer. In the early 1850s, he owned his own horse and dray. Jane Leonard worked as a cook. Both were affiliated with the AME Zion Church. Certainly, both kept their own house as an Underground Railroad station. In 1865, their household included African American boarders who listed their birth places as Canada, South Carolina, and Virginia.
Dr. Wellman continues: "Syracuse became known as a "free city," the "Canada of the United States," and "the great central depot" of the Underground Railroad."
Thus the evidence is there  - there was an African American family on Grindstone and the Island was probably a station on the Underground Railroad.
Additional references:
Reference material provided by Judith Wellman.
By Rexford M. Ennis, Grindstone Island
© Copyright Rexford M. Ennis 2012, All Rights Reserved

Rex Ennis has written several articles for TI Life.   His bio is recorded in Contributors in December, 2008. In the past two years Rex has published two important books on the Thousand Islands.  The first , published in 2010 is Toujours Jeune Always Young the biography of Charles G. Emery.  It was reviewed in June 2010 issue.  The second, Saints, Sinners and Sailors of the Gilded Age: A compendium of biographical sketches centered on the Gilded Age in the Thousand Islands  which describes the biographies of every name appearing on a 1889 map published by Frank H. Taylor called:   Map of the Thousand Islands; Hotels, Parks and Cottages.  See the book review in our July 2011 issue  and you will find the map described in the July issue in the August 2011 issue.  Luckily for TI Life readers, Rex is hard at work on a new book – so stay tuned.