I Am Algonquin by Rick Revelle
Kingstonians are fortunate as I Am Algonquin will be launched there on December 2, 2013 by Dundurn Publishers.  Written by Rick Revelle, the book paints a vivid picture of the original peoples of North America before the arrival of Europeans.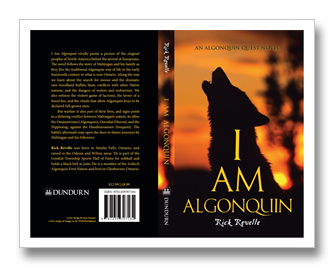 The book is recommended for youth ages 12-15
Description
Wàgosh let out a warming and Kàg turned just in time to see two large wolves running toward him. He had no time to string his bow, so he grabbed his lance from the snow. At that instance another lance flew through the air and embedded itself in the lead wolf's neck. Without a sound the animal dropped. The ever-wary Mònz had struck again. Kàg dropped to one knee as the other wolf sprung toward him. His lance caught the attacker full in the chest. — from chapter four
This book paints a vivid picture of the original peoples of North America before the arrival of Europeans. The novel follows the story of Mahingan and his family as they live the traditional Algonquin way of life in what is now Ontario in the early 14th century. Along the way we learn about the search for moose and the dramatic rare woodland buffalo hunt, conflicts with other Native nations, and the dangers of wolves and wolverines. We also witness the violent game of lacrosse, the terror of a forest fire, and the rituals that allow Algonquin boys to be declared full-grown men.

But warfare is also part of their lives, and signs point to a defining conflict between Mahingan's nation, its allies the Omàmiwinini (Algonquin), Ouendat (Huron), and the Nippissing against the Haudenosaunee (Iroquois). The battle's aftermath may open the door to future journeys by Mahingan and his followers.

Rick Revelle was born in Smith Falls, Ontario, and raised in the Odessa and Wilton areas. He is part of the Loyalist Township Sports Hall of Fame for softball and holds a black belt in Judo. He is a member of the Ardoch Algonquin First Nation and lives in Glenburnie, Ontario.
Note:  there will be a book signing on Saturday, November 30th, 6:30 – 8:30 at Novel Idea, 156 Princess St. Kingston

 
Old Enough to Fight, by Dan Black and John Boileau
On November 11, 2013 the authors of Old Enough to Fight: Canada's Boy Soldiers in the First World War, Dan Black and John Boileau, were interviewed as part of the Canada's CBC Radio Remembrance Day broadcasting.  In their interview, they described the story of Gananoque's Willie Dailey who joined at 14 as a bugler with the 4th Battalion and was killed on the Somme, France.   (Chapter 7:"You won't be able to get me back because buglers are needed for the gas attacks!" CANADIANS ON THE SOMME, AUGUST-NOVEMBER 1916)
Listen and Read:  The Current:  "Canadian boy soldiers who fought in WWI"
Description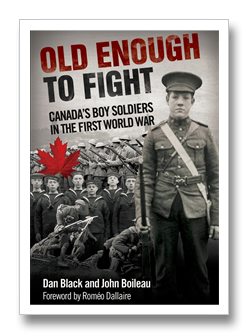 Between 15,000 and 20,000 underage youths, some as young as ten, signed up to fight in Canada's armed forces in the First World War. They served in the trenches alongside their elders, and fought in all the major battles: Ypres, the Somme, Passchendaele, Vimy Ridge, and the rest. Many were injured or suffered psychological wounds. Many died. This is the first book to tell their story.
Some boys joined up to escape unhappy homes and workplaces. Others went with their parents' blessing, carrying letters from fathers and mothers asking the recruiters to take their eager sons. The romantic notion of a short, victorious campaign was wiped out the second these boys arrived on the Western Front. The authors, who narrate the fighting with both military professionalism and humanity, portray many boys who, in the heat of battle, made a seamless transition from follower to leader to hero.
Authors Dan Black and John Boileau combed the archives and collections to bring these stories to life. Passages from letters the boy soldiers wrote home reveal the range of emotions and experiences they underwent, from the humorous to the unspeakably horrible. Their parents' letters touch us with their concern, love, uncertainty, and often, grief. Meticulously researched and abundantly illustrated with photographs, paintings, and a collection of specially commissioned maps, Old Enough to Fight is Canadian military and social history at its most fascinating.
The Congregation by Dudley E. Danielson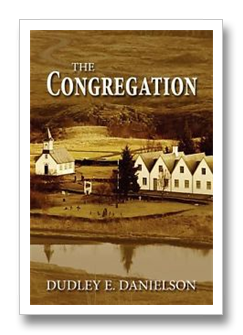 The Congregation was written by former Thousand Islander, Dudley E. Danielson and published in 2011.
Description
"G. Duaine Andrews, beloved pastor of First Church of Calumet, New York, recently widowed, is delightfully flamboyant in his sermons to end all sermons. When he prays it's always for his Congregation, as if he and God share braggin' rights over his people. The St. Lawrence River flows past Calumet with a mission to fill the Atlantic. Everyday Christianity is reflected in its quiet pools: love and loss, temptation and triumph, despair, rebounding victories! These revelations-from-behind-the-pulpit, encased in fictional robes also conceal messages impressed with the seal of the King: you will see a beautiful reflection of our Lord shimmering thru. You will identify with nearly every person on every page. You've met them on your personal journey. You're living in another town, a different parish, in real time but you know this Congregation; though fiction it is as true as I dare to write it"  Dudley E. Danielson,
This book can be purchased from the author at 382 Vallebrook Drive, Lancaster, PA 17601. Email Dudleyrev@gmail.com 
___________________
Reminder:  In the coming months, we will update our "Books Page" as we learn of new publications.  This is a great place for ideas on holiday shopping!   We suggest you contact local book stores on both sides of the border to find many new and popular Thousand Islands books.