The first time I walked down the curving drive to the Zenda Lodge I was going to apply for a job. I had heard that they were looking for a cook for the dinner hour. I had no idea exactly what it was about, but it struck me as I came around the last curve and saw the Lodge, that it was like walking into another world. The Lodge was huge, built partially of stone, with a patio on three sides, bordered by stone planters overflowing with petunias of every color. There were three floors and a large tower that reached two more stories. There were beautifully kept lawns with stone walls here and there, planters with more flowers, statues of elves etc, placed tastefully around. It just took my breath away. I worked there for seven years until it was closed. I loved the place.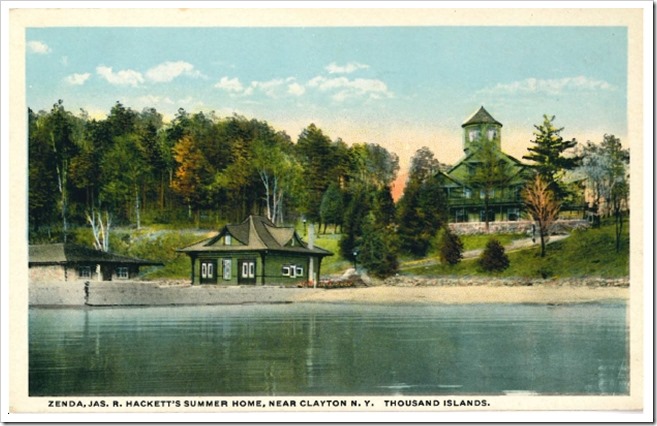 When I decided to do this article, I got on my computer to look up some of the history. I was surprised that nothing was mentioned of the time that St. Regis Paper Company and Champion International owned the buildings. However Zenda had a great history.
The Lodge was built in 1913 for James K Hackett, a Shakesperian actor, whose most famous role was The Prisoner of Zenda, A silent film. I didn't find much information about him. I assume The Lodge was used as a Summer home and to entertain guests.
In 1939 Merle Youngs, who was a multi millionaire, owner of Youngs Rubber Company, and one of the founders of the Clayton Yacht Club, bought the property. Mr. Youngs purchased additional land, buying small farms in the area.
He built the Jamesway barns that are still standing today, and put on a dairy of Guernsey cattle. He had his own bottling plant, selling milk all over the north country. The farm was operated by Clinton Maldoon. At the time it was one of the most modern dairies around. The barn windows had electrified screens to keep flies away. The pasturizing equipment was so perfect that at one time it was said the milk had no taste because there was not enough bacteria. That sounds strange to me , but apparently it was true. He also had the first automatic bottling machine in the area. There are still Zenda milk bottles in the area. I have a couple myself.
When Mr. Maldoon retired, Mr. Youngs went out of the dairy business. In1947 he sold 110 Guernsey cows at auction for $31,500
In 1948 He bought 450 Herefords. He added Carleton Island to his farms. Bob Kittle became the manager of the beef operation and of the huge farms. More cattle were added. I can remember when there were large herds of beef cattle grazing in the fields and many more were kept on Carleton Island. At one time the Farm employed 10 full time workers with close to two dozen for the Summer season.
Mr. Youngs died in 1958. His estate was divided between his wife, and his partner, John McFarlane. Through the years the beef herd dwindled, and by the late 70s and early 80s, it was only used for cutting the hay to keep the land cleared.
In 1997 the land was donated to the Thousand Islands Land Trust. The hay is still cut by a local farmer, but it has to be cut late in the season to allow for the nesting birds in the hayfields.
Where the herds of cattle grazed now we have nature trails, a Community Garden, and many things which attract people to the area. It had become a great Summer attraction for tourists and locals.
But the Zenda I remember is a whole different thing. It was around 1980 when I went to work for St. Regis Paper Company. They owned the Lodge at that time. It was used to entertain parties made up from the employees of the paper company. We would usually have anywhere from 6 to 12 guests at a time. They would spend 2 or 3 days at the lodge. We would entertain them in style with fishing trips, moonlight boat rides, boat rides to Thousand Island Golf Course, for long afternoons of golf, and of course, great food.
Guests were enchanted by the Lodge. We told them of it's great history. (We may have embroidered a little with stories of ghostly sightings and appearances by Mr Hackett.) They loved the tales and often added stories of their own about strange things that "went bump in the night". Guests frequently walked into the kitchen to visit. Most of them were fascinated with the beautiful St. Lawrence, the Islands and the Lodge.
Maisie Joles and Josie Calhoun worked mornings and Stacy Natali and I worked the dinner hour. After Maisie retired, Ellen Hinkley took her place. Junie Brown had been the caretaker/groundskeeper for well over 20 years and Jim Fyles was the boat captain.
The Lodge itself was really special; rooms were huge and tastefully decorated. The kitchen had been modernized with stainless steel appliances, but still kept the charm of its beginnings. There were pocket doors, with leaded colored glass flowers in the panels, Chippendale furniture, a telescope in the front window for a closer view of the river.
Junie kept the patio swept every morning and the lawns were perfect. (I won't mention the words he used to describe all the lawn ornaments when he had to move them every time he mowed.) Jim had the perfect personality for a boat captain/fishing guide. He was a real river rat with tales to tell about every fishing spot in the river and a personality that charmed the guests.
The cooking was easy and the clean up after parties was shared so that no one had to work too hard. That leads to another story of the years I spent at Zenda. Often the work was done long before our hours had been used up and there were days off and on, where there were no guests. They say the Devil finds work for idle hands and we proved it to be true.
All the guest bedrooms were on the second floor. The third floor and the tower rooms were not to be used for guests. They were "off limits". There were odds and ends of old furniture up there and we sometimes went exploring. The first tower room was lovely, so we decided to move some furniture in there and spend time when the boss was away. (We could easily see him when he came down the hill and we were always where we belonged when he came in.) For extra comfort and to make it more homey, Josie brought in an old TV and I brought a house plant or two for the windowsills. We enjoyed it for maybe a month.
Unfortunately one of the parties wanted a tour of the upper floors so the manager (John Miles) decided to take them up there. He was explaining to them that no one was allowed up there so nothing had been touched for years. When he opened the door to our "Hideaway"; imagine his surprise!! The TV and the house plants came home and the door was locked after that.
I had been there for a few years when St. Regis sold to Champion International. It was a bigger company but the lodge stayed pretty much the same. The problem was the lodge didn't have the capacity for large parties and Champion wanted to have conventions and business meetings there. I think even more of a problem was that when guests came for a business meeting, they seemed to forget business. The atmosphere was very relaxing.
At any rate the lodge was shut down and vacant for a short time. And then one sad day there was a fire and the beautiful lodge was gone. I cried when I heard it and I'm sure others did too. How sad to think that such a beautiful, irreplaceable thing should be gone. But we still have our memories and some pictures and a few souvenirs. I'm glad I spent time at Zenda.
By Nancy Bond
Nancy Bond began writing in high school 60+ years ago, but then family life took hold, as she and her husband Leo raised twelve children, on their farm in the town of Clayton. It was only recently that Nancy began writing her memories on paper, for her children to enjoy. The Thousand Islands Museum persuaded her to share these memories, with the Thousand Islands Sun and now with TI Life for all to enjoy.    See Nancy's other articles.