Written by
Kim Lunman
posted on December 13, 2013 07:45
When you talk about The River here in the Thousand Islands, no further explanation is required. Why? Because it might as well be the only one in the world.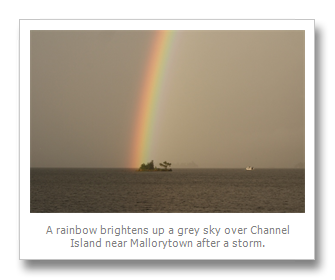 We have such a reverence for the St. Lawrence we even have a statue of Saint Lawrence perched over The River between Rockport and Ivy Lea. And of course, we have River Rats (of the human variety) who make The River their home, some spending summers on islands while others remain on the mainland overlooking its shores year-round.
Signs with the words: "If You're Lucky Enough To Be On The River, You're Lucky Enough," "River Runs By" and simply "The River" hang on the walls of cottages.
The St. Lawrence is a majestic and epic waterway but the 50-mile stretch between Cape Vincent and Wolfe Island thru to Brockville and Morristown is breathtakingly beautiful. It wraps around an archipelago of 1,865 islands in two countries.
There's only one River and its waterscapes winding through castles, freighters, towering pines and granite are epic. But I love its quiet surprises, as fleeting as a monarch butterfly's visit to Fairyland Island, a deer emerging from an emerald green forest on Hickory Island and a rainbow's colours splashed against a grey sky over Channel Island after a storm. What a spell the River can cast. Its moments seem eternal. All you have to do is watch.
Enjoy The River, no matter where this holiday season takes you.