The muskie press gallery published several stories about two giant muskies caught in our Thousand Islands.
Each headline featured the same story – two  muskies were caught within two days of one-another.  One on December 2 and the other on December 4.  One near Cape Vincent, off of Carleton Island the other in the waters off of Gananoque.
What makes this story so interesting is the simple fact that both could be record breaking fish with each fisherman wanting to break the International Game Fish Association's "All Tackle Length" record.  The record focuses not on the fish's weight, but on the fish's length, and of course, each fish must be released alive after being measured.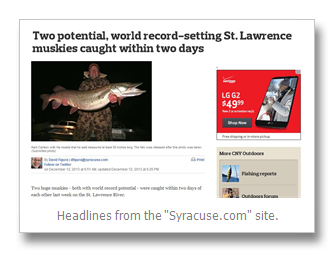 The first fisherman was Matt Forjohn from Ambler Pa.  On December 2nd, Matt was fishing with Captain Bob Walters, Water Wolf Charters, when he landed a 51.18 inch (130 centimeters) muskie. 
According to David Figura, in his Syracuse.com article, "Forjohn caught his fish on a 12-inch, Swim Whizz lure, which was painted to resemble a small walleye. The fish hit while Walter's 31-foot Cherokee boat was trolling near a shoal at Carleton Island, which is about where the river begins on Lake Ontario."  (Better Mr. Figura describes this, as I only know how to fish for perch!) 
The second fisherman was Dr. Mark Carlson, from Rockford, IL, who, Figura wrote, "Carlson participates in a Canadian fisheries fish tagging program and cut the measuring session short to get the tag on the fish, and to make sure the fish was alive when it was released." Carlson's fish measured over 52 inches (51.9 inches or 132 centimeters)
Fish Story Number 1
I wonder if young Bob Walters of of Skaneateles Falls told his family that he wanted to be a fireman, mess with boats and go fishing when he grew up? If he did, he was telling the truth, as Captain Bob Walters, Water Wolf Charters, did just that. After retiring as a Syracuse career firefighter, he turned his attention to the marina industry at the Oswego Marina on Lake Ontario. Then retiring a second time, he became a full-fledged fishing charter captain.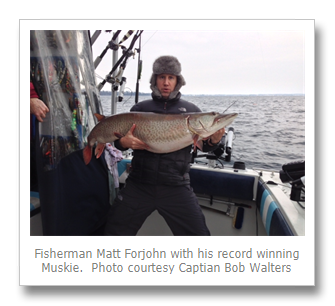 I begin my season," he told me, "in Wilson, NY near the Niagara River, then from August to October, I move my charter business to my old home port of Oswego and then from October to December 15 I can be found in Clayton.
Matt Forjohn, of Ambler, PA, is an avid fisherman and has been since he was a youngster. Fishing on the River is a passion, "I come twice a year, for spring fishing and then again, around the US Thanksgiving, for the muskie season."
Our favourite place is the Laschomb Camp on Grindstone Island," he told me. "And my friend and charter captain is Bob Walters, whom we call Captain Bob." 
This year will go down as one of his best. Although he has caught Muskie before, including a 38- and a 48-incher - already receiving a Save the River certificate for the Catch and Release program - this one was special.
Fish Number 2
On December 4th, charter fishing guide Mark Lazarus, from Montreal, guided his boat in Canadian waters with his fisherman, Mark Carlson, on board. 
I was unable to interview Dr. Carlson, but I did speak to a very proud member of his office staff.
Carlson is an experienced fisherman, who has already held five IGFA salmon records.  But he also wanted a record Muskie catch and he got that in 2011 when he caught a 120  (?? check number)-centimeter muskie on the Ottawa River.  This year he tried his luck on the mighty St. Lawrence. 
"What is remarkable, said his staff member, was he did not know that the other fisherman (Matt Forjohn) had already broken his record when he headed out that day."  Then with good fisherman's luck he landed his 130 centimeter winner. 
According to the press reports,(need reference) the fish fought for 15 minutes.  When a massive fish crushed a Legend "Perch Bait," then fought for 15 minutes. He said he quickly measured, photographed, and tagged the fish before releasing it. Carlson actively participates in a Quebec fisheries study, and wanted to ensure the fish's survival. He was quoted Thursday on the Post-Standard Syracuse.com website as saying the fish was so big and was wiggling so much that he didn't measure the fish squarely on the official IGFA measuring device.
Conclusion
Ti Life congratulates both fisherman and their hard working fishing guides and crew. Turns out that both fisherman have submitted their photographs and measurements.  Matt, whose paperwork was submitted first, will most likely take the record away from Mark Carlson' 2011 Canadian catch, but only until Mark's paperwork is received and reviewed and then he will once again hold the winning record!
We love to hear that the Muskie population is growing and considering that both fish are now back in the water  - we can assume that other fishermen will have the chance to catch a huge muskie and tell a fisherman's tale. 
By Susan W. Smith, Editor.  susansmith@thousandislandslife.com