Written by
Susan W. Smith
posted on January 13, 2014 07:31
Many of us have studied, or know of, Hamlet and, this summer, we may be able to experience something different, very different!
I have heard about Prescott's Shakespeare Festival but have never written about it. This winter Kim Lunman introduced me to Ian Farthing, who will mark his ninth-and-final season as Artistic Director after this summer.  Certainly few, if any, artistic directors could end their relationship with a theatre company on such a high note, and here is why.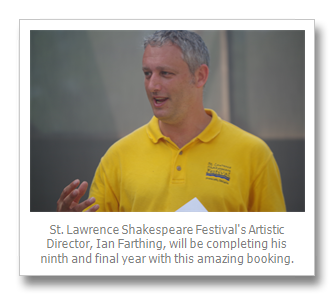 The London Theatre announced back in July 2013 that they would perform Shakespeare literally "around the world."  A cast of eight performers would celebrate the 450th anniversary of the birth of Shakespeare (He founded the London Company and created the theatre in-the-round.) by performing in every country of the world. Deciding which countries was not easy: "The target of 205 nations and territories could vary a little, and exactly what constitutes a country is in some cases contested. The United Nations has 193 member states, while there were 204 teams in the London Olympics."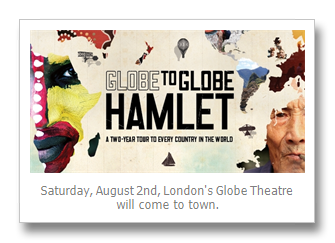 On Tuesday, January 7th, the Festival announced that the UK's Shakespeare's Globe Theatre  had chosen Prescott, Ontario, for its only Canadian show. It is also the troupe's first visit to Canada.The date is Saturday, August 2nd.
Ian told us, "The Globe is looking for unique venues to stage its world production, from village squares to palaces. The waterfront amphitheatre of the St. Lawrence Shakespeare Festival fits the bill and we are thrilled to be able to host such a prestigious event."
The tour will start and end at Shakespeare's Globe, a replica Elizabethan playhouse on the south bank of the River Thames in London.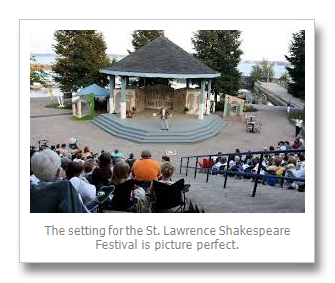 Ian noted that being asked to participate is a significant honor for the award-winning Festival that's been professionally producing Shakespeare's plays to great reviews every summer since 2003:  "It's magical that our Festival would attract such a high-caliber international company. To be the sole Canadian venue for this tour is a real honour. For many Canadian Shakespeare lovers, it'll be the theatrical opportunity of a lifetime."
Tickets for the Prescott performances will go on sale April 23rd - Shakespeare's birthday. The Festival is anticipating both shows will sell out very quickly.  Festival Season Pass holders will be given a priority-advance-booking period.
The Globe's visit will not come without hard work and extra costs.  The Festival will mount its own productions of The Tempest and The Two Gentlemen of Verona, which run from July 12th to August 16th.. The Ontario Arts Council is assisting with some financial support, but there is room for new sponsors.  The word is out – if you want to be part of this huge undertaking, be sure to contact Ian Farthing.
We congratulate Ian and his St. Lawrence Shakespeare Festival team – you have made us very proud.  Thank you. 
To make contact:
By Phone: 613-925-5788
By Mail: St. Lawrence Shakespeare Festival, P.O. Box 119, Prescott, Ontario, Canada K0E 1T0
In Person: Box office is located at 206 King Street West, Prescott. Please call ahead to ensure a staff member is available to assist you.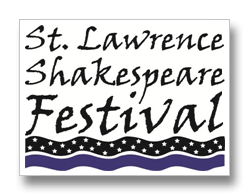 By email: Ian Farthing, Artistic Director:  ad@stlawrenceshakespeare.ca or Ingrid Bjornson, General Manager: gm@stlawrenceshakespeare.ca
To read more about Shakespeare's Globe production:
By Susan W. Smith, Editor.  susansmith@thousandislandslife.com