Written by
Herb Sheridan
posted on January 13, 2014 07:23
Native tradition has it that a diminutive, ugly (hairy-faced), mischievous spirit lived in shallow caves on the cliff-sides by the rivers and lakes of this area. This spirit – it is said – was called the "May May Gwee She" and it determined the fate of those who ventured on the lakes and river.  It was thought prudent by water travelers to leave offerings of tobacco or beads with travelling – especially after some memorable event on the voyage at, or near, the site.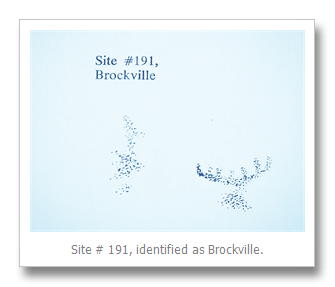 Iron oxide illustrations on rock faces called pictographs often marked these places or events.  Those most often occur about five feet from the water level (about the height of a man standing in a canoe).  The ones still identifiable are mostly on clear granite rock faces handy to obvious travel routes.
These "pictographs" often took the form of figures in a canoe, crosses, human or animal shapes or unidentifiable masses.
In 1960,  Selwyn Dewdney – author of the book "Indian Rock Paintings of the Great Lakes," with Herb and Sheila Sheridan examined sites near Brockville, made tracings and recorded their findings.
There are at least two known pictograph sites in the Brockville area.
At Hillcrest, west of Brockville, a 12 inch figure in red ochre about 4 feet above water level near a shallow cave has been known for some time.  This figure lacks a head – which might be explained by the artist's reluctance to portray an ugly or hairy face.  There is no local tradition as to its meaning or history but just the existence of it suggests it is a memorial to some unusual event.
The second pictograph is on a limestone rock face on the Fulford property in Brockville, Ontario.  The fact that it was rendered on limestone rather than granite would account for its relative fragility – it is barely recognizable now.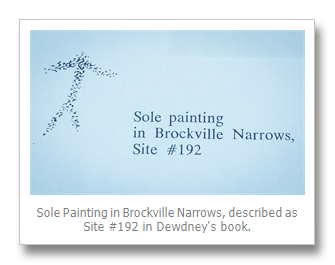 One of the figures seems to depict a canoe with 6 occupants and a part below the canoe which has been interpreted as another person overboard. The popular story (from the Fulford family) was that this canoe on its journey contained a captive who was sacrificed by tossing him overboard to placate the water spirit "May May Gwee She."  Perhaps because a threat such as a storm occurring. The Fulford family claimed that over time, natives used to visit the site and refresh the paint.
The American historian – Franklin B. Hough in his book The Thousand Islands of the St. Lawrence River, published in 1880, writes "opposite the village of Oak Point in Elizabethtownship, there existed in 1850 a rude representation of a canoe with thirty-five men, and near it a cross." 
It is doubtful if there is any trace of the pictograph remains today.  Hough also talks about one below Brockville – showing a conoe with six men (probably the Fulford site) and another at Black Lake in the form of a dear.
According to Dewdney, the extreme western part of Ontario, in the Kenora district,  contains the greatest number of sites, which have been recorded in detail, but it is quite possible that other previously recorded pictographs sites may exist in our area. If you know of these, please let us know. 
By Herb Sheridan and Jack Brown
Herb Sheridan is a native of Brockville who summered as a youngster at Lily Bay.  He was a small boat sailor first (sailing Snipes and Wafarers) then, as he says, "found that power boats were better in which to explore the Thousand Islands."  While at Queen's University he served in the Naval Reserves. After graduating he carried on the family furniture business.  He credits his family, his wife and children, for encouraging and continuing a love for the River.  Herb has a keen interest in river shipping and social history and we at TI Life look forward to his future contributions.     

Jack Brown, an original Browns Bay family, is the foremost river and local historian - currently involved with Genealogy.  Many of our TI LIfe authors have benifitted from his vast collection of historic material.  Herb Sheridan described him best as - a local treasure.