Written by
Susan W. Smith
posted on January 14, 2009 17:04
Each month I seek links to the Islands which highlight the area's history and activities, to emphasize why the Islands should be known for much "more than a salad dressing1"! This month's link relates to Ardele's Golden Apple Restaurant, in Gananoque, which was damaged by fire in the early hours of Christmas Day - see link under "References".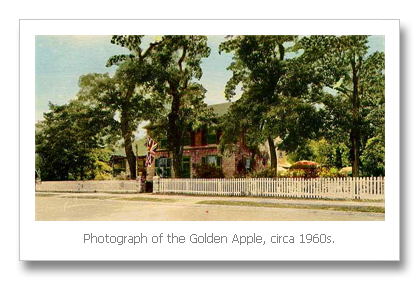 Fire in a well known and popular public building is always a devastating event, but for Gananoque it is particularly sad. The Golden Apple evokes many fond memories for tourists and locals alike. For me it a reminder of my daughter Janet's youth. She, along with dozens of "Gan girls", spent summers working as the "Coffee Girls" - serving coffee and the famous "sticky buns".
The Golden Apple building dates to 1830. Joel D. Parmenter came to Gananoque in 1824 from Vermont and bought Brownson's Hotel, later known as the International Hotel. He built a stone house for his family next to the hotel, on King Street.
Katherine Runyon, from New Jersey, had summered for many years on Carleton Island in the late 1800s. She returned in the early 1900s as the wife of Wall Street financier, Ira A. Kip. The Kips bought Thwartway Island (also known as Leek Island) in 1904. In 1917, during World War I, their Thwartway property was used by the Canadian government as a convalescent hospital for Canadian soldiers. Dr. Medford Runyon was hired as Chief of the medical staff. [interesting fact about Thwartway2]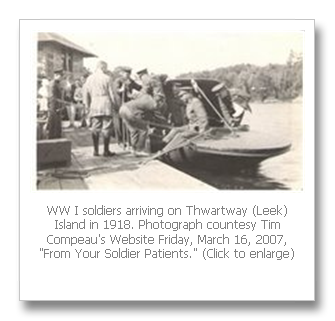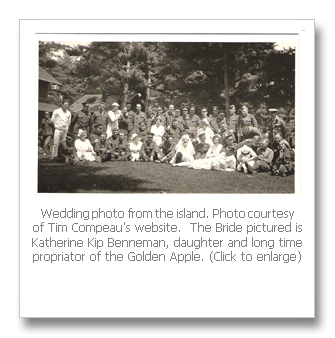 The marriage between the Kips ended in divorce in 1919 and Katherine married Dr. Runyon. She continued to summer at Thwartway with her four children, but was anxious to start her own business. In 1928, Katherine purchased the Parmenter house for use as an antique shop. Her daughter often related that when her mother went into the back country to purchase antiques from local farmers, she felt great empathy for them by always paying "too much" for her purchases! Katherine expanded her business to include a tea room which she conveniently staffed with her household servants and cook, from Thwartway Island.  As word spread, much to the delight of Mrs. Runyon, The Golden Apple Tea Room became a well-known destination.
In the 1950s, the business, which now included The Apple Tree Guest House, was sold to her daughter and son-in-law, Kathleen and David E. Brenneman. Located midway on the major highway between Montreal and Toronto, the Golden Apple was well known in both cities.  The restaurant's excellent reputation continued not only for its lunches and dinners but also for its afternoon tea which now included tea-leaf readings by a fortune teller. In 1966, the Brennemans sold the business to Davalex Inns Ltd., which continued operations for several years.
Unfortunately, I have not kept up with the recent history of the restaurant. However, I can only hope that this wonderful property may continue to provide both comfort and hospitality for many years.
Susan W. Smith, susansmith@thousandislandslife.com
References:
Gananoque Reporter : Ardele's Golden Apple ravaged by fire Christmas day, Posted By LJ Matheson

Historic Gananoque by H.W. Hawke, Mika Publishing, Belleville, Ontario, 1974

Tim Compeau, a PhD candidate at the University of Western Ontario and Consulting Curator for the Arthur Child Heritage Museum and Gananoque Museum Collections has an excellent web blog with the additional Thwartway-hospital story. Friday, March 16, 2007, "From Your Soldier Patients..."

Interview with Mrs. Kay Brenneman, 5, July, 1982.
Food and Folklore of the 1,000 Islands by P. & M. Sykes, Dove Cottage Press, 1995
David Ray assisted in editing this article.
1
More than a Salad Dressing… Years ago, I met a young medical student and I was telling her about my favorite vacation region. I got carried away, and soon I was relating facts about the War of 1812, the ships that plied the St. Lawrence River, the battles… "Gee," she exclaimed, The Thousand Islands is more than a Salad Dressing". Since that time I have found many links to people, places and events that prove that links to the Thousand Islands are like six degrees of separation, and our region is almost the center of the world!
2
In the 1960, the Canadian government expropriated Thwartway (Leek) Island from the Kip/Brenneman families to expand the St. Lawrence Islands National Park.  The family was compensated with an estimated $100,000, which in those days was considered a fair settlement.  However, the family were adamant in their wish to retain ownership, considering it ironic that the same Government who thanked the family for their generosity in 1919, used expropriation forty years later.
.