Editor's Note:  Originally published February 11, by editor Diane Doud, in "What's Happening in Cape Vincent 13618."  There are many good causes out there – all worthy, but this one caught our eye.  If publishing this helps raise support, we are pleased.  If publishing pushes to install fire detectors or carbon monoxide monitors in one more cottage – then we are pleased.
 It's February, the month when many thoughts turn to love. So, who loves you?
Hint: they are often seen around Cape Vincent driving a Valentine heart-red vehicle. I'm referring to our Cape Vincent Volunteer Fire Department. They can't tell our stories for privacy reasons, but each reader is someone who can tell what these volunteers mean to us or to a neighbor or family member. For myself, I saw them pumping water from more than one flooded basement when a homeowner's or business's sump pump was overwhelmed; saw them assisting at the site of an overturned feed truck, and standing sentinels at a suicide situation until police arrived; transporting a resident to a Watertown hospital with lights flashing; rescuing someone whose motel room door was stuck, trapping them in their 2nd floor room with no safe escape route. Oh, and then there are the fire calls they respond to!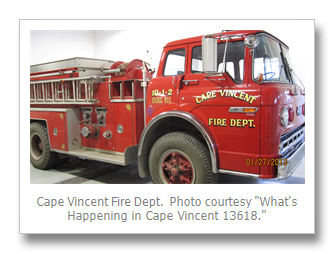 The Cape Vincent Volunteer Fire Department is comprised 100% of volunteers. There are no paid employees. Fire Chief, Billy Gould patiently answered all my questions between working at his full-time job with the Village of Cape Vincent and being full-time dad (along with full-time mom and wife Michelle) by picking up one of his daughters after sports practice. He is representative of the many volunteers who work full-time jobs, have families, and who actively volunteer with more than one organization.
Back in the day, there were few rules for those responding to ambulance calls. Today, an ambulance can't leave the fire hall without a certified EMT, who takes many hours of training and must keep current with documented coursework hours. The most basic training for firefighters has increased from around 40 hours to around 140 hours and involves a large commitment of time 2 to 3 nights weekly in Watertown.
I asked about the siren that can be heard announcing the noon hour each day, and which alerts residents that fire department assistance has been requested. Chief Gould said requests for assistance are actually received from Watertown through the Jefferson County 911 Dispatcher, which burst my bubble of thinking someone in Cape Vincent pushes a button. Firefighters have an app on their cell phone/pagers called "I Am Responding," which collects information as it is received and makes it available to each team member, as they join the response effort.

Editor's note:  We found this Cape Vincent Vol. Fire Department/ Ambulance video by Ray Lafex originally published in 2009 
I asked how operations are funded. Chief Gould said that partial funding is received from property taxes. Other funds are raised from food sales such as chicken barbeques, their concessions at French Festival and Oktoberfest, and their annual appeal letter to residents for donations. No one is charged a fee for an ambulance ride, which is different from most other area ambulance service providers.
Some other less well known activities of the Volunteer Fire Department, include standing guard over downed power lines which present a public danger until National Grid workers arrive. They can assume traffic control duties as part of fire/ambulance response. They respond to hazardous materials situations and do have additional training from FEMA to facilitate coordination with other first responders. They responded to the ferry incident in 2012 involving an auto submerging in the river and a medical emergency for the ferryboat captain. During the December 2013 ice storm, the fire hall was manned 24 hours a day, both to respond more effectively to community need, and also to feed and shelter the many National Grid workers, tree trimming workers and others responding to our emergency situation.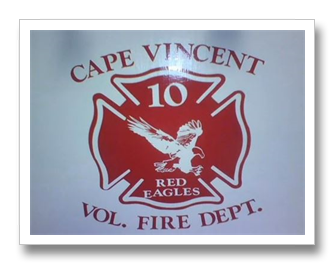 Sometimes the Cape Vincent Volunteer Fire Department is asked to respond to emergencies in other communities. Several years ago, a team went to Pulaski to cook and to staff their firehouse so Pulaski firefighters could better respond to their weather related emergency. Chief Gould said they have also answered fire/ambulance calls to Antwerp, Watertown and Alexandria Bay, as well as sending a team to assist Super Storm Sandy victims.
I asked Chief Gould if he had a Wish List and he said ALWAYS! He said the Jaws of Life equipment still works but is getting old and replacement must be anticipated. There are 65 volunteers who serve currently. Not all are firefighters or EMTs. However, each is important to the overall work. Ages range from the minimum of 18 up. Equipping each volunteer firefighter with basic gear costs around $2,000. More volunteers are always welcomed. (The Fire Department Auxiliary also welcomes more volunteers, both women and men.)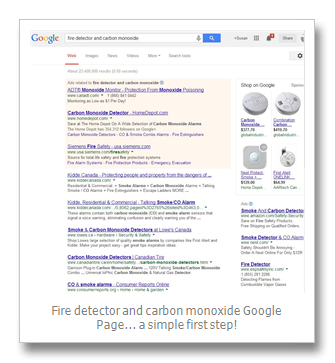 The volunteers of the Cape Vincent Fire Department show their love for this community in other visible ways. A new addition was built to accommodate the "newer" (15-year-old) truck purchased to replace the one that was totally exhausted. A training room was included as well as a smoke machine for simulating fire rescue techniques. The fire department also provides fire prevention safety training for school children.
I asked how the community could help the fire department. Chief Gould said he wanted to say how much he appreciated and was thankful for the level of support from the community. He asked people to remember,to dig out around their fire hydrants and keep the area clear in case an emergency arises, when every second spent digging out the fire hydrant takes precious time away from focusing on the emergency.
Chief Gould had come to my house for the interview, and as he was leaving, he casually asked if I had a carbon monoxide detector. I said I wasn't sure, which really meant no. He kindly explained that if I were to install one, to be sure it was installed down low, as carbon monoxide sinks to the floor first. He said often the carbon monoxide detector is combined with a smoke detector, which is installed at or near the ceiling, and is the totally wrong place for the carbon monoxide detector. Perhaps I'm the only one who didn't know how to properly place a carbon monoxide detector. I sure appreciated his attention to detail.
Remember, it's February, and if you are into sending Valentine remembrances, include the Cape Vincent Fire Department on your list. All contributions go for equipping these big-hearted volunteers to be a priceless asset to the whole town and sometimes even beyond with their life-changing and life-saving actions. Contribution address is: Cape Vincent Fire Department, P. O. Box 609, Cape Vincent, NY 13618.
By Linda Rowe
Linda Rowe retired to the Thousand Islands region in 2008 after careers in public government and school districts. She writes, "Her hope is to do good with her pen and perhaps make readers chuckle along the way."  And she does. 

She currently writes a feature article monthly for the What's Happening in Cape Vincent, is one of "The Crew" writing News from Cape Vincent appearing in the T. I. Sun newspaper, and is working on a book about her brother's life. She is a member of the Cape Vincent Poets and Writers Ink group. She reports she  is" happily and lengthily married to Tommy. All the children have flown the nest and all the pets have been laid to rest."