Written by
Lynn E. McElfresh
posted on March 13, 2014 07:39
As I delve into Grenell Island history, the newspaper archive is a treasure trove of information. Sporadically throughout the decades, the Thousand Islands Sun has had a column on Grenell Island. Several Grenellians have served as correspondents. I've found clippings written by Ethel Gardner and Barb Kewin. But most of the columns have come from one location on Grenell---the Smith Compound.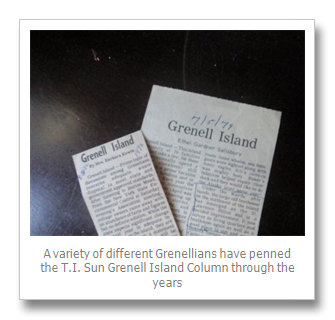 The Smith family is one of the "founding families" of Grenell. Olivia Pratt describes their introduction to the island in The Story of Grenell:
It happened that Miss Anne Clements who had a cottage on the north shore of Grenell* sang in a church choir in New York City and took a fancy to the boy violinist who played there. So she invited young Freddie Smith to visit at her camp. His family came up to see the place and that was the beginning of a devotion to Grenell, which has not ended. For several years the Smiths paid Mr. Grenell three dollars a year for tenting privilege, and camped in two large tents on the land where their cottages now stand.