An article like this one is difficult to write. It was suggested to me at a recent HASHING OVER HISTORY session. A neighbor who grew up next door to my family on East line Road, Jim Pecor, asked me why I never wrote about my Mother, Alice Kennedy, who he considered to be an angel as he was growing up.
At first, I didn't think it was a good idea, much too personal and of little interest to most readers, but after thinking about it, I thought I would try. (Actually, many readers probably have memories of parents or grandparents of that generation who lived in that different world we shared so long ago.) So here is my story…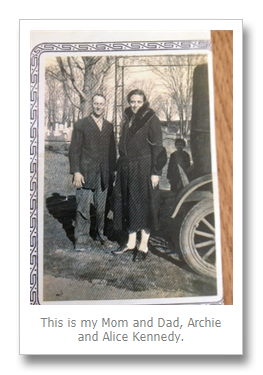 My Mother, Alice Hazel Zimmer Kennedy was born on July 24, 1895, on her parents farm on the Gore Road, in the town of Alexandria. She had two older brothers, Wells and Hugh. The farm was fairly prosperous in those days, and her parents were well respected.
She often spoke of a happy childhood and, from her stories, I have to believe that she was "her Daddy's girl". She was brought up to believe that education was very important, and her family was regular in attendance at the Omar Methodist Church, where she played the old pump organ and her Father sang in the choir. She graduated from high school in Alex Bay and from teacher's college in Ithica, and then taught school in the Alex Bay area until she married my Father.
She met and married my Father, Archie Kennedy , in 1918. Life was not easy; they had very little to start out on and they struggled to get by. After moving around a few times and struggling to make ends meet they settled on the farm on East Line Road, where they raised their family.They were never rich, in fact they struggled their whole lives to raise 7 children, send them to college, and keep their heads above water.
But let me try to describe how it was, growing up in that house on East Line Road and how I never felt anything but blessed with what we had. My Mother was 38 years old when I was born; the family consisted of two boys; Jim and Vern and three girls; Ruth, Faith and Dorothy.  Ten days before I was born, our house burned to the ground from a chimney fire - and they lost everything! A neighbor furnished us with a house to live in for that summer and my Dad, with help from Jim and Vern and neighbors, tore down an old house in Theresa and hastily built the house I grew up in. It was barely livable by fall but we moved in, bag and baggage, and it was home. My sister, Virginia was born 3 years later.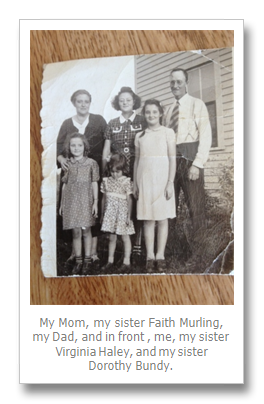 Of course all I have written so far is from what I was told by my Mother. My first real memories of her probably start when I was 4 or 5 years old, growing up happily oblivious to the fact that other families had much better homes and lived a different kind of life than we did.
I remember sitting on her lap while she rocked and sang to me, Church hymns, Stephen Foster songs, and the old love ballads from the days when she was growing up. I remember her playing the huge old piano which took up half of our living room, a gift from someone after the house had burned. It always seemed that the house was full with neighborhood children and teenagers, who gathered around that old piano and sang harmony, played games, ate popcorn, and generally had a great time. I thought every home was like that.
Mom got up early every morning and breakfast was ready. We sat at the table and ate together 3 times a day. There was no snacking between meals, not because we thought it would be bad for us, but because that was when there was food to eat. We didn't have cupbords full of potato chips and crackers and junk food.
In the summer she was up even earlier and out in the garden, weeding, watering, and picking the vegetables, which she would can to keep us supplied with good food all winter. Canning was done on the kitchen wood stove, water carried from the well outside. Our cellar was well stocked with canned tomatoes, corn, pickles, beans, beef and pork and soups made from the bones. Bacon was packed in smoked salt and cured in the cellar, Sometimes when I think about how hard I worked raising our family, I cringe when I think how my Mother raised hers.
But she wasn't any different from other farm wives in those days. They didn't go to work. They stayed home and made sure their family was taken care of and the Fathers earned a living for the family.
But my Mother was different in other ways. Housekeeping for her was making sure everything was clean and healthy, but clutter seemed to go right by her. Other things were much more important. She read to us and every neighborhood child who would listen, from books that might have been way over our heads, if she hadn't taken the time to explain them. I remember I was very young when she read Gone With The Wind and Little Women to us. There were others; I remember The Broad Highway, which I loved. I recently found it for my Nook and was amazed that we listened to it at such a young age and understood it.
But even more, she could recite poems and stories for hours: fascinating stories of which I only remember bits and pieces, but which fascinated all the children in the neighborhood. I can still recite, "Little Orphan Annie" to great Grandchildren and sometimes they seem to listen. Especially the part about "AND THE GOBLINS WILL GETCHA IF YOU DON'T WATCH OUT." One poem I'll have to put in here because I think she told it most often and I realize now why that was; it's meant for squabbling children.
Two little kittens one stormy night

Had nothing to do but quarrel and fight.

"I will have that mouse" said the elder cat.

"You won't have that mouse! We'll see about that"!

Now the old woman was sweeping her floor

and she swept those two kittens right out of the door.

The ground was all covered with ice and snow

And those poor little kittens had no place to go.

So they curled up there by the kitchen door

Until the old woman finished sweeping her floor.

And then they crept in, as quiet as mice,

All covered with snow and as cold as ice,

And they found it better that stormy night

To lay down and sleep than to quarrel and fight.

Author unknown 
She told us lengthy stories, mostly with a moral, which I later found out she had memorized from Rudyard Kipling's "Just So Stories." But it wasn't just our family. The whole neighborhood of children enjoyed them.
Jim Pecor told me how they used to pick bouquets of flowers for my Mother, since she was the one they always came to visit and they loved her dearly. The trouble was that she was severely allergic to most wildflowers, but she never mentioned it, as she told them how great they looked and smelled and then quietly went off and had a big sneezing spell.
Sometimes when children stayed later than they should and were afraid to walk home in the dark, she would walk each one home; (She didn't drive.)
I don't think people from the village ever really knew my Mother. My Father did the shopping and the business in town. She always attended school functions that we were involved in, but she kept in the background. She was very shy when away from home. I never minded that she wasn't in style. She was my Mother! At home she wore cotton house dresses, with an apron to cover. She had one good silk dress that she wore to every event. Her hair was long and braided and wound around her head and held with hair pins.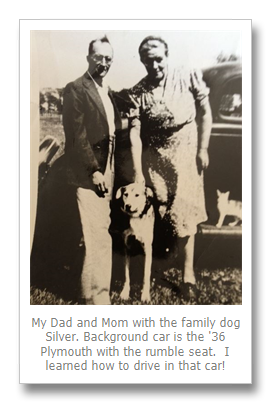 As her children went off to college, (Jim a teacher; Ruth, Faith and Ginny nurses; Dorothy a beautician), they all received long letters at least once a week, two or three pages on our lined school paper. Vern and I didn't go on to school, which was a big disappointment to our parents, but they would gladly have mortgaged the farm again if we had wanted to. The only thing I regret about not going away to school is that I never went far enough away to get letters from Mom.
On January 23, 1953, Leo and I had been married nearly a year; and Peggy was a tiny baby, I drove over to spend a day with my Mother. Her health was failing and she had wanted to spend some time with her Granddaughter. We spent the morning visiting, enjoying each other's company as we always did. My Mother had a bad heart; we'd known it for years. She received a phone call that Ginny, now 16, had a rash which they thought might be measles and needed to come home from School. Daddy went to pick her up and Mom told me to take the baby and go home, since she didn't want to expose her to the measles.
About 11 PM I got a phone call; Mom had died quietly in her sleep; she was 57 years old. She had fallen asleep with her book in her hand and that was where my Father found her, when he came back into the house from checking the stock before bed time. I had always thought of her as old; her hair was mostly white from the time I could remember. Mothers were supposed to be old. I knew that her health was bad, but when you're 19 you never think that your Mother could die. I still miss her. I've shed quite a few tears writing this. She was plain and quiet and shy. She had a hard life, but she brought joy to many children growing up on East Line Road.
Angel???Maybe not, but beloved by many children certainly. I'm sure that counted for a lot.
By Nancy Bond
Nancy Bond began writing in high school 60+ years ago, but then family life took hold, as she and her husband Leo raised twelve children, on their farm in the town of Clayton. It was only recently that Nancy began writing her memories on paper, for her children to enjoy. The Thousand Islands Museum persuaded her to share these memories with the Thousand Islands Sun and now with TI Life for all to enjoy.    See Nancy's other articles.