I first knew stained glass was something special, when my father brought home from work, two small, triangular-shaped pieces of cobalt blue glass, framed in soldered lead; one for my older brother, and one for me. I was perhaps six years old at the time, and this would become my favourite "toy". My fascination with the beauty of stained glass, and four generations of my family's contributions to this trade, would last a lifetime.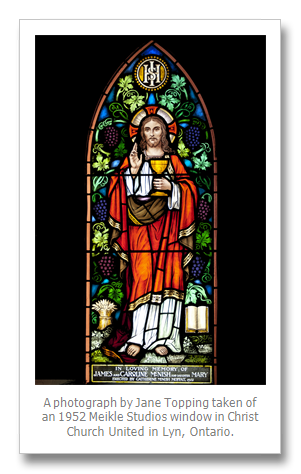 For most of my life I've been content to treat genealogy and the family's work in stained glass as a casual hobby. I didn't have a strong connection to the family business—my father left the firm about the time I started school and I never knew my grandfather, who passed away when I was a year old. I inherited a few paintings and sketches by my grandfather that I treasure, and for the most part I was satisfied with building a file of internet and print articles on Meikle stained glass—a file that eventually grew to the point of bursting.
In the back of my mind I've always known this story had to be told, and felt somewhat guilty that I could never seem to find the time to sit down and write it.
This all changed in August of 2013. At the age of 61 and retired from my full-time career, I enrolled in the Master of Fine Arts in Creative Nonfiction program at the University of King's College, Halifax. This is the first time a graduate-level nonfiction writing program has been offered in Canada.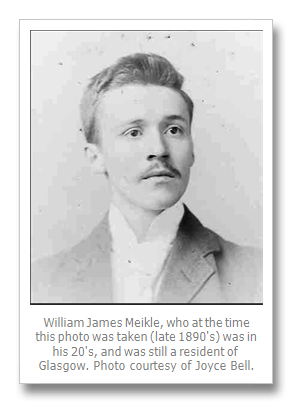 The program requires each student to research and write a nonfiction book on a topic of his/her choosing. I had finally found the time, and learning opportunity, to draft the book I'd known all my life I had to write: the story of the life and works of my grandfather, artist and stained glass designer William James Meikle (1870-1953). 
I began my research in earnest last fall, and I've been delighted and amazed at what I've uncovered so far.
William James Meikle was born in southwestern Ontario in 1870, but within a couple of years of his birth, his parents would move the family to Glasgow, the city where his father, James Harvie Meikle, was born. The purpose of the move was for James to assist his brother, William Tait Meikle, in managing the family glass business, now that their father, the founder of Meikle and Sons studio, William Meikle Sr., was about to retire.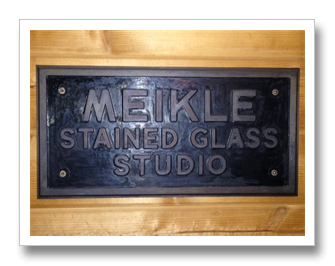 Originally founded as a "Merchant of Glass and Glazing" firm, under the Meikle brother's guidance, Meikle and Sons began experimenting with a number of different glass techniques and in 1886, expanded their operations to include stained glass. Hundreds of magnificent Meikle and Sons windows exist throughout the U.K. Three of many locations where these windows can be found in Scotland are: St. Andrew's Parish Church, Moffat; St. Ninian's Episcopal Church, Glasgow; and Flowerhill Parish Church, Airdrie.
As Meikle and Sons', business soared to unprecedented heights, animosity between the Meikle brothers was also on the rise. Ultimately, James Harvie Meikle asked his elder brother to buy his shares, allowing him to resign from the studio. His brother William Tait Meikle agreed, on the condition that James sign a non-competition agreement. James signed, yet within three months, he had taken a partner and opened a competing stained glass studio, in contravention of the agreement. William Tait Meikle successfully sued his brother in 1895 for breach of contract. The on-going feud between them would extend beyond their generation, and the impact would have major consequences. Within four years William James Meikle would file for sequestration (bankruptcy); his father, James Harvie Meikle, would file for sequestration, one month later.
Destitute and unemployed, William James Meikle was able to raise the funds to book steamer passage to New York, where he began an exciting and rewarding career in design and built a new life in North America.
While living and working in New York City, William married his Canadian first cousin, Mary Jane McNeill, and sometime later the couple, along with their young family, relocated to Canada. William spent most of his working life designing for other firms, until 1945, when, with the assistance of his eldest son James, he founded the stained glass firm Meikle Studios of Toronto, at the age of 75.
I was fortunate to have been given a handwritten list of the locations of Meikle Studios windows across Canada by my Uncle James. Listed are 221 locations, primarily churches, where Meikle Studios windows can be found; many of these locations have multiple windows. One location is in the Thousand Islands at Sacred Heart of Mary Church, Wolfe Island.
Researching the history of the family's stained glass enterprise has proven to be tremendously rewarding. I'm excited about what I may learn next as this research continues. The end result will be a biography of my grandfather, William James Meikle, and in this book there will be a number of photographs of Meikle Studios windows, the majority of which I'll have had the pleasure of shooting. I'm looking forward to the challenge!
By William Lawrence Meikle
William Lawrence Meikle is a writer and photographer who lives outside Brockville, Ontario, in the Frontenac Arch Biosphere region.  Larry, as he is known, is undertaking a Master of Fine Arts program in Creative Non-Fiction.  As part of his coursework, he is writing a manuscript telling his grandfather's life's story. TI Life looks forward to learning more about the many windows that grace so many Canadian and American houses of worship.