Editor's note:  I recently learned that the Aquatairum is moving forward with the concept of establishing RiverQuest throughout the region.  A committee is being formed of leading individuals from many of the area's attractions on both sides of the River. These individuals have businesses to manage so do not have unlimited time available to devote to this.

What is needed is a leader who understands the vision of what can be and has the enthusiasm and passion to make a lasting contribution to the region by helping steer RiverQuest into the future. I asked Ian Coristine if he could explain what has already been accomplished and what remains to be done.
When I first discovered the 1000 Islands, totally by chance on a random flight in 1992, I was blown away by all that I found here. My plane provided me an accelerated way to get a comprehensive overview of it all and there is so much to see. We tend to think that being only 50 miles of River that it's fairly small, but there are actually over 200 square miles of labyrinth here, thousands of miles of coastline and over 1800 islands.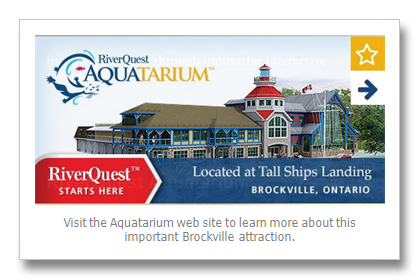 Amongst all this are a surprising number of crown jewels, the castles, the Millionaire's Row's gilded age mansions and yacht houses, the lighthouses, exceptional museums, theaters, forts, an amazingly diverse display of watercraft, boat tours in many different quadrants, shipwrecks, diving and much more, all with a unique and exceptionally beautiful backdrop.
I simply couldn't understand how I had lived less than 2 hours away (near Montreal) and despite having driven past countless times, had no clue of it. Neither did my friends, despite the fact they were also frequently driving the Montreal/Toronto corridor. The same is true on the US side. Once a celebrated destination for New Yorkers and residents of other major northeast cities, ridiculously few know of the Thousand Islands as anything more than a salad dressing. This, despite the fact that those of us who do know it are constantly crowing about it.
After publishing my books, I can't tell you how many times people thanked me for finally having a way to show their friends elsewhere why this place meant so much to them. And their friends were flabbergasted when they realized that such a place existed in North America. It's kind of like living next door to the Louvre, but having no understanding of the wonders behind its doors. The Thousand Islands isn't just regionally exceptional, it is nationally and even internationally exceptional, yet to a very real extent unknown and unappreciated.
Years ago, my dear friend Paul Malo , (the award winning historian, professor emeritus and author of a trilogy of books about the Gilded Age, as well as the founder of ThousandIslandsLife.com, the online e-zine), reached out to me to "help build a greater appreciation for this place." 
Click here to link the sites below



When Paul passed away in 2008, Susie Smith generously took up the baton and continues to do an outstanding job of publishing this online magazine every month. Kim Lunman, who met Paul on his deathbed, did the same, creating the seasonal hardcopy magazine Island Life. River people really appreciate these efforts because they are proud of what we have here and want the world to see it for what it is.
I have had the privilege of meeting a number of others who are deeply passionate about the River and in their various ways are doing a tremendous amount to "build a greater appreciation for the place." Amongst them, Joe and Lucie Pal immediately come to mind as does Joe Brennan who is working with them to raise the bar considerably on the Canadian side. Simon Fuller, who is the visionary behind Aquatarium, is definitely another who is making a truly worthwhile contribution as is Singer Castle's Tom Weldon who has worked tirelessly on many projects to make a positive difference. The Antique Boat Museum and many of its members and benefactors also fall into this category as do Save the River and Thousand Islands Land Trust who have many deeply passionate individuals trying to make a difference. There are others still, working in a wide variety of ways, all because of a passion for this place and a wish to see it become all it can be.
So the problem is that while we all know that what we have here is world class, the world does not. How do we help the world to see this place as the exceptional jewel and destination it actually is? Each of the attractions here does their best to get the word out, but individually their lone voice just isn't loud enough, nor is their individual appeal sufficient to garner widespread attention. However, imagine what would be possible if all of the highest quality assets came together to present the region as a rich, diverse and unique destination like France's Provence or Italy's Tuscany.
Where else in the world can you find all the unique layers of interest that exist here? It is my belief that the Thousand Islands is every bit as compelling as those celebrated places and many people I know here, who are far wider traveled than me, say this even more emphatically.
Click here to link the sites below




This is what RiverQuest is all about. An initiative that breaks down the border, overcomes the political and territorial jealousies and builds a FAR greater appreciation for the place by presenting ALL the finest assets together as a far more compelling destination than could possibly be achieved individually.
It also has a very unique and powerful asset at its disposal - the Aquatarium - a 21 million dollar discovery centre (nearing completion in Brockville) filled with displays that are designed to showcase all of the wonders here and encourage visitors to go explore the real thing. The RiverQuest concept will encourage visitors to spend more time here, or visit more frequently, by educating them about all of the quality offerings, rather than watch them get back in their car or bus after a brief stop to go somewhere else.
I see this as an historic opportunity to harness the power of the entire region to build a far greater understanding of the place while helping restore its reputation as one of the continent's most unique and desirable destinations, a status it enjoyed throughout the Gilded Age at the turn of the century.
What's needed and what we are hoping to find is a passionate River person (possibly retired) who sees the vision and has leadership skills to direct the RiverQuest steering committee that is currently forming to lead this initiative forward. I strongly suspect and am hopeful that the right person for this task is out there amongst TI Life's readership.
If you care deeply about the River and would like to seize a unique opportunity to make a lasting difference, I would urge you to connect with either Susie Smith or myself.
Click here to link the sites below





By Ian Coristine, 1000IslandsBooks.com,
Ian Coristine is well known in the Thousand Islands, not only by sharing his remarkable photographs with TI Life, but also stepping forward and working as a member of the steering committee of Aquararium in Brockville and being one of the River's and RiverQuest's greatest proponents.
His Thousand Islands' photographs have been featured internationally. DxO Labs of Paris, France, award winning publishers of revolutionary high-end camera and lens correction software, selected Coristine as one of their 12 founding "Image Masters" from professional photographers around the world.
Ian Coristine's sixth book is an interactive eBook for the iPad, titled One in a Thousand, a memoir, and was co-written with Donna Walsh Inglehart. Produced by McLellan Interactive Publishing, it includes an 85,000-word text set in a beautiful layout, videos of his flying adventures, nature sounds from the River, unpublished music from Great Lake Swimmers and an interactive map with hundreds of his best images embedded in the text.