The War of 1812 from Sackets Harbor to the Saranac River
New York's North Country looms large at the sixth annual War of 1812 Heritage Talks, April 25th-26th at the Freight House Restaurant in Ogdensburg, NY, organized by the Fort La Présentation Association.
Three speakers, two authors, a musician and four exhibits represent the state's northern tier from eastern Lake Ontario, down the St. Lawrence and over to the Saranac River.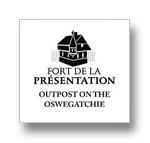 Apart from their credentials and accomplishments, these individuals are North Country neighbors from Sackets Harbor, Cape Vincent, Morristown, Ogdensburg, De Kalb, Kendrew Corners, Carthage, Eel Weir, Black River and Watertown.
Put aside any idea that history is boring; a lively contingent from Maryland, Connecticut, Vermont and Ontario will join the engaging New Yorkers.
The weekend kicks off Friday evening April 25th at 7 p.m. with award winning North Country fiddler Don Woodcock. His lively family-friendly concert features period ballads, jigs and reels, drawn from his huge repertoire. Youth 17 and under are free; adults pay only $5.00 at the door.
Saturday, April 26th is a full day with seven speakers, 10 exhibits (including the two authors) and an opportunity to view two War of 1812 documentaries, from New York and Ontario.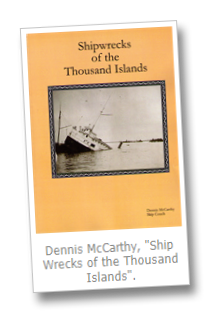 Fees for Saturday are lower than previous years and include a continental breakfast and a buffet lunch. Students $30; Educators, NYS Town Historians, Forsyth's Rifles and members of the Fort Association $50; others $60. Pre-registration is required.
The doors open Saturday at 7:30 a.m. for sign in and breakfast.
North Country Speakers
Dennis McCarthy (The US Navy Support of the Wilkinson Campaign and the Battle of French Creek) from Cape Vincent, NY is an amateur archaeologist, historian and diver who authored Shipwrecks of the Thousand Islands.

David Murray (The American Infantry Uniform from 1811 to 1815), Morristown, NY, has researched and recreated American military uniforms for more than 20 years. He is an experimental archaeologist, creating then testing the durability of period clothing.

Bryan Thompson (Lt. Col. Thomas B. Benedict, the Accidental Commander of the St Lawrence County Militia) the municipal historian for the town of DeKalb, NY, received a Hackman research fellowship to study the life of Lt. Col. Benedict.

Out-of-State Speakers

Ralph Eshelman M.A. (The British Campaign in the Chesapeake) is a heritage consultant living in Lusby, MD. He is the co-author with Burton K. Kummerow of In Full Glory Reflected: Discovering the War of 1812 in the Chesapeake.

Gregory Kloten M.A. (Captain George Howard United States Army: The Chronicles of a Connecticut Yankee on the Northern Frontier of the War of 1812) from Wethersfield, CT teaches American and World history at Capital Community College in Hartford.

Horst Dresler (The Canadian Voltigeurs and the Battle of Chateauguay) a Canadian, resident and business owner in Woodstock, VT is an author, a re-enactor for three decades, and event organizer for more than 10 years.

Richard Feltoe (The Upper Canada Militia in Peace and War, 1808-1816) from Brampton, Ontario is the Curator and Corporate Archivist for Redpath Sugar Ltd. in Toronto. He is the author of seven books on the War of 1812 and a longtime re-enactor.
North Country Authors
John Austin, De Kalb, St. Lawrence County in the War of 1812; Folly and Mischief and Hope,
Irvin Marston, Black River, Sackets Harbor Powder Monkey: The War of 1812.
North Country Exhibits
Sackets Harbor
General Pike's Saranac River Cantonment
St. Lawrence River Historical Foundation Inc.
and the Frederic Remington Art Museum
Other Speakers:
Ralph Eshelman MA, Lusby, MD (The British Campaign in the Chesapeake)
Gregory Kloten MA, Wethersfield, CT (Captain George Howard United States Army: The Chronicles of a Connecticut Yankee on the Northern Frontier of the War of 1812)
Horst Dresler, Woodstock, VT (The Canadian Voltigeurs and the Battle of Chateauguay)
and Richard Feltoe, Brampton, Ontario (The Upper Canada Militia in Peace and War)
Other Exhibits
The Age of Sail
War of 1812 Re-enactment Photography
Dunvegan Pioneer Museum
and Regency Quilting
Documentaries
"Losing Ground: The Race to Preserve War of 1812 Battlefields in New York State," produced by WCNY Syracuse, New York,
"A Desert Between Us & Them: Raiders, Traitors, and Refugees in the War of 1812," concerns the American 'scorched-earth' of Southwestern Ontario.  Produced by the Living History Multimedia Association, Brantford, Ontario.
A number of speakers, exhibitors and attendees are expected to have their books for sale.
For complete information and registration, visit the Fort La Présentation Association Web page, www.fort1749.org.
By Michael Whittaker
Michael Whittaker, a re-enactor for 30 years, is a member of living history organizations in Ontario, Quebec, New York,  portraying military, naval units and civilians from the French & Indian War, American Revolution and the War of 1812. Mr. Whittaker is an event organizer and offers heritage and educational programs to schools and historic sites. He provides pro bono media relations services to a number of charities and not-for-profit entities. His column/blog History at Large, appears Tuesdays in the Ogdensburg Journal. Michael lives in Bishop's Mills, ON. He retired in 2012 after 30 years with the Government of Canada.