Many years of playing and working on The River allowed me to make the acquaintance of several fascinating people. Some were very wealthy; some of more ordinary means, but all had a personal magnetic aura, typical of interesting people. The original owner of Honeymoon Island will always rank as one of the most interesting amongst all.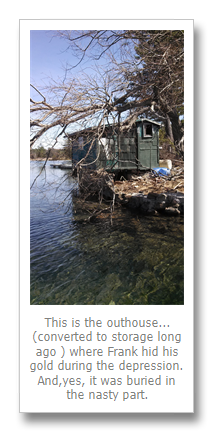 It took us several sessions of eyeballing each other, across about a hundred yards of Chippewa Bay water, before I got to meet Frank Annecetto. Our little family had acquired space on Mink Island, for the establishment of our own hunting and fishing headquarters. Directly across to the northwest was the smallish Honeymoon Island. It was less than tidily covered with miscellaneous river stuff, in varying stages of decay; a bungalow type "camp" and a separate outhouse. Frequently, on weekends, there would appear a short man, with unruly grey hair, who was always roughly dressed and who was even inadequately dressed, when the weather called for protective clothing. When he was in residence, he was always busy, with nothing and easily noticed.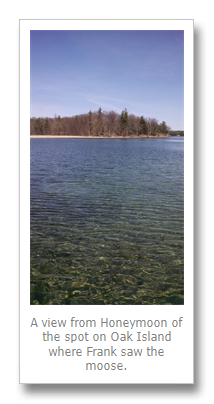 Not being the gregarious type, it was probably my fault that it took a few long distance eye contact sessions, before we got used to seeing each other and I ventured the occasional wave. Some weeks passed before there came an occasion to make an approach, involving introductions. I think I noticed the old boy needed a hand with something heavy (I can't even remember the details). On close inspection, this guy looked unusually sturdy for his age, he had an explosive smile that took up a lot of his face and he had a strange accent. Our first visit was short and pleasant.
Throughout that first year, I checked in with him on a regular basis. By the following spring he had decided I was harmless and became talkative to the extent that I learned he had come to the states, as an immigrant from Portugal and that he had a small but successful trucking company out of Buffalo. He had been hanging around on his little island since before the Great Depression. He was over 80 years old and still coming to the river - almost always alone.
Eventually, I got invited to dine with him. His general practice was to arrive with a wrinkled paper grocery bag, with a mix of cabbage, onions, potatoes, turnip and very big greasy sausage, of some sort. The vegetables always looked like they had come out of a home garden, in a hurry. All of this went into a big pot, to be rendered into a boiled dinner "thing." His kitchen, like the rest of the cottage, was like a wood lined cave… dark and musty and equipped with turn-of-the century "stuff." When pools of grease were floating around in the top of the pot he would spoon heaps of this stuff onto a plate and dig in. He had a gargantuan appetite and seemed to relish his cuisine.
Sharing this modest meal seemed to loosen him up and he told me bits and pieces of his history and the things he had seen on the river. He took great delight in explaining how, during the depression, he had brought his gold to the island and hid it in the bowels of his outhouse!
On one occasion, he told me of an event that he had never shared, because he was sure no one would have believed him. He pointed out a shoreline tree, over on close-by Oak Island and said that in the early 40s he came out of his shack one morning, to break out a hole in the skim ice and wash up for the day and saw a bull moose standing under the tree. I told him with sincerity that I had no doubt his story was true.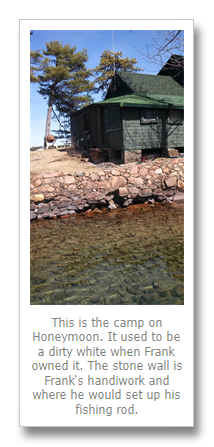 While it is pleasant to reminisce about Frank, all the above is aimed at giving you a sense of this guy; in just a bit, I'll get to the mystery.
Picture Frank arriving every year at the earliest opportunity. Rain and wet snow did not faze him. I'd see him often with a ragged shirt half unbuttoned, a thatch of grey chest hair hanging out of the shirt; no hat on his head and his nose dripping onto his big grin, while he hauled stuff from his dock to the camp. Once moved in, one of the first things he did was to rig a fishing pole with a bobber off the head of his island. He'd wedge it into a little hand laid stone wall and leave it un-attended, with the hope of catching something, while he did other things. I never observed any fish getting caught, but it was a ritual with Frank; if he was on the island, that pole was in place.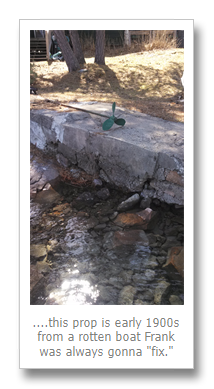 In later years, Frank's wife would not let him come to the river alone; the guys Frank brought to watch out for him might have been younger ,but all were in pretty sorry shape, compared to Frank. One of his regulars even had to haul an oxygen bottle around with him. The only other thing you need to know about Frank, to set the stage, is that on nice fall days he liked to be dropped-off over on Oak Island with a double barrel shotgun, so he could take a little hike in those woods and try to pot a grouse for the table.
One really nice fall day, I got a call from Dale Stoughtenger. Frank had been close to the Schermerhorn Marina people forever; Dale told me Frank had gone to do his thing on Oak Island and did not show up at the appointed pick-up spot. Dale thought I better come down and help look for him; even before I got down that way, Dale called back to tell me they had found Frank. It seems he had a massive heart attack and just tipped-over, face down in those sun-dappled autumn leaves.
The following spring I made my own way out to Mink Island, as soon as floating ice remnants would allow. In the midst of my first trip spring routine, I happened to pause and take a gander over at Honeymoon Island. There on the head, wedged into his hand laid stone wall, was Franks fishing pole. It seems that I must have just missed Frank and that he could not stay long.
There has never been an adequate explanation of how this happened….that ritualistic installation of the fishing pole; and, if there is one, I don't want to hear it.
I miss the old boy to this day and I wish we could get him back, to hear more of those early years on the river.
By Hunter Grimes III
Hunter Grimes served in the Navy, from 1966-1970; in 1968-70 he was with UDT 21 and Navy Seals. He is currently owner of Diverse Construction Group, LLC. He attended SUNY Oswego, University of Alaska at Fairbanks and Syracuse School of Forestry. Hunter is certainly a genuine River Rat – a reliable term given for those who spend their lives on, in or under the River. In 1989, Canadian author Shawn Thompson wrote his book, River Rats: The People of the Thousand Islands; page 68 has the Hunter Grimes story. Hunter and his wife Martha have devoted their lives to their community, both being recognized for their volunteer efforts and leadership. To see other of Hunter's essays in TI Life, click here.
Note August 2014: Our appreciation to Scott Frederickson, whose father joined
Frank and Ruth's
Annecetto's
trucking company - Colonial Highway Express - on the day the campany began and he was with Frank on the day he died many years later. T
he Frederickson family visited the island many times.