On May 3, 1814, troops from Kingston boarded seven ships, and eleven gunboats, manned by a thousand Royal Navy sailors; among the troops on board was Captain Alexander McMillan's company of the Glengarry Light Infantry with a strength of fifty-eight officers and men - one of which is my ancestor - Private Dorman DeWolfe, UE.  At 17 years old, in the spring of 1812, he was recruited in Kingston, and fought in this unit throughout the conflict; he was present at the campaigns along the St. Lawrence and the Niagara frontier, survived, and was discharged in the spring of 1815.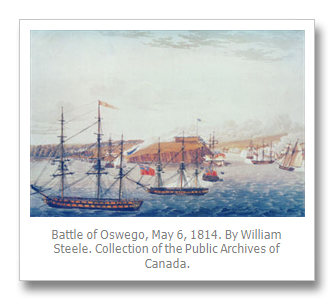 This month, marks the 200th Anniversary of that battle – and many of us are fascinated by this history.  I have gone one step further, as I have combined my interest in genealogy with those who fought in the War of 1812 and those who, before them, made their way to Canada as United Empire Loyalists.   These men, women and children were given this distinguished title "U.E." back in 1789 by Lord Dorchester as,  "those Loyalists who have adhered to the Unity of the Empire, and joined the Royal Standard before the Treaty of Separation in the year 1783, and all their children and their Descendants by either sex, are to be distinguished by the following Capitals, affixed to their names : U.E. Alluding to their great principle "The Unity of the Empire".
My Quest
When searching for one's family heritage, a person usually starts with BMD's: Birth, Marriage, Death.  I discovered that Dorman DeWolfe was born circa 1795, in Rutland, Vermont, USA, purportedly the son of Loyalist Bethuel DeWolfe and Phoebe Case. By tracing the military rolls through the Canadian Archives, I was able to trace his military career and Private Dorman DeWolfe, Glengarry Light Infantry, (on my mother's side of the family - Patterson – from Mallorytown)  was a participant in the capture of Oswego New York, on May 6, 1814, as well as numerous other military campaigns with this unit throughout the War of 1812.
The Battle
At the time of the formation of the upper province in 1791-2 there were two "military districts" : the upper posts (Oswego, Niagara, Detroit, and Michilimackinac), and Kingston with its dependencies (Carleton Island and Oswegatchie).  These two military districts did not develop into territorial divisions of Upper Canada as may have been intended, and Oswego, Detroit, Michilimackinac, and Oswegatchie had all been handed over to the Americans by 1796.  Kingston remained one of the few places in Upper Canada that was permanently garrisoned with units of the Royal Regiment of New York and others, who occupied barracks on the site of old Fort Frontenac.
The site of Fort Oswego on Lake Ontario, played a key military role during the French & Indian Wars; a French victory over the British presence on Lake Ontario in 1756, removed the threat against French controlled Fort Frontenac for the time being. During the War of 1812 in 1814 this site was attacked again.
In the spring of 1814, land forces in Upper Canada were under command of Lieutenant-General Gordon Drummond who led an active strategic war policy against the Americans, along with British Commodore James Yeo, commander of the Royal Navy on Lake Ontario.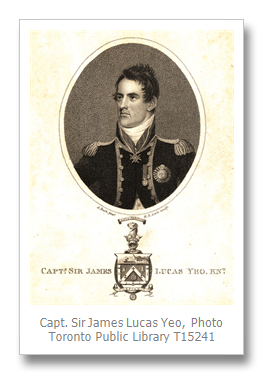 To maintain their forces, "more than two thousand barrels of flour plus large quantities of other foods, supplies, and munitions" were required each month; Lake Ontario had to be secure to move such supplies and to prepare for the upcoming Niagara campaign. The major threat to the British was the building of American ships at Sacket's Harbor.  Commander in Chief Sir George Prevost, was hesitant to attack Sacket's Harbor at this time, but an offensive against Oswego was decided upon, using only troops from Kingston. Oswego, on the south shore of Lake Ontario was the site of recently built military storehouses from where shipments from the south were sent west to Niagara or to Sacket's Harbor.
At dawn on May 5, 1814, American lookouts at Oswego Harbor,  observed Yeo's fleet while still several miles offshore; when the British troops began embarking into landing boats, adverse winds developed; as a result, the attack was postponed to the following day.
The Glengarry Light Infantry skirmish troops were the first to land about 1 pm May 6. "Flankers" and the Royal Marines were organized in line by companies. They then advanced on the American troops positioned in front of the fort site.  The advance was mainly a bayonet assault  because of wet cartridges, as a result of the landing. The fort was reached within ten minutes; the American defenders withdrew into the adjacent woods.  Further to the British advance, a simultaneous assault by 200 members of the Royal Navy took place up steep slopes behind the fort.
The British attack was successful in the capture of much needed shipbuilding supplies, 2400 barrels of food supplies, guns, and gunpowder. The fort, barracks, wharves, and a bridge were burnt.  On May 7, men and ships and their cargo returned to Kingston. Casualties for the British and Canadians were listed as fifteen dead and sixty two wounded; the Royal Navy - three killed, eleven wounded; the Americans - six dead and thirty eight wounded, and twenty five lost as prisoners.
The fleet arrived back in Kingston at noon on May 8, 1814.
The capture of Oswego was a definite inconvenience for the Americans, but only for a short time; within a few weeks they were transporting goods to Sacket's Harbor overland.  However, for a short while, Lake Ontario was being controlled by the Royal Navy which simplified  the transport of troops and supplies to the upcoming Niagara campaign.
The Glengarry Light Infantry played a pivotal role in the Oswego campaign; the unit was mobilized in 1812 as a regular British army Battalion and was modeled on the first Glengarry Fencibles, a British highland regiment that had been mobilized twenty years earlier at the beginning of the war with Napoleonic France. Detachments of the Glengarry Fencibles fought at Sacket's Harbor, French Mills, Ogdensburg, Oswego, and in many battles of the Niagara campaign.
Dorman DeWolfe appears in township records as an Innkeeper and farmer.  He died September 11, 1861 in Kitley Twp, ON, Canada. He received 100 acres of land for his participation in the War of 1812.
By Arthur Pegg UE
Arthur Pegg is a writer and historian living in Blenheim Ontario near Rondeau Provincial Park on Lake Erie. He teaches history at the campuses of St. Clair College - Chatham and Windsor, Ontario. Arthur is a member of the Col. Edward Jessup Branch - United Empire Loyalists Association, and a member of the War of 1812 Society. He can be reached at arthur.pegg@sympatico.ca

 
Interested in tracing your roots?
Material found
Possible Source
Dorman DeWolfe was born circa 1795, in Rutland, Vermont, USA, purportedly the son of Loyalist Bethuel DeWolfe and Phoebe Case.
This information found with resource sources such as Public Archives documents, Land Petitions, military files, court and civil records, etc., one can glean information on their ancestors and piece together their origins and movements through time.
He married Clarey (Clarra) Hogeboom in 1818
Marriage records and on-line databases
Clarra was born 28 August 1800; baptized 30 November 1800, Schodack Reformed Church, Columbia Co., NY USA; died - October 1853 Leeds Co., ON Canada. She is buried in Rideau Ferry Cemetery.  Her father was Derrick Hogeboom and Mother Jemima Cain.
When researching distant family relatives of this time period (late 18th Century early 19th Century) one must keep in mind the historical geography and political landscape - on the frontier, families moved frequently or were disbursed - baptisms may not take place in the same church, community, or even country.  They had nine children (church records).
Family name for reference – Hogeboom

For the reader who is planning research on a remote ancestor, keep in mind that the spelling of a surname can be influenced by many factors.  For instance, I have an inventory of at least 18 surname variations and concordance for the name Hogaboom (Hogadone, Hoogbone, Hugdone) that I have documented from land petitions, muster rolls and paylists, census records, etc. Don't worry about the spelling of a name: "spelling was not standardized until the early 20th century. Many were illiterate, and spelled as it sounded; some of the "educated" would spell names as they heard them, or how they thought a name should be spelled, regardless of how the "owner" wanted it spelled."
Relationship to me:  Dorman DeWolfe is a: "first cousin by marriage four times removed." Clarey Hogeboom is a niece of my fourth greatgrandmother Mary Cain Hogeboom - DUE - daughter of United Empire Loyalist Isaiah Cain born 1737 - died 1812 - Caintown ( a participant in the French & Indian Wars, and enlisted in 4th Regiment Albany County Militia along with numerous members of the Hogeboom family).
Sources: Burleigh Papers, Queen's University Archives, and online publication "New York In The Revolution".
It is assumed that Leah Adams, Isaiah Cain's wife - widow (relict) is buried in the Caintown Cemetery
(Source: newspaper article May 8, 1886 edition – Gananoque newspaper)
Mary Cain Hogeboom's husband, my fourth greatgrandfather John Hogeboom is listed in 1st. Leeds Militia during the War of 1812, and noted on Mary Cain's Petition for Land as " having done his duty in defence of the Province during said war." - signed - James Jessup. Dorman DeWolfe's father Bethuel is also listed as in the 2nd Leeds Militia

 

(Source: Record Group 9, etc. Public Archives).  Post Revolution Land Petitions are a virtual goldmine of information for an elusive ancestor, and are now  available through on-line archival sources in Canada.
Dorman DeWolfe - Innkeeper and farmer - died September 11, 1861 in Kitley Twp, ON, Canada. He received 100 acres of land for his participation in the War of 1812.




Nominal rolls for the Battle of Fort George, May 27, 1813, for example, list ancestor Private Dorman DeWolfe in #1 Company under Captain Andrew Liddell (KIA), and note the positioning of each company in the conflict at the mouth of the Niagara River; records also indicate that he qualified for prize money (and thus survived the defence of Fort George).

For the reader interested in tracing a military ancestor, one can rely on Muster Rolls and Paylists available through Canadian archival resources; Pay Records were published quarterly, with each of the three months (musters in the records) available to show where a soldier was for each month. One can build up a service record according to pay statements.  A soldier's Company number and its commander are also important to identify in which engagement he may have participated in, and where he may have spent the winter.

Note:  Usually there is an X for a signature of the witness or claimant - in this case my fourth great-grandmother Mary Hogeboom has signed the document, which leads us to believe the family were fairly wealthy at one time and the children attended school.