Editor's Note:

In late March of this year I received an email from Rod Anstee.  He collects photograph albums and he had found a couple of battered old examples that seemed to contain images of the Thousand Islands.  

"Would you like to see them?"  He asked.

He had an Ottawa address and so I immediately wrote back my answer, "Yes, and I see you live in Ottawa.  I do too.  I live next to the Children's Hospital."

He wrote back a few seconds later, saying "I LIVE NEXT to the Children's Hospital."

Within fifteen minutes he was at my door and I realized I have been watching him walk his dogs (two cute dachshunds) each day for the past seven years. 

Those first albums he showed me are still a mystery. We have the Cornwall Bros. Store Museum and the Leeds County Historical Society helping us identify these photographs. In the meantime, my new friend has been working on a more recent project.

Rod has been collecting photographs and photograph albums for a couple of decades. There are many individuals who collect photographs and albums, but few who have spent as many hours researching them in detail, in an effort to identify the anonymous people and places that they contain. It is a hobby that has often led to interesting adventures.

"Modern technology presents ever-improving tools for all kinds of historical research, well beyond one's own family history. I generally prefer to work on local (Ottawa) history, but in truth if it is interesting, I will tackle just about anything. On a few occasions I have had the great satisfaction of being able to present long-lost relatives with images of their family's past which they didn't even know existed. Hopefully there's a chance that the following article, about a 1909 holiday trip to the Thousand Islands area and the photo album in which it is commemorated, will strike a chord out there somewhere, with an unsuspecting descendent of one of the trip's participants."
A THOUSAND ISLANDS HOLIDAY & FISHING TRIP.  "SNAP PHOTOS" AUGUST, 1909
Sometime in the days or weeks after their August, 1909 holiday & fishing trip in the Thousand Islands area, one member of the group of 5 men who participated – Dr. Forbes J. Munson of Brooklyn, NY – put together a photographic record of their "Snap Photos," as it says on the front of the small album he used. It was prepared as a gift, possibly multiple copies were made – perhaps even one for each of his companions.
The example we have before us documents the group itself, their fishing guides, their shoreline mealtimes, the side-trips they enjoyed, and occasional details of Thousand Island scenery.
Fortunately, the album itself, together with some additional research, provides precise clues as to the identity of each of the five sportsmen seen in the photos.
I am especially grateful to new friend & frequent TILife contributor, Rexford Ennis, who located a 1944 obituary for one of the group members on-line, Lewis "Lew" Hurlbutt, complete with a photo of the man that proved to be the essential first step in unlocking the mysteries of this album.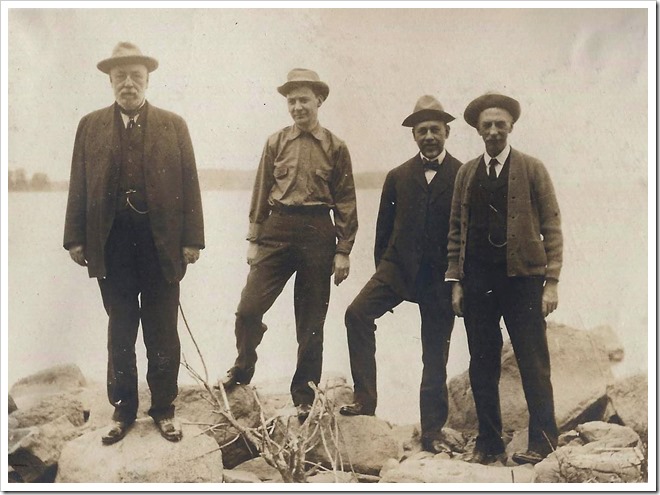 (l to r) Edwin H. Mathewson (61), Manus J. Crosson (37), Herbert A. Mathewson (48), Lewis R. Hurlbutt (57). Photo by Forbes J. Munson. All 4 of these men were in the shoe business – the two Matheson brothers & Lew Hurlbutt were partners in a ladies' shoe factory located in Norwalk, CT.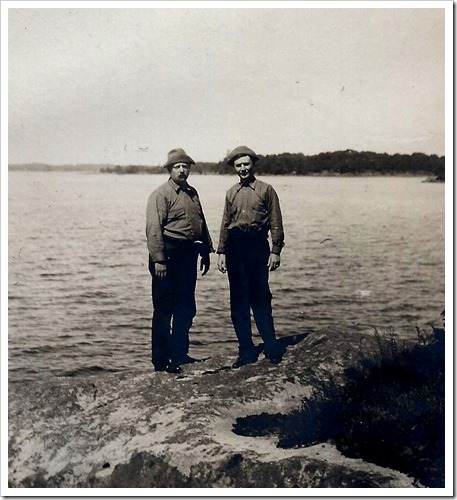 (l to r) Forbes J. Munson, MD. (40) and fellow Brooklynite & Elk, Manus J. Crosson.
Photographer unknown.
The compiler of the album, Forbes J. Munson, was born in New Jersey in August, 1869. His parents, Charles & Margaret Munson, ran a restaurant on Blackwell Street in Randolph, Morris County, NJ.  Munson graduated from medical school at Long Island College in 1897 – he was the President of his class. Little over a year later, on 28 April, 1898, he was married to Elizabeth J. Straub in Brooklyn, NY where he had established his medical practice. The couple's first son, George Straub Munson, was born in November, 1899.
At the time of the 1900 US census, he was living in Brooklyn with his wife and newborn son, a single servant, and his in-laws and a brother-in-law who was a medical student. A second son, Forbes J. Munson Jr., was born in October, 1902.
Sadly, Mrs. Munson passed away on 19 March, 1906; leaving Dr. Munson a widower with 2 young sons – thus his holiday fishing trip to the Thousand Islands in August, 1909 was likely a rare break from work and home life. At the time of the 1910 US census, he is listed as living in Brooklyn with his two sons, ages 10 & 7, and a nurse (Anna Weinhold) who likely was principally an employee of his medical practice. Thereafter, the existing public records take an unexpected turn. At the time of the 1915 New York State census, Dr. Munson is recorded as living in Brooklyn with a nurse (Anna Weinhold) and a cook. The boys are no longer living with their father -- they would have been 15 & 12 respectively in 1915.
It appears that they had been relocated and were living in the household of their father's unmarried younger brother and sister, Jennie F. Munson and Charles H. Munson in Dover, Morris County, NJ -- draft registration records for George S. Munson place him there in September, 1918, while the 1930 US census records place Forbes Munson Jr. there as well – 28 at the time, he was recorded as a banker.
Dr. Forbes J. Munson passed away on 27 July, 1918. Given the date & his profession, a strong possibility is that he passed away in the 1918 Flu Epidemic.
The 5-man fishing party included a pair of brothers – Edwin H. Mathewson and Herbert A. Mathewson, sons of John and Ann (Turvey) Mathewson. The former was born in 1848 in Enfield, CT and the latter was born 13 years later in 1861. This age spread accounts for the obvious differences in their appearance in the group photo, above, even though there is a clearly discernible family resemblance.
Edwin Mathewson joined the firm of Lounsbury Brothers & Co., shoe manufacturers in Norwalk, CT, circa 1876. The firm name was changed to Lounsbury Mathewson & Co., so presumably he brought substantial capital or substantial expertise to the venture. He was married in 1886 to Grace Crofot and the couple had two children – Gennatt, born in 1889, and a son Edwin H., born in 1891, who passed away in 1900 at the age of 8 years.
Edwin's younger brother Herbert Arthur Mathewson, joined the firm in 1879 and thereafter worked his way up through the company to full partnership. He was married in 1887 to Mary Elizabeth Knapp. It does not appear that the couple had any living children.
The firm Lounsbury Mathewson & Co. manufactured and sold its inventory of ladies' shoes directly to shoe retailers across the country – at its peak the firm employed 310 people. Thus as rumpled and unshaven as the two brothers came to look during the course of their 1909 Thousand Islands fishing trip, it should be remembered that both of them were men of substantial means.
In the Norwalk, CT city directory for 1910 – the year following the Thousand Islands fishing trip – the firm of Lounsbury Mathewson & Co. is located at 5 Haviland St. North and the officers are listed as "Edwin H. Mathewson, Herbert A. Mathewson, Lewis R. Hurlbutt."
Edwin Mathewson was the first of the 5-man fishing party to pass away. He died at the end of June, 1915. For reasons unknown, his Will was probated 8 May, 1916 in London, UK. It named his widow and his two business partners as beneficiaries.
Herbert Mathewson, the younger brother, died just under 6 years later, in June, 1921.
Lewis Raymond Hurlbut is the 4th member of the 1909 fishing party pictured in this photo album. He was born in 1851 and lived his entire life in the vicinity of Wilton, CT. He died there in 1944. His working life was spent in the shoe business, beginning in 1871 with the firm Lounsbury Brothers & Rockwell, later the renamed firm Lounsbury Mathewson & Co.., which is obviously where he eventually met the Mathewson brothers, becoming business partners & friends with them. Lewis "Lew" Hurlbutt was also active locally in civic government (finance chairman), banking (director & vice-president), and church affairs (church board of trustees.) He never married – in the years between 1900 and 1910 he lived in Wilton, Fairfield County, CT with his aging father (William) and variously with his two younger sisters, Emma & Josephine. He also had a brother, David S. Hurlbutt.
Like the Mathewson brothers, "Lew" Hurlbutt was a man of substance and importance, despite his rather rumpled and unprepossessing appearance in some of the photos. Indeed, it was the undated photograph of Lewis Hurlbutt, published along with his obituary in the Wilton CT BULLETIN (23 March, 1944), which was the crucial clue to establishing the identities and the connections between the 5 gentlemen pictured in this 1909 Thousand Islands album.
Lewis Hurlbutt was 92 years-old when he died in 1944. He was 57 and the second oldest of the group in 1909. Edwin Mathewson was the oldest, by 4 years, in 1909. Hurlbutt out-lived him by almost 30 years.
The final member of the 5-man fishing party was Manus J. Crosson, the youngest of the sportsmen at 37 years-old, in 1909. He was born in 1872 in Philadelphia.
His father, John Crosson, was a shoemaker from Ireland and it appears that son Manus followed his father into the business. He moved to Brooklyn, NY and was married there in 1910 – the year after the fishing trip – to Sophia S. Travis who was 17 years his junior.
By the time of the 1915 New York State census, the couple had an infant daughter, Ruth Crosson. His career in the shoe business was highlighted by the operation of a retail store in the 1920s -- "The Crosson Shoe Shoppe" on Livingston Street in Brooklyn.
Manus Crosson's wife passed away in 1935 – a likely suicide, she fell from a 4th storey window of the couple's Brooklyn apartment. Manus J. Crosson was still alive in 1940 at the time of his daughter's engagement announcement.
On 12 November, 1909, only 2 ½ months after the vacation in the Thousand Islands, an account of a large Brooklyn Lodge of an Elks banquet, published in the BROOKLYN EAGLE listed the names of the 300 attendees – amongst this list were both "Forbes J. Munson" and "Manus J. Crosson." It seems possible that it was through the activities of the Elks service club that the friendship between these two of them began.
In addition to photographing each other – they seem to have shared the camera – the group also took photos of various other people and scenes. The group was on a guided fishing trip, which is to say that a guide who was probably affiliated or even under contract to one of the hotels in the area, took them around to likely locations on a day trip and then cooked them a shore supper, towards the end of the day. One experienced guide would have been able to handle a group of this size (5), but nothing would have prevented them from hiring additional support. I get the impression from the group photo, left, that perhaps several groups came together at the same location for their group supper – there are no less than five guides in the foreground of this shot.
It is interesting that the album pays tribute to the fishing trip & the resulting outdoor meals, but does not contain any images of the hotel where the party was staying at night. Had they been sleeping under canvas, I'm reasonably sure that there would have been proud images of that adventure included here, but there is no hint of a tent anywhere in the album.
At some point the group journeyed into Kingston and took these views in the Market Square there. Even though a few have opted for a change of headgear, they are not totally convincing as sporting gentlemen visiting the city. It is as though dressing themselves that morning had been a painful & trying affair for some of them!
In many respects this is the most interesting and touching memento preserved in this photo album. Someone has taken the time and care to write out a mock menu for the shore dinner that took place on "Aug. 27. '09" -- a Friday. Whether this was created on the occasion & preserved, or whether it was created after the fact, it is touching to envision a 40 year-old physician, a widower from Brooklyn with two young sons, sitting down and making this kind of effort. The trip and the group obviously meant a great deal to him.
No direct reference is made to alcohol being on the menu, though perhaps "St. Lawrence Water" is a euphemism and it is reported that the key ingredient in the dessert "French Toast" was bourbon. Certainly the mealtime photos suggest that alcohol "may or may not have been involved."
By Rod Anstee
Rod Anstee resides in Ottawa and is well known as a book and photography collector.  In 2013,  Nigel Beale, from the Biblio File website, interviewed Rod in Anatomy of a Kerouac Collector: Interview with Rod Anstee", which gives a sense of the importance this man places on the thorough researching and preservation of the past, and the pleasure he finds in this work. 

Note:  Rexford Ennis located a 1944 obituary for one of the group members on-line.