Sitting with All In Adventures co-owner Kevin Thorn near the water's edge at Bonnie Castle's Pointe Bar & Grill in Alexandria Bay, my attention is drawn to a small figure in the water. The kid, who's currently underwater save for his head, serenely bobs in the ripples while listening attentively to his instructor, Thorn's business partner Scott Neale, paying no heed to a growing crowd of onlookers. He stills when Neale finishes speaking and collects himself. In a matter of seconds he begins to rise; moments later he's levitating above the water, ascending away from the surface before the gentle wake of a passing boat can reach him. Gliding along two metres above the water's surface, he pauses, then with outstretched arms, half-dives, half-falls into the water below. He disappears from view briefly but moments later breaks through the surface with a steady dolphin dive before popping up to await further instruction.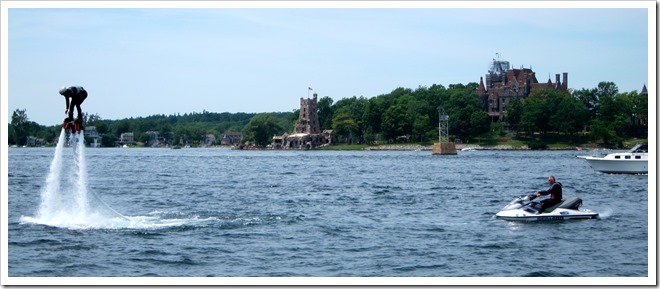 Up, up and away: a flyboarder ascends in front of Boldt Castle
This is my introduction to flyboarding. Since its birth in 2012, the sport has gained an international reputation thanks in part to the cult celebrity status of its founder, French jet ski champion Franky Zapata, and in part simply because it can make a superhero out of anyone. With little experience or training, flyboarding seems to accomplish the impossible: riders can take off and fly through the air, perform graceful dolphin dives and propel themselves underwater. It's a surprisingly straightforward yet awe-inspiring concept which harnesses the outflow of a jet ski via a large hose attached to the flyboard. The board lets riders defy gravity by flying them up to 13 metres (45 feet) in the air.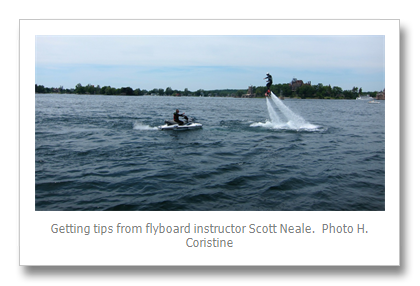 Thorn chanced upon the sport while on holiday in the Caribbean in early 2014. A short 'flight' later he was hooked. Little did he know that a few months later he would transplant the sport to the Thousand Islands by launching his own flyboarding business. Having spent summers in Chippewa Bay for years, the Liverpool, NY native had always dreamed of spending more time on the River. "We wanted to find something that would get us up here a lot more" says Thorn. "When I saw this, I thought, 'this is perfect.'" After his inital trip to the Caribbean, Thorn, an operations manager for a transport company, began conspiring ways to transplant the sport to the Thousand Islands. "We started looking into what we needed to do to operate a business, and we just went for it," he muses. Shortly thereafter, he and Neale founded All In Adventures, which specializes in individual and group flyboard adventure packages.
Together, Thorn and Neale created a website, sought a premises from which to operate, and began building the business. Neale endured Vermont's frigid March waters to gain his credentials as a flyboard-certified instructor; Thorn crunched numbers and began getting to know the flyboarding community in the northern US states. They forged a particularly close relationship with the owners of Lake Erie Flyboard, who Thorn credits with a great deal of help while starting up the business. Both worked tirelessly while holding down full-time jobs with shifts of up to 14 hours. "If I'd known the work that was involved", chuckles Thorn, "we may not have done it". Twenty-nine pages of insurance forms later, they were up and flying in June 2014, with a base in Alexandria Bay in front of the iconic Boldt Castle.
Alex Bay wasn't always the main contender for a headquarters. Thorn had hoped that Chippewa Bay would take that honor, but the bay lacked the depth required for the flyboard to operate. Nonetheless, as we sit at All In Adventures HQ adjacent to The Pointe Bar & Grill at Bonnie Castle Resort, it's obvious that this location is serendipitous. "Everyone we talked to seemed to want to charge an arm and a leg for space," muses Thorn, "but the folks from Bonnie Castle saw the value that this would bring to the area and offered us space for free. We can't thank them enough." Under new ownership since 2012, Bonnie Castle Resort's owners were immediately convinced that giving Thorn and Neale a spot to develop All In Adventures could be a win-win situation.
"Everyone's really excited about our business up here. The businesses are excited that we're bringing something new to the area; the hotel here has been awesome to us. It's so new that no one's really seen it," says Thorn. Indeed, diners from the restaurant look on in astonishment, some pointing and pausing from their meals to take photos as Neale instructs the young man in the water.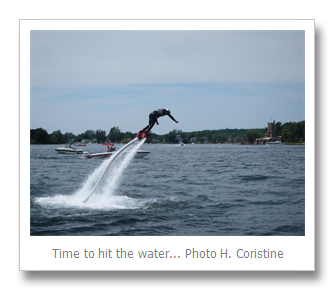 It's an almost inconceivable sight: part futuristic Jetsons-esque transport system, part aquatic Superman, all incredibly cool. Against the backdrop of pine and sapphire waters, it's not hard to understand the source of Thorn and Neale's inspiration, nor the roots of their perseverance. And despite months of hard work the two show no signs of slowing down, and are even cooking up plans to host a flyboarding competition in Alexandria Bay in the next few years. In the meantime, however, they're gearing up to enjoy the ride as flyboarding takes off on the River.
Visit All In Adventures on the web: www.allinadventures.net
By Hayley Coristine
Hayley Coristine is an environmental and communications consultant working between Brussels, Belgium and Birmingham, England. Despite living half a world away, she's been spending summers in the Thousand Islands for the past 15 years and attributes her interest in the environment, to countless days on the River, learning about ecology, invasive species and water policy.
Since then, she's worked with the Environment Agency in the UK, the University of Edinburgh and Cambridge City Council, to promote citizen engagement in environmental issues. Hayley is happiest when underwater or taking a dip in the River, at sunrise. An active social media enthusiast, she has a photography blog about nature in the city (http://www.blipfoto.com/haylo53) and you can follow her on Twitter @haylo53.