The first time I experienced the Grenadier Island Country Club or GICC, as it's known to its members, was in 2003.  I was on my first "Friends of the Antique Boat Museum" trip and the first lunch stop was on Grenadier.
In the clubhouse I told another woman that Grenadier is exactly like the summer camp I had gone to in Vermont. She agreed it was like her summer camp.  Yes, we went to sister Camps! Both of us were introduced and learned to water ski behind wooden Chris Crafts at camp.  My new friend, Barbara Maddox, who had recently moved to Sackets Harbor, would go on to join Claytons Antique Boat Museum, working with the "Friends" program and I would join GICC.
I was immediately drawn not only to the sports at GICC , but the feeling that you never really have to grow up.  GICC is camp all over again.
There are so many, "special and cool things" about Grenadier Island Country Club and here is my list:
1.  You can only get to GICC by boat. Boats are the heart and soul of the club. But not everybody arrives in a regular boat.  Like a lot of club members I arrive by jet-ski.  If the water is rough and cold, like it has been this summer, I hitch a ride with one of the boating members; and the boats are beautiful.
The boaters are so proud of their boats that every year the club hosts their own boat show called, "Wine and Woodies".
This year Dick MacSherry took home first prize for the best American Boat in the show, "Sport" and Claire Glazier and Steve Watt took home the first prize on the Canadian side. In fact, the Club sits on a Canadian Island, but half the members are like I am, American. This makes the club even more interesting and diverse.
2.  Every Saturday night in the summer, members from both countries come together for dinners organized, cooked and served by other members.  Each team of member hosts, picks a theme and creates an evening that is the glue of the club spirit.  In fact, the song everyone sings at the end of the dinner, makes me feel like I am back at camp with one happy family.
3.  Tennis plays a big role in attracting young active members, families and just about anyone who loves the game. In his 80's John Russell was still running around the GICC tennis courts, although his line calls were questionable.
Tad Clark, a writer for Thousand Islands Life is the GICC tennis pro. Tad makes sure the courts are in perfect shape and the tournaments run with the accuracy of the US Open. Tad is married to Kira Clark whose family, the Duke's, were part of the group of founding members who created GICC from the Root farm.
4.  Of course golf is where Grenadier started. First as nine holes and now eighteen, with a different tee box on every hole for the second nine. There are all kinds of Club golf outings, games and competitions.
In 2013, my golf partner from Rochester, Paul Mcarthur, who summers on Tar Island and I won the mixed member-member. (But that is only because he is really good.) I am a high handicap long drive golfer and the best part of golf at the club for me, is how much fun everyone makes the tournaments.
5.  In 2013, GICC elected Bev Brown its President. She is part of the women's group that raises money for the club by keeping members busy with all sorts of parties and events. The place is just like a Thousand Islands summer, non-stop.
Every summer a member hosts the ladies lunch, which raises funds to support the Club. This summer it was hosted by Daphne Angus whose little "brown box" sits on Grenadier.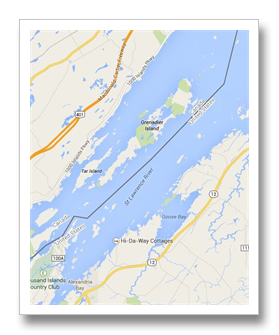 GICC has been open since 1927 and many of the friends and families I know are second, third, fourth and even fifth generation members.
It is a magical place in the middle of a magical River.  And sometimes in the evening, when leaving the GICC dock, I have to pinch myself because I am so lucky to belong to a place where it really is true, "the more we are together the happier we are".
By Elaine Vedette Tack
Elaine is well known in the Thousand Islands for her many volunteer activities, including serving on the board of the Thousand Islands Land Trust.  She is the daughter of Martha and Dan Tack and grew up both at summer camp in Vermont and on the River at her parent's cottage just outside of Clayton, NY. Elaine's 14-year broadcast journalism career was spent reporting and anchoring for CBS, ABC and NBC affiliates in Chicago, Cleveland and Las Vegas. Presently she is creating her own Independent Video "storytelling" company. Over the years, she has rented her own special piece of "River Heaven" to call her own.  You can reach this videographer at elainevedette@aol.com.