4th Annual Rockport International Plein Air Paint Out –
Friday, September 12th – Sunday September 14th, 2014
September's cool arrival marks the nostalgic annual departure of the "summer folk;" from their numerous island vacation retreats, for their city homes far away from our shared Thousand Islands summer paradise. September also heralds the return of the young to their schools and winter studies. In short… life along the river returns to its quieter tempo, minus the constant presence of visitors and the hum of motor-driven river traffic that dominated during those earlier long, hot, humid summer days.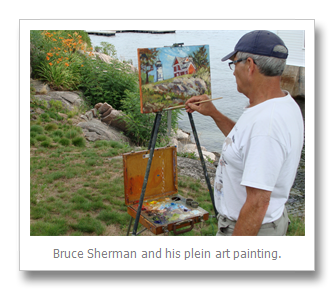 Change is not confined to the human presence on the river alone. The landscape in the islands and along the river, transforms gradually as well, as the annual fall colour change in the hardwood forests advances. This beautiful phenomenon draws thousands of visitors to the islands to witness this annual colour pageantry. Among these September visitors to Rockport, are plein air artists… a group of painters dedicated to painting on location. They have come on three consecutive years to paint at sites within the village and on a number of selected island sites.
The organizing Rockport Development Group hosts a pancake breakfast to kick off the event. It offers a map to help guide village painting. RDG member Andress Boat Works offers very low cost, return water taxi rates, for those wishing to paint on an island. The RDG also will assist participants in obtaining accommodation for their stay. Lunches can be obtained at a number of convenient village eateries. The RDG arranges for evening meals as a group, within the village itself. On one evening, a complimentary one-hour cruise is generously provided by The Rockport Cruise Line, to all participants, to further immerse visiting artists in the grandeur… past and present in the islands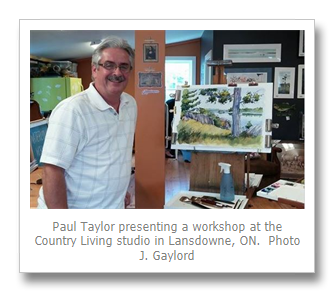 Public Welcome
The opportunity to paint commences early after breakfast on Friday and carries through all of Saturday and into Sunday morning. The event concludes on Sunday afternoon in the village with an exhibition of all paintings made during the weekend to which the public is invited. Awards for paintings of merit are presented during an afternoon patio reception for artists and the general public.
The main goals of our venture are to create an increased awareness of Rockport and the Islands as a destination for multiple uses…amongst these the source for artistic inspiration. As well we strive to create an inviting opportunity for artists who share a mutual passion and preference to paint outdoors.
Past Participants

I have attended the Rockport Plein Air Paint Out for three years in a row now, and it just keeps getting better and better. What a wonderful and relaxing weekend for local artists to get together, paint together, laugh together and share experiences, techniques and visions. An absolutely amazing experience to visit and paint at Boldt Castle last year and we have it again this year! Looking forward to be with old friends and fellow artists again for a wonderful weekend.

Isolde Paul, Country Living, Lansdowne, ON.

_____________________________


I am not born Canadian, but thanks to my Canadian born grandmother, I am close to this country, and the little hamlet of Rockport, Ontario, her birthplace. Having been there numerous times as a young boy, I would never have dreamed that I would one day be painting scenes of this village as a grown man and artist.

I see Rockport through the same eyes, but now in a completely different way. This village is full of small vignettes just for the choosing. The shop where my dads boat was built and the smell of the fresh sawn wood are still present in my childhood memories. I look forward to returning to Rockport this year as I have one subject that I will capture immediately. The subject to remain a secret but is nostalgic for myself and many others.

Paul Taylor, Rochester, NY

_____________________________

I am so excited to see the dates for the next Plein Air Paint Out in Rockport this year. I have been going yearly and enjoying not only the great views to be painted, but also meeting so many artists from different places. Having the chance to paint on an Island one year was a great experience and last year at Boldt Castle was lots of fun. Having this opportunity for the people, just simply passing by, is our chance to share the wonder of painting in so many different styles, while in the great outdoors of lovely Rockport and we have a great time!

Janet Gaylord, Lansdowne, Ontario

Circle the weekend of September 12th-14th on your calendar… and do come join the painting fun in Rockport and the Thousand Islands.