Frontenac Arch Biosphere Reserve Conservation Biology Blueprint Study
We are two students completing our final year at Queen's University, in Environmental Science. For our honours project, we have been given the opportunity of developing a conservation biology blueprint for the Frontenac Arch Biosphere Reserve (FABR).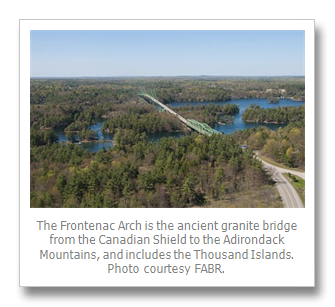 The FABR is an area located in Southeastern Ontario, Canada that spans across the St. Lawrence River and forms a corridor between the Canada Shield and the Adirondack Mountains (FABR, 2014). It is considered one of Canada's most diverse regions due to the intersection of five forest types that create a great diversity of plant, insect, and animal species (FABR, 2014).
In 2002, the FABR was designated a United Nations Educational, Scientific, and Cultural Organization (UNESCO) Biosphere Reserve, which made it one of the sixteen biospheres across Canada (FABR, 2014).
Our project seeks to develop a conservation biology blueprint for the FABR region, which can be used towards assessing current conservation practices, as well as making future recommendations to improve conservation practices in the region. Conservation is the preservation of the integrity of species, communities and ecosystems, and it studies the causes of declines in species richness and attempts to develop methods to prevent such declines (Groves, 2003).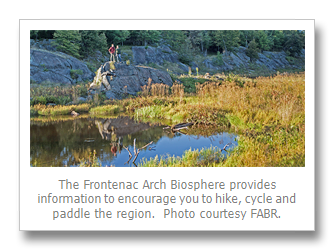 The findings of the study may provide useful information that can be used towards the Ten Year Biosphere Review for the FABR, which looks to involve all stakeholders as they preserve the function of the FABR. The Report is submitted to UNESCO to highlight how the FABR has contributed to increasing education and conservation as a biosphere reserve.
This completed paper will showcase what the FABR has been able to accomplish in ten years, and what they plan on doing in the future (Canadian MAB Committee, 2014).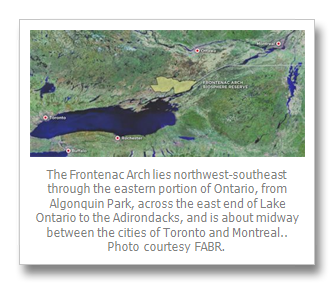 In the FABR region, there are approximately 34-43 known rare or provincially significant species and approximately 50% are considered endangered, threatened or of special concern (CTIHC, 2002). Thus, there is a necessity in continuing to develop, assess and improve conservation practices, to ensure that the biodiversity in the FABR region remains protected. We hope that habitat conservation practices remain effective and successful for future planning.
The methods of our study include collecting data, from the past ten years (2005-2014), about land ownership in the FABR, endangered and threatened species in the FABR, with a focus on the corridor between Frontenac Park and Charleston Lake. This area connects Crown Land and the Ontario Provincial Park, and is an important corridor for species habitat and migration.
Predicted vegetation plots of the area have been provided by the Frontenac Arch Biosphere Network office. These will be used to predict where endangered species may be found, so areas can be categorized, in relation to their importance for conserving depending on the density of endangered species in the area. A previous paper produced in the Queen's University class ENSC 430, coupled with the book 'Drafting a Conservation Blueprint: A Practitioner's Guide To Planning For Biodiversity' by Craig Groves, will be used as references towards developing the conservation biology blueprint. 
References

Canadian MAB Committee, Biosphere Reserves and past reviewers. (January 2014). Guidelines and Process for Biosphere Reserves Periodic Reviews – Canada. United Nations Educational, Scientific and Cultural Organization and the Canadian Commission for UNESCO. Retrieved from http://unesco.ca/~/media/unesco/sciences%20nat/2014%2001%2016%20%20periodic%20review%20process%20final.pdf

Canadian Thousand Islands – Frontenac Arch Biosphere Reserve. (2002). World Network of Biosphere Reserves Biosphere Reserve Nomination Form. Canadian Thousand Islands Heritage Conservancy. Retrieved from http://www.biosphere-research.ca/Files/Reports/nomination%20summary%20frontenac%20arc.pdf

Groves, C. (2003). Drafting a Conservation Blueprint: A Practitioner's Guide To Planning For Biodiversity. London: Island Press.

Guertin, M-A., & Reed, M. (October 15-19, 2013). Implementing the periodic review in Canada / La mise en oeuvre des examens periodiques au Canada. Strengthening the Biosphere Reserve Network Management Framework. Retrieved from http://www.frontenacarchbiosphere.ca/sites/frontenacarchbiosphere.ca/files/img/Implementing%20the%20periodic%20review%20in%20Canada%20(Guertin%20and%20Reed).pdf
By Alexandra Kelly and Monica Seidel
Monica Seidel is from Ottawa, Ontario, and is finishing her fourth year in Environmental Science at Queen's University in Kingston, ON. She says, "I am most passionate about wildlife management and conservation, and one of my favourite activities is travelling to see wildlife in their natural habitat."

Alex Kelly is from Toronto, Ontario, and is currently in her last year, studying Environmental Science at Queen's University, Kingston, ON.  She says, "I am especially interested in learning about lakes and oceans, so I am hoping to become a marine biologist."  Alex's favourite mammal is an Orca Whale.