Written by
Julie Madlin
posted on November 13, 2014 12:28
Editor's Note: Julie Madlin is the City of Ogdensburg Historian, appointed in September 2014. Chief to her mandate is to record and preserve historical documents relating to the City. She is finding ways to make history more accessible, thus she has created a website: Ogdensburg History where she has created a number of videos. She is also maintaining an active Twitter account.

Readers having material to share,should contact Julie at: jmmadlin@gmail.com

_____________________________________________________________________________________________________
Senator Preston King
Senator Preston King was born in Ogdensburg, NY, on October 14, 1806 the illegitimate son of John King and Margaret Galloway. King graduated from Union College, Schenectady, NY, in 1827. He studied law under Silas Wright and practiced law in St. Lawrence County.
He established the St. Lawrence Republican newspaper in 1830 and was postmaster of Ogdensburg from 1831-1834. King was also elected to the New York State Assembly in 1835; serving until 1838.
He was an instigator of the Patriot War (1837-38), a revolution to sever Canada from Great Britain, going so far as to charter a boat to attempt to save American participants in the Battle of Windmill Point.
As a Democrat, King was elected to Congress for the first time in 1843. He served until 1847 and was elected again serving from 1849 to 1853, then was elected to the Senate as a Republican from 1857 to 1863.
Preston King was a New York State Assemblyman and Congressman from Ogdensburg, NY.
Produced for Ogdensburg History, BlogSpot managed by Julie Madlin
At the end of the Civil War, King demanded that Jefferson Davis, former president of the Confederate States of America, and other Confederate leaders be hanged for treason.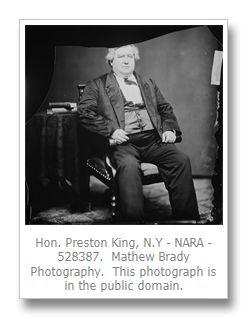 King was a close personal friend to President Andrew Johnson, even living in the White House for a time. It was Johnson who appointed King, Collector of the Port of New York in 1865.
Sadly, three months later Preston King committed suicide by jumping from a ferryboat into the New York Harbor. He is buried at the Ogdensburg Cemetery.
Sources:
Everts' History of St. Lawrence Co., Elizabeth Baxter "Local Editor Preston King, Friend of President, Lived in White House
Dictionary of American Biography; Muller, Ernest. 'Preston King: A Political Biography.' Ph.D. dissertation, Columbia University, 1957.
_________________________________________________________________________________________
Congressman John Fine
John Fine born in New York City in 1794, was a lawyer who practiced in Ogdensburg, New York.
He was a treasurer of St. Lawrence County from 1821 to 1833; and later was a judge.
He was elected as a Democrat to the Twenty-sixth Congress where he served from 1839 to 1841. He was member of the State senate in 1848; then resumed the practice of law in Ogdensburg.
Congressman John Fine, with photographs of his house; located across from the US Post Office on State Street in Ogdensburg, NY.
Produced for Ogdensburg History, BlogSpot managed by Julie Madlin
John Fine died in Ogdensburg, N.Y. on January 4, 1867 and was interred in the Ogdensburg Cemetery.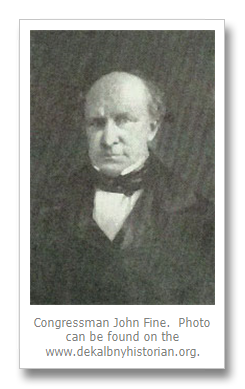 The John Fine Home is a Greek Revival Home, built in 1823. Both sections of the home are built of local blue limestone and feature gabled roofs. The house was added to the National Historic Register in 1986.
Sources:
_______________________________________________________________________________________________________
Additional sources:
Recommended Genealogy Sites related to Ogdensburg, NY.
By Julie Madlin, City Historian, Ogdensburg, NY
Julie Madlin is the Ogdensburg City Historian. She has been teaching social studies for 20 years at Heuvelton Central School, Ogdensburg, NY. Julie says, "When I'm not working, I am happy being on the River..."